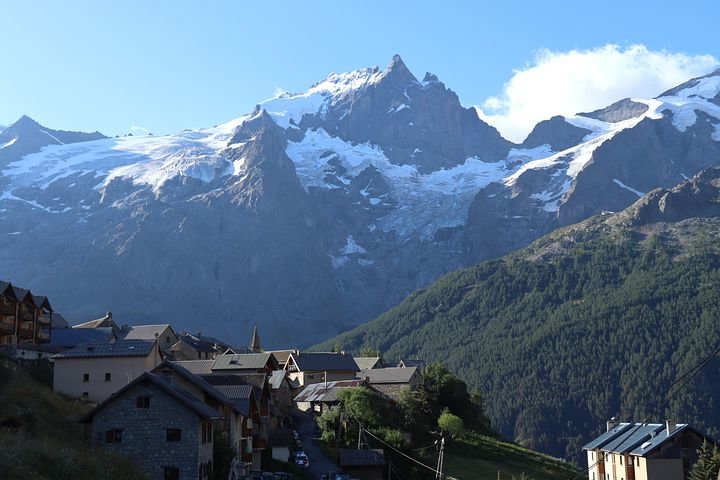 From the village
The view of Le Meiji (3,983m; 13,067 ft. ) from the Oratoire du Chazelet is one of the most impressive sights in the Alps. The Oratoire du Chazelet is perched on top of the cliff on the north side of the Comb de Malaval, a long gorge with several waterfalls. Rt N91, la Grave to Bourg-d'Oisans runs beside the river through the gorge.
Getting there
---
There are two buses a week from la Grave to Chazelet. Car is pretty much the only way to get there. There is a dead end road leading from the Col de Galibier road (Rt D 902) to Chazelet Village. The Oratoire du Chazelet is about two miles before the village.
The Oratoire du Chazelet
---
The Oratoire is a very small shrine perched almost on the edge of the cliff and right beside the only road to Chazelet. It is very small. Its not very high, wide or deep, but it is kind of obvious to find because it is about the only man made structure in sight, and it is right beside the road. Pull over, park, get out, and look across the gorge at Le Meiji
Le Meigi is the massif forming the other side of the gorge below the Oratoire du Chazelet. The glacier fields on Le Meigi are about 12 km long, running parallel to the gorge.