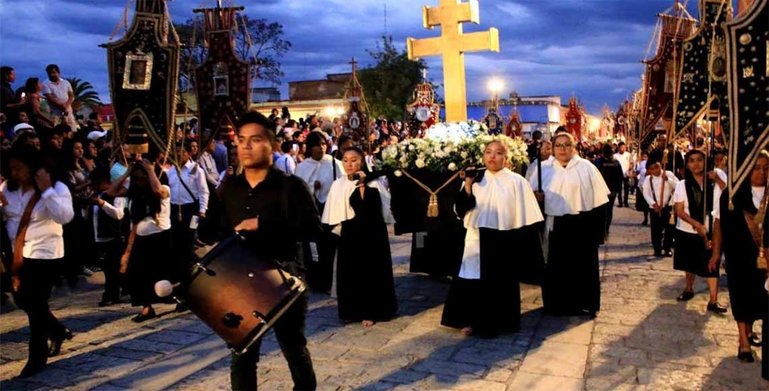 Following Catholic traditions, Good Friday is one of the most important dates in the City of Oaxaca. The Procession of Silence honors the Passion of Christ and is done with great respect. In this commemoration, the ecclesiastical authorities lead the procession carrying the Caravaca Cross and the ciriales. Together, the penitents and spectators accompany the Virgin Mary in their condolences, rendering this cult in absolute and consecrated silence, which is only interrupted by the beat of the drums that marks the passage of the Procession.
The day of the Procession of Silence involves people from our village, simple women wrapped in their black rebozos, fervent, longing to go in the procession, ladies mourners with an air of religiosity that adorn children, youth, gentlemen, tourists of various nationalities who observe everything respectfully, join the mysticism that spreads in the air.
All with a candle form an extensive fence that gives more prominence to the Procession. On the faces of the attendees are reflected the most diverse feelings: faith, veneration, curiosity, the discovery of a different, different lake.
The silence is total despite the crowd. The chirimía and the drum with its ancestral rhythm tear the silence sadly and the procession begins. The walk begins, slow, orderly, fervent, silent, with unusual respect. In the light of the colonial lanterns, the sculptures bring life to the movement that the penitents give to the litters that sustain them.