Tourists, who read our article about the Royal Palace of Ajuda, could be interested to visit beautiful Botanical garden, which is in two-minute walking from the Palace. 🦚 🌳 🌴 🌵 ⛲️
The oldest botanical garden in Portugal is a Royal Botanic Garden of Ajuda. The history goes back to 1755, after the Lisbon earthquake, when King José I transferred there his court. This place was chosen because this area was unaffected by the earthquake. It was established in 1768, being designed by an Italian botanist, Domingos Vandelli, from Padua, and summoned by King José I to teach the royal princes.
The Royal Botanic Garden of Ajuda, along with the chemical laboratory, the Museum of Natural History and the House of Arts, has become rather a research laboratory for more than 5 thousand plants and seeds than the actual ornamental garden. In times of decline in 1836, the Royal Museum of Ajuda and the Botanical garden of Ajuda were transferred under the control of the Academy of Sciences.
At the entrance to the garden live peacocks, proud and incredibly beautiful birds.
There is an ancient dragon tree, fern hothouse, scented garden and terraces. The Lower Terrace is symmetrically laid out and planted with box hedges. The Upper Terrace was restored in 1993 according to the original plan and botanical collections are organised geographically into eight sections. The view from the centre of the Upper Terrace overlooks the garden and across to the River Tagus.
In the center of the boxwood parterres, there is the main fountain of the Royal Botanical Garden — Fountain of the forty terminals (Fonte das Bicas). Built in the XVIII century, it is replete with sculptures of fantastic animals.
Now the Royal Botanical garden of Ajuda is one of the most popular historical gardens of Lisbon. Fortunately, the Portuguese climate is favorable for many species growing here.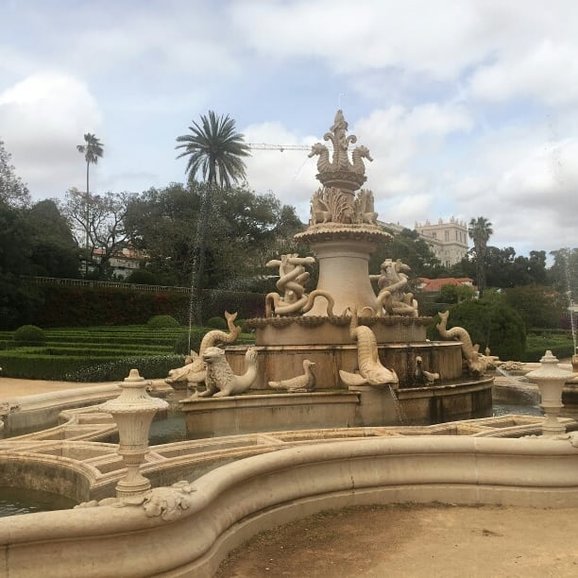 Royal Botanical Garden of Ajuda