You've probably heard a lot of buzz about Portugal recently between travel magazines and your favorite Instagram account. It's for a good reason – Portugal is full of things to see and still boasts an authentic and charming culture. Lisbon is one of the fastest growing travel destinations in Europe.
I had taken TAP Portugal Airlines connections through Lisbon plenty of times over the past few years and was consistently awestruck by the beautiful views while flying into the city. I said for years that I would eventually take a long layover in Lisbon on the way to Europe, so last June I finally did it.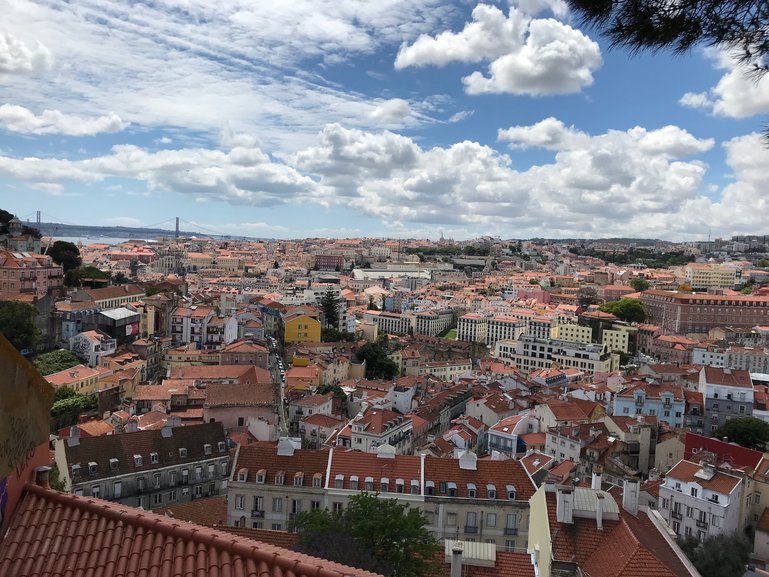 Beautiful view of Lisbon
Lisbon was all I had hoped for and much, much more. As soon as I arrived at the airport and was picked up by my driver, he said, "Are you here for Festas de Lisboa? You better like sardines!" To be honest, I didn't know what Festas de Lisboa was, but I figured I had chosen a great time to visit this city.
After meeting up with some friends, we were off to explore antique and craft markets and try local cuisine at the Time Out Market, which is all you could want in one spot! This indoor market is full of different restaurant vendors, which is great for groups all wanting to try different local foods and treats (I highly recommend francesinha, which is like a saucy sandwich, and Pastel de Nada, an egg based small custard tart dusted with cinnamon).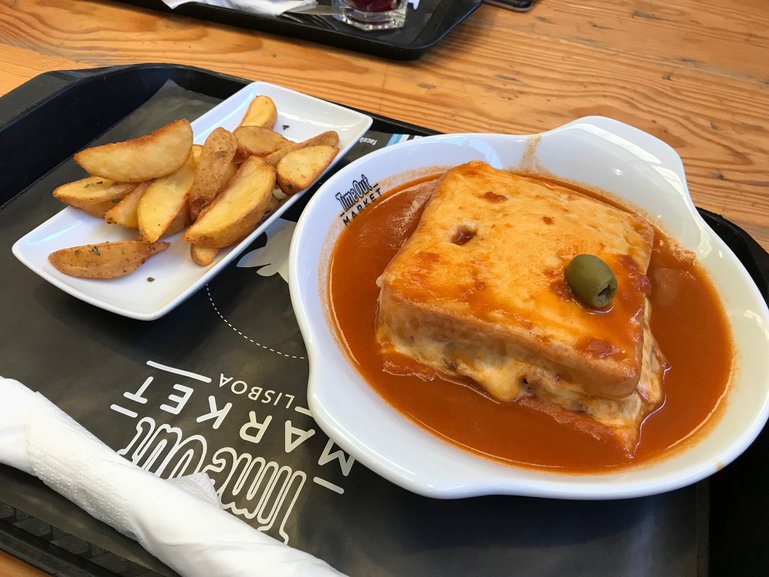 Trying a Francesinha at Time Out Market
Next, we headed over to the area of town where Festas de Lisboa was being celebrated. The festival spanned many winding blocks. As we wandered down the street we were surrounded by the strong aroma of grilled sardines and sangria and were delighted to take in the stimulating sights and sounds of this lively festival. Live music, colorful streamers and garlands, and smiling faces surrounded us in every direction. Many locals set up grills and tables outside their apartment doors to sell typical festival treats. The sangria is so delicious that it's impossible to only have one glass. We spent hours here, trying every treat the festival had to offer and enjoying each other's company just like the Portuguese do.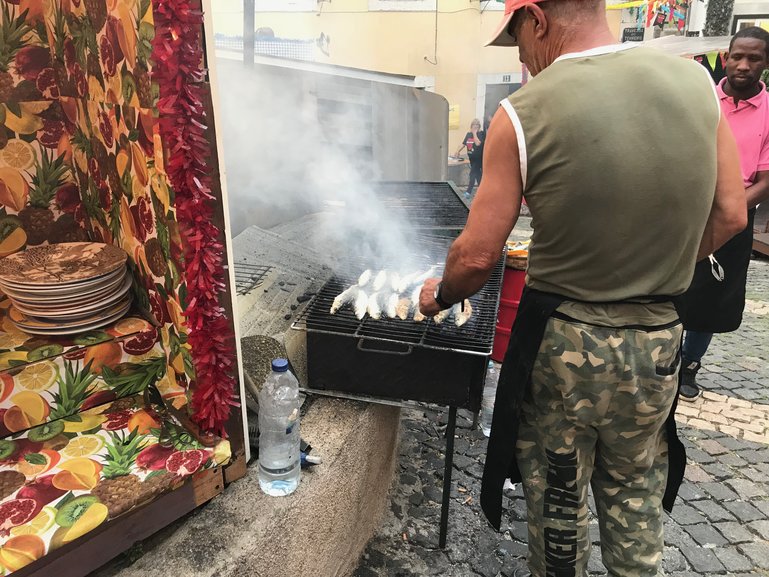 Grilling Sardines at Festas de Lisboa
I could go on about all the great sights and activities there are in Lisbon itself, such as seeing breathtaking views from Castelo de São Jorge, taking the iconic trams, exploring the Alfama neighborhood, and visiting the Portuguese Tile Museum, but there are also great day trips that can be made from Lisbon too. Sintra, a long-time royal territory and now resort town located in the foothills of Portugal's Sintra Mountains, is home to some of the most unique castles you will ever see. The vibrant Palácio da Pena, a Romanticist castle full of unique terraces and mythical statues, is the highlight of any Sintra trip. From there, you can take an iconic Tuk Tuk ride to places like the picturesque Quinta da Regaleira, which is filled with underground tunnels, caves, fountains, gardens, spiral staircase wells, and more.
If you seek exciting and authentic cultural experiences like me, then Lisbon is the place for you. The festival spans for the whole month of June with exciting events and shows every day. You can check out the list of events on the festival's website.
See you in Portugal!