New York Skyline is one of the most fascinating in the world. We have seen it in thousand and thousand films, Tv series or Tv programs, but who said that you can enjoy great views only from Manhattan itself?
I lived in Jersey City for a while and although a real New Yorker consider the New Jersey as the "uglier and younger brother", the city on the other side of the Hudson River hides unbelivable spots for great pictures, avoiding crowds!
Below you can find my top 3 list of view points in Jersey City to enjoy Manhattan skyline in all its beauty!
1) Liberty State Park, Jersey City
---
This park is located in Jersey City and it gives you a really close view of the Manhattan Skyline from the other side of the river. The park is quite big, with benches, boardwalk and lots of space ideal for a relaxing walk.
It is also a great solution for a Statue of Liberty trip. From here you can take the Ferry to Staten Island (as you could do from Battery Park in Manhattan) and you can avoid the crowds and long queues that you would find taking the ferry from Manhattan in high season periods. The lenght of the journey is almost the same and Liberty State Park is not too far to reach if you are staying in NYC with your accommodation.
How to get to Libery State Park:
From Manhattan you can take the Path Train from different metro stations (33rd st, 23 st, 14th , 9th and One World Trade Center) and stop at Grove Street Path station in Jersey City. From there, you can either take Uber o you can walk in about 20 mins. I would suggest you to walk so you can also explore a really nice city which is Jersey City.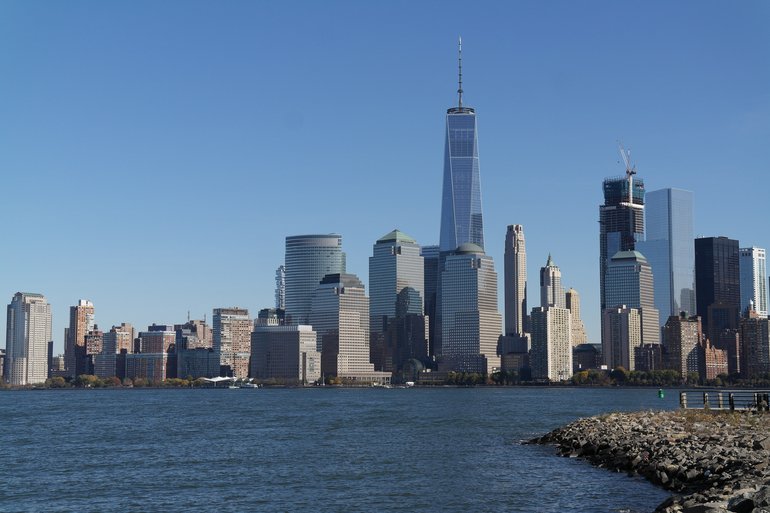 Liberty State Park
2) Exchange Place
---
Another great spot in Jersey City where you can have a very close view of Freedom Tower and all Lower Manhattan skyline is from Exchange Place.
This is the financial district of Jersey City, frequently named as "Wall Street West" due to the high concentration of banks and other financial societies.
Here there is a fantastic boardwalk called J. Owen Grundy Park, where you can do a nice walk or simply seat & enjoy your drink with an amazing view!
PS. Nearby there is also a 911 memorial that you cannot miss!
How to get to J. Owen Grundy Park?
It is very easy to get here. From Manhattan you can catch the Path Train from World Trade Center ( which is the closest station) and in just 1 stop you will be at Exchange Place!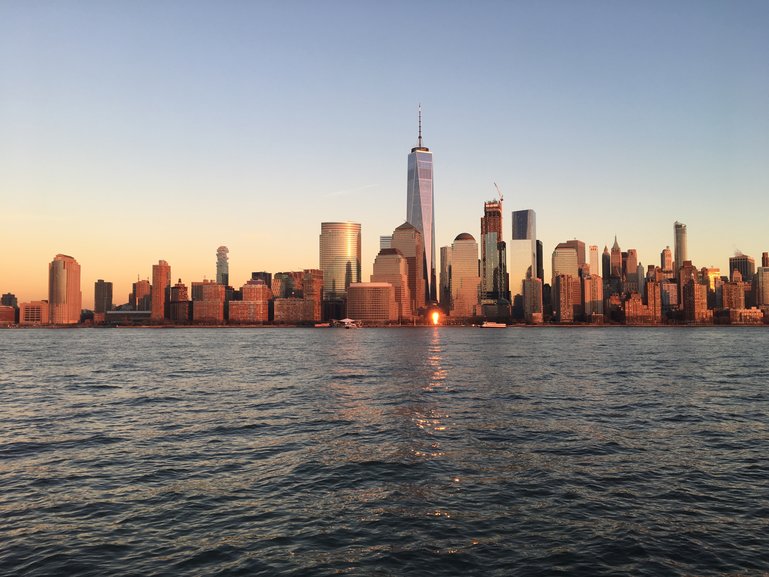 Exchange Place
3) Hoboken
---
The third spot in New Jersey where I used to go to take amazing photos is Hoboken.
Hoboken is a city a bit norther than Jersey City but it is also part of the greater New York area. It is a very nice town to explore, away from tourist crowds and where you can really feel the pure New York culture.
You can do a nice walk from Hoboken Riverside Park along the Hudson River Waterfront Walkway until Pier C park, where you can enjoy a 360° Manhattan skyline view.
By the way, during your walk you will stop every 5 minutes to take photos, as all the walkway is really panoramic!
PS: Do not miss a stop at Carlo's Bakery, the most famous bake shop in New Jersey! It is very close!
How to get to Pier C Park?
Again it is very easy to get to Hoboken.
You can take the Path Train from one of the Manhattan stops ( the closest one is from 23rd street) to Hoboken direction, and stop at Hoboken Path station. From there you can take a nice & panoramic walk of 10 mins to get to Pier C Park.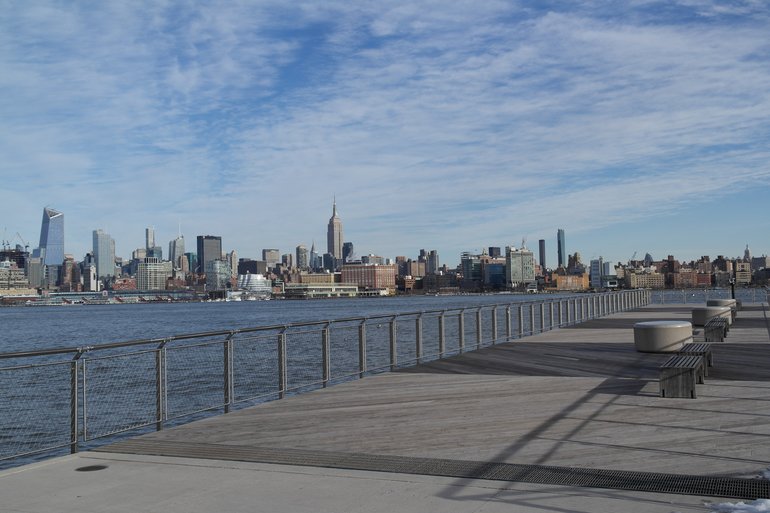 Pier C park
So, why don't you add a New Jersey trip to your New York vacation? You won't regret it :-)