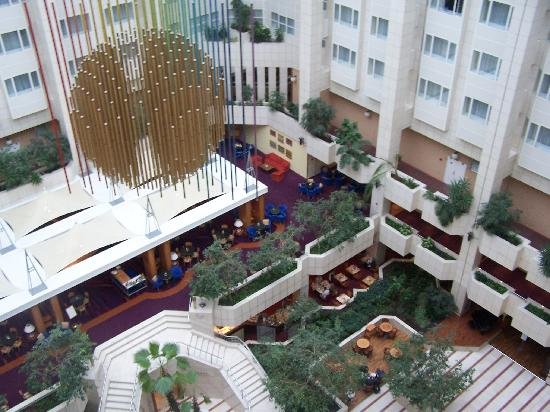 The Hilton Prague and the Hilton Prague Old Town are two different hotels. The Old Town is right on the fringe of the touristic center of Prague, Old Town Square. The Hilton Prague is about a 20 minute walk away. We walked it once. For the rest, we took the nearby metro. The Hilton Prague is one of the few hotels in the EU where we have stayed more than once rather than trying something new on subsequent visits. We have been to Prague three times and stayed at four different hotels, twice at the Hilton Prague. Our room on our first stay overlooked a busy expressway but traffic noise was no problem. There was nothing to complain about with our room or with the hotel, except for the occasional length of the wait for the elevator and the noisy mini bar. when I couldn't find an off switch for the mini bar, I pulled the plug. After all, beer is supposed to be drunk at room temperature. Having long been fans of Austrian dark beer, we couldn't wait to try the Czech version, and there was a bottle or two of a premium Czech dark beer in our mini bar for $11 a bottle. We never took one from the mini bar, Instead, we bought the same beer at the grocery store two blocks away for 90 cents a bottle. The grocery had an overwhelming selection of local beers. One day, we searched the shelves for the cheapest -- 9 cents for a bottle of beer which was better than USA's mass market brews.
The included buffet breakfast at the hotel was outstanding. The concierge and front desk staff were very friendly and helpful.
Although on the far fringe of the Old Town, we found the hotel's location to be excellent because it was one block away from the Florenc Metro Station, a major transpiration hub, a base for city buses, and an intersection of there metro lines.