"The queen of hills"- really no wonder why Darjeeling is called as "QUEEN". One of the most beautiful hill destinations in India. The absolute destination for tea-holics. Yes, right! Darjeeling is renowned for its wide-most tea garden and most importantly the flavor of the tea. It's the second time I went to Darjeeling. But this time not in the proper town, we decided to stay at Ghoom.
"Ghoom"- yes, the famous toy train station of Darjeeling district. Every people residing in West Bengal, as well as India, are enlightened with the beauty of Darjeeling and its eminent Ghoom station.
Ghoom, such a beauty this place is. There is always a cloudy layer covering the entire space, making the whole sphere feels heavenly. We got down to NJP (New Jalpaiguri) Railway station, at around noon. Then we took a shared cab from NJP to Ghoom, via Kurseong. On the way to Ghoom, we took a little break at a local tea corner, had a cup of flavorful tea with the strong aroma of cardamom and bay leaf. And, and, and as I said this place never disappoints us when it comes to TEA.
It took near about 2 hours 30-45 mins to reach our rest house. Trust me guys, it was damn chilled over there, that we got completely frizzed. Couldn't believe it was March! 😕
Anyways, we checked in to our rooms, freshened up and as usual went to explore some local food corner. We started walking towards the station, it was fully dark outside, the sun got down already. Walking on the hilly path, chilled and misty ambiance with hardly any people- absolute thrill by god!
Okay! So we bought some snacks and spotted a local eatery there, on the backside of the station. There is barely one restaurant actually, so you won't undergo the hassle to locate it. Had dinner there and honestly, the food was very convenient and yummy. Let's get back to our restroom, left-right-left right-left-right! Lol!
The next morning we witnessed the real natural beauty, the enchant of Ghoom. Cloud, everywhere cloud; felt like I was in cloud nine! Spellbound by the grandeur of that place, literally never imagined this place would be such alluring. Certainly, it was cloudy and raining and sometimes it was like sunny Sunday. The weather there was frequently changing, but comfortable, fun!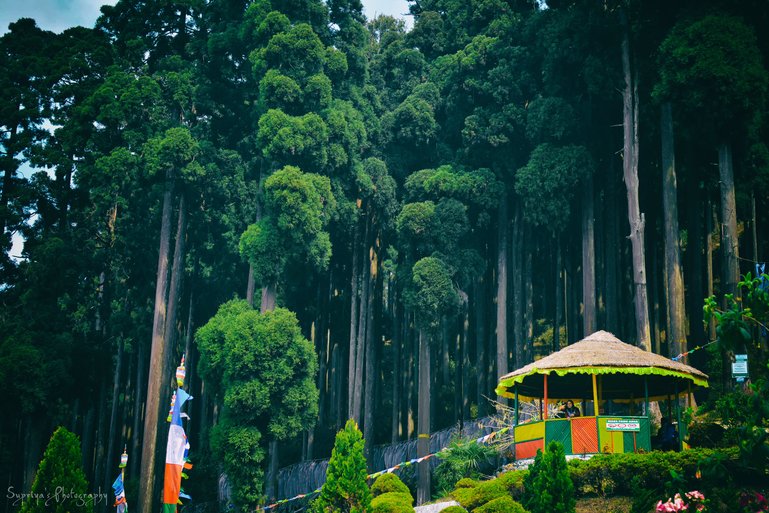 Now comes to travel. As we already fixed up our car for sightseeing on the previous day, we didn't have to go through the hassle. Remember, always bargain with car drivers.
Lovers Meet View Point
---
Our first destination was Lover's meet view-point, also known as Peshoke View Point. Here Teesta and Rangeet river meeting up unitedly, called Triveni View Point. The slooshing river Rangeet with its greenish crystal clean water meets up with mountain rush Teesta. The valley is surrounded by mountains, in the left-hand side mountain is Sikkim and the right-hand side is Kalimpong. Strange right! Triveni consolidates these two different states, Sikkim and West Bengal. Near about 12 km distance from Ghoom, this place is a complete eye treat to any nature lover.
Lamahatta Park
---
Situated at an altitude of 5,700 ft, Lamahatta is such a small and tranquil village and lately enhanced as an Eco-tourism destination for every traveler. Lamahatta park can easily be located for its fluttering Buddhist flags. Pine and Dhupi trees have been manicured exquisitely in the slope of the hill and surrounded the whole garden.
Lamahatta is about 17 km from Ghoom and 23 km distance from Darjeeling. This forest garden is very seductive to travelers who prefer to travel to a silent place. There is a trekking path leading towards a lake on the hill-top. One can even endure varieties of orchids like white orchid, and other wild and blooming flowers in the entire park, if touring in winter.
Lepchajagat
---
19 km far from Darjeeling, this small yet beautiful village is a stop-over for travelers. Lepchajagat is located at an altitude of 6,956 ft approx along with the Kanchenjunga range and surrounded by full of nature.
When we entered the village it was noontime of the day and the place was a little crowded at that time. Lepcha is small yet full of lives. 😀 We didn't stop there, it was a quick view of our road journey.
As we passed the village, proceeded our drive towards Simana, the road appears to be calm yet beautiful. There was something, that making the area completely unusual yet attractive. The road was covered with the forest of pines, rhododendron, and oaks on both sides of the road. The forest was looking slanting from peak to down. It was raining, slightly dark outside (for weather of-course), and the road was fully covered up with fog everywhere. Have a look here:
Lephajagat is completely heaven for nature lovers because of its tranquil scenario and bird-life with lots of mountain flowers. The ambiance and striking view of Mt. Kanchenjunga from Lepcha are simply enchanting. Lepchajagat is the paradise for those tourists who are looking for solitude.
Simana Viewpoint
---
Situated at an altitude of 7500 ft at Indo-Nepal border, Simana is 24 km away from Darjeeling. Simana is one of the famous viewpoints in Mirik for its clear view of Mt Kanchenjunga. Simana is basically the Sandakphu trail, endeavoring a splendid panorama of Maneybhanjan. At Simana, there are some small tea and food stalls you can find, as well as types of local chocolate and other staff. When we went there, it was full of clouds covering the entire area; we're unable to witness the clear view of Kanchenjunga.
Jore Pokhri
---
Jore Pokhri is a tiny village of Darjeeling, located at an altitude of 7,400 ft. It's on the way to Mirik from Darjeeling. In Lepchajagat village you can find a sign-board which indicates two paths are divided on, one is towards Simana, Mirik and another one is towards Jore Pokhri. Jore Phokhri is named after its twin lake. "Jore" means Two and "Pokhri" stands for Lake. There is a big figure of a snake which itself a fountain, is established in the middle of the lake. In summer, some white big swans can be seen swimming in the lake. This place is embraced by nature. Around the lake, you can find a forest full of Pine and Dhupi trees.
However, when we reached there it was cold and chilled weather. We only could saw was fog everywhere and barely anything else.
Ghoom Monastery
---
It was time to back to our rest house. Our car has dropped us near to Ghoom Monastery. As I said earlier, Ghoom is the place where the weather can change anytime and you can't predict when it'll be cold and when the normal temperature will be. So yeah! Heading towards the Ghoom Monastery.
Ghoom Monastery is also known as Yiga Choeling Monastery. This monastery has a 15 ft tall statue of Maitreya Buddha. This monastery has a lot of history behind it and you have to Google it to know. As I can't write so much because it'll unnecessarily lengthen up my blog. Lol :p
Then we went back to our rest house as it was walking distance from the Ghoom monastery. It was our last day at Ghoom. Sad! 😔 I was not ready to say bye to GHOOM!!!!!!! Well, I had to. 😖
The next morning we planned to hit the Batasia loop and shop at Darjeeling mall also.
Batasia Loop
---
Located at Hill Cart Road, and takes approximately 20 mins from Darjeeling in a cab to reach. We were at Ghoom, so it was around 5-10 mins walking distance from our rest-house.
I can assure you that this is the best place to get a 360-degree landscape panorama of Darjeeling including hill town and snowy peaks of Eastern Himalayas. Enjoy the majestic view of Kanchenjunga! If you take a ride of the toy train, then your train will pass by this loop.
Batasia loop is a garden, and the entire area is covered up with grass and beautiful seasonal flowers and perennial blossoms and ferns. You'll need to purchase a ticket to enter the garden, which is 20 per/head.
Then we head to our last destination, which is of-course Darjeeling. We took a shared cab, that cost 20 per head and drop us to the Darjeeling taxi stand. You can take another taxi from the taxi stand to reach Darjeeling chowrasta, but we preferred to walk. We took a short-cut which ended up as trekking to reach there 😑. Finally, we reached Chowrasta and had our breakfast over there and spent some time on the stairs of Chowrasta. I'm a big fan of North-east foods, so it is quite obvious to have momo for my breakfast. 😜
We had to wait a lot because the mall opens up at 11 am. We shopped a lot from Darjeeling mall. Shopaholics, you can find various of showpieces and winter wear at a very low cost. Starting from handmade junk decorating items to hand-woven sweaters, hats, stylish jackets and a lot more. Do visit Darjeeling once in your lifetime.
After shopping and having lunch at Darjeeling we took a shared cab and went back to NJP, which reminds us that our journey ends here. For me, an end means the beginning of a new journey!