Holidaying in Sri Lanka is special – lovely beaches, lazy palm trees, delicious local cuisine and warm smiling faces. Ceylon (as it was formerly known) is the home of tea, exotic spices and semi-precious stones, diverse flora and fauna, world heritage-listed historic townships, tuc tucs and cows on the roads.. I recently read that few countries, similar in size to Sri Lanka offer the diversity that it does.
Travellers visiting Sri Lanka for the first time, should view everything as an adventure, and expect the unexpected – plan what you can, but know that some things won't go as expected, and you should just roll with it.
My advice.. Don't try to see, or do too much in one trip. Choose one or two areas of interest, and enjoy those, rather than trying to see all that this fantastic country has to offer in one go. Visit the hill country and soak in the green, then kick back on a stunning beach in the south – learn to surf, cook something new, and appreciate the laid back attitude and pace of the locals. You can always come back…
If tea, hiking and wildlife are your things I'd recommend you visit Kandy, Nuwara Eliya and the Elephant orphanage at Pinnawala.
For surfing, beach lifestyle, yoga and food go to Weligama (365 days!), Galle and Mirissa.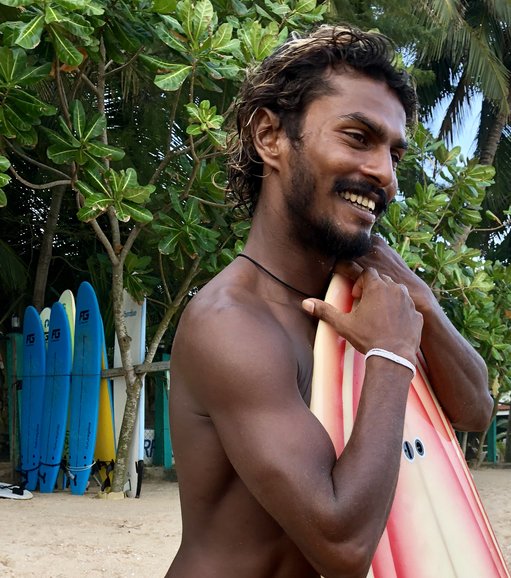 Smiles & surfing, Weligama Beach