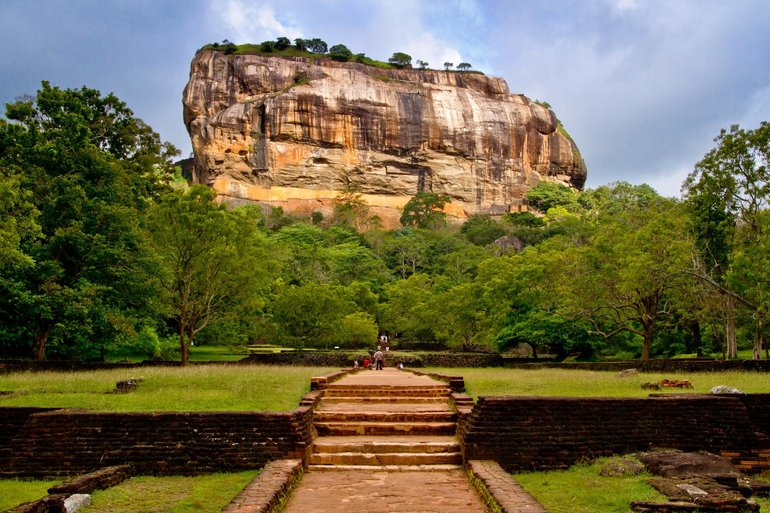 Sigiriya Rock, Matale District, Sri Lanka
Visa
---
With effect from 1st January 2012, all Holiday or Business travelers to Sri Lanka must have Electronic Travel Authorization (ETA) for entering in to Sri Lanka.
When applying ETA by third parties' payments are to be made through the arrangement made in our website www.eta.gov.lk and obtain acknowledgement of ETA application. Any payments made to other websites or agencies are not valid to process a valid ETA. Therefore, always ensure that the payments made by accessing to Sri Lanka ETA website and avoid making repayment at the port of entry to Sri Lanka.
Please visit www.eta.gov.lk for more information.
Weather
---
Due to the location of Sri Lanka, within the tropics, the climate of the island could be characterized as tropical.
The central part of the southern half of the island is mountainous with heights more than 2.5 Km. The core regions of the central highlands contain many complex topographical features such as ridges, peaks, plateaus, basins, valleys and escarpments. The remainder of the island is practically flat except for several small hills that rise abruptly in the lowlands. These topographical features strongly affect the spatial patterns of winds, seasonal rainfall, temperature, relative humidity and other climatic elements, particularly during the monsoon season.
The Climate of Sri Lanka is dominated by the above mentioned topographical features of the country and the Southwest and Northeast monsoons regional scale wind regimes. The Climate experienced during 12 months period in Sri Lanka can be characterized in to 4 climate seasons as follows:
* First Inter-Monsoon Season (dry): March - April
* Southwest Monsoon Season (wet): May - September
* Second Inter-Monsoon Season (dry): October - November
* Northeast Monsoon Season (wet): December - February
Timezone
---
Sri Lanka Standard Time is five and a half hours ahead of GMT (GMT+5:30). Allowance should be made for summer-time changes in Europe.
Electricity
---
The current is 230 to 240 volts, 50 cycles AC. If you travel with a laptop computer you might need a stabilizer.
Language
---
Sri Lanka has two official languages: Sinhala and Tamil - with English as a link language. Most people have some knowledge of English, and signboards are often in English.
Restrictions
---
There are some important restrictions that apply to photography regarding Buddhist imagery. When you visit a temple or other religious site, remember that photography should not be carried out in a manner causing disrespect. For instance, it is strictly forbidden to be photographed in front of or beside any statues and murals. Note that flash photography can damage old murals.
Foreign Currency Regulations
---
Visitors to Sri Lanka bringing in more than US$10,000 should declare the amount to the Customs on arrival. All unspent rupees converted from foreign currencies can be re-converted to the original currency on departure as long as encashment receipts can be produced.