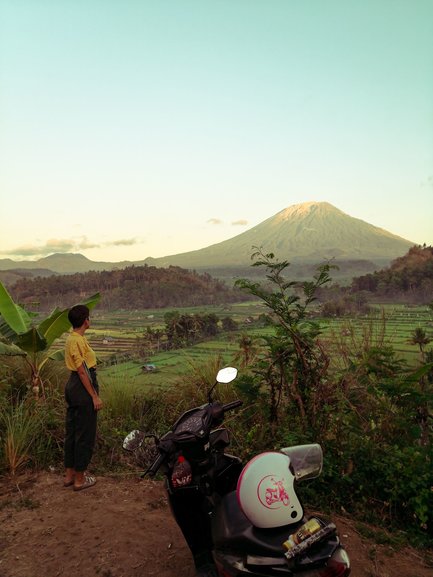 Bukit Cinta Pangi East Bali
East Bali is a lesser known part of the island though undoubtedly it is still scattered with remarkable landscapes, landmarks and beaches.
Through this day trip you will get to experience breathtaking scenery and Balinese culture and traditions. Snorkel right from the shore over thriving marine life and wander around picture perfect palaces.
Day Trip Itinerary
First stop is Tenganan Pegeringsingan Village
This village is one of the oldest in Bali and up to the 1970's was the most secluded society in the archipelago. Once at the village, a local guide will take you round and explain the layout and history of the village as well as Balinese culture and traditions.
We visited the village close to the Full Moon days. Over this time, Balinese people honor the gods by preparing offerings and visiting temples. And at Tenganan village all the women were gathered at the common area, cooking food and preparing offerings.
Next stop is a water palace; either the Insta famous Tirta Gangga or Ujung Water Palace
Both Palaces are 40 minutes drive from Tenganan Village. Ujung is the largest and least popular while Tirta Gangga is smaller, more Instagrammable therefore more popular.
These picture perfect former royal Palaces feature beautiful gardens, a glimpse into Balinese intricate architecture and bathing pools.
Your next scenic spot is Bukit Cinta Pangi, one of Bali's best viewpoint
This Viewpoint is a 15 minute drive from either Palaces. Admire the stunning views overlooking vast rice fields with a backdrop of Bali's largest volcano, Mount Agung.
The trip then takes you to Amed, a stretch of coastal villages 30 minutes drive from Bukit Cinta. Amed's highlight is its excellent snorkeling just of the shore. Our best snorkeling experience here was in between Amed Beach and Jemeluk Bay just opposite the Three Brothers Bungalows.