Rwanda is located in East Africa and is situated in the African great lakes region. Rwanda has healed the wounds from a devastating genocide more than two decades ago, it has emerged as one of East Africa's premier travel destinations. The mountains in the west and savanna to the east of the country are visited by thousands of tourists every year. Rwanda is known for its transformed capital city – Kigali, wildlife adventures in its national parks and the famous mountain gorillas. Here are five reasons you should visit Rwanda.
1. Gorilla Trekking
---
Rwanda is one of only three places in the world where you can trek some of the world's remaining 880 mountain gorillas. Volcanoes National Park in Rwanda is the most famous destination in Rwanda. It has become synonymous with mountain gorilla trekking safaris and no visit to the country would be complete without visiting these majestic primates.
Volcanoes National Park, one of Africa's oldest national parks, and you'll be led on a daily guided gorilla trek that tops out at eight visitors. There is no other wildlife experience quite like an encounter with mountain gorillas. That precious hour spent in their company – watching the group playing, sulking, teasing each other, eating, or dozing just like we do – is extraordinary. And the gorilla trekking safaris in Rwanda's Volcanoes National Park are among the best in Africa.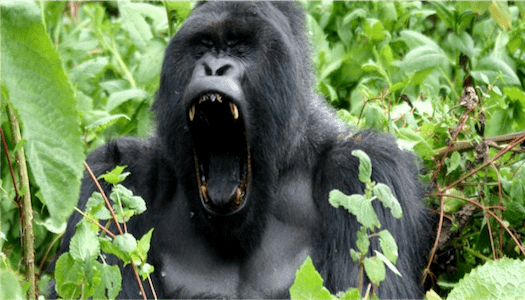 Gorilla Trekking Safari in Rwanda
2. Genocide Memorials
---
No one would want to reminisce genocide on their vacation but the Genocide Memorials in Rwanda are one of the top visited attractions. Don't miss the visit the Memorials for stories that make it seem like the Genocide happened last night. Rwanda has made a huge progress since the 1994 genocide but, it is vital that the visitors and the people, who live here, know about the horrific incident that shook eastern Africa. The Rwanda people this will among other things help prevent future similar occurrences.
You will visit a site of over one million genocide victims, churches which were also the sites for the horrendous massacre, a school that was also one of the sites to the genocide and also visit a museum which contains preserved bodies of the victims and a detailed history about the outbreak of the genocide.
3. Safety And The Lakes
---
Safety is a priority for almost all travelers. Rwanda is one of the safest countries not just in Africa, but in the world: In 2015, Rwanda country ranked fifth globally and first on the continent in Gallup's Law and Order Index, which measures how safe people feel walking home at night. Violent crime is near nonexistent, and the terrorist threats that have plagued other East African destinations have not affected Rwanda.
Due to its location in the Great Lakes region of Africa, Rwanda is a natural paradise surrounded with many pristine and charming lakes and lake beaches. Five volcanic lakes lie on the border of Rwanda and Congo and are full of great attractions. The lakes are bordered by mountains and provide a great place for trekking, hang gliding and water skiing etc. The surrounding forests are also great for a marvelous gorilla safari.
4. Wildlife Viewing Safaris
---
Rwanda's Akagera National Park is an amazing wildlife safari destination in Rwanda. It is located in the north east of Rwanda along the border with Tanzania. The forest fringed lakes, papyrus swamps, Savannah plains and rolling highlands combine to make Akagera amongst the most scenic of reserves anywhere in Africa. It has exceptional levels of biodiversity and forms the largest protected wetland in central Africa.
Notable plains game in Akagera National Park include elephant, buffalo, topi, zebra, waterbuck, roan antelope and eland. Other antelope are duiker, oribi, bohor reedbuck, klipspringer, bushbuck and impala. Of the primates, olive baboons, vervets and the secretive blue monkey are seen during the day, with bushbabies often seen on night drives. Akagera is an important ornithological site with nearly 500 bird species, providing a fun-filled game viewing tour in Rwanda. Look out for the rare and elusive shoebill which shares the papyrus with other rarities such as the exquisite papyrus gonolek and countless other water birds that inhabit the wetlands in large numbers. Proceeds from your safari in Akagera National Park go to improving and preserving the park for future generations.
5. Growth In Kigali City
---
The capital and the largest city in Rwanda, Kigali would remind you of a typically European town with clean streets and paved roads. Founded in 1907, brought down by the genocide, Kigali is on the move. Kigali also enjoys a cool subtropical climate, which ranges between 27 to 15 degrees throughout the year. Enjoy locally roasted coffee from and city Cafes, visit the Arts Center or take a mini-hike on Mount Kigali which is the highest point sitting atop an elevation of 1,850 meters above sea level.
The above attractions are just a handful of the several places you can visit in Rwanda. Rwanda is indeed unlike any other African country you might have visited.