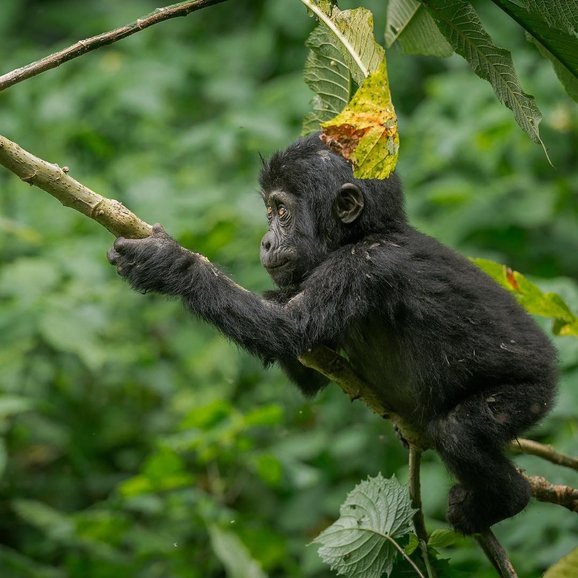 Baby Gorilla 📸Elly T
Rwanda known as the land of 1000 hills, has a history of pioneering conservation of mountain gorillas by Dian Fossey a conservationist and that of a distressing past - the genocide against Tutsi that occurred in 1994 - more than 800,000 people killed in 100 days. The story is just too sad, but Rwanda, in its plea for reconciliation that would unite the Tutsi and Hutu, has built a stable economy emerging among the top African travel destinations.
The capital Kigali city is one of the cleanest in Africa, with modern transport systems that has not only made it easier to get around the country but also solving the problem of traffic and congestion.
Although it's small, almost the same size as Haiti, Rwanda offers a lot of wildlife and adventure lovers as well as business travellers. The mountain gorillas in Volcanoes National Park, that became famous in the movie "Gorillas in the Mist" a tribute to works of Dian Fossey, is what draws most visitors to Rwanda.
But the land of 1000 hills offer more to see and do in its just four national parks and other destinations like Lake Kivu with white sand beaches, Congo-Nile trails, Kigali city, Genocide and Butare.
Explore Rwanda National Parks
---
There are four national parks in Rwanda that are home to a variety of wildlife from the mountain gorillas to the big five African mammals.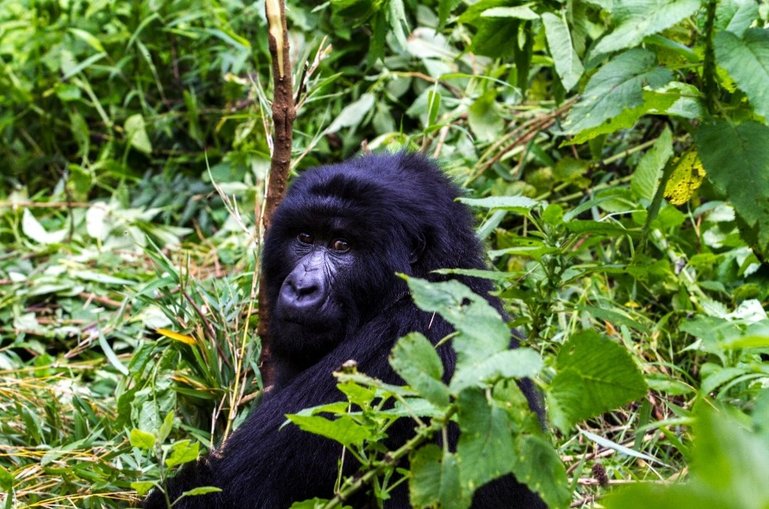 Gorillas courtesy to Route wild guide
Volcanoes National Park
Volcanoes National Park as part of the greater Virunga Conservation area, is a home to over 300 of the 1000 mountain gorilla population in the wild. In the park there are 10 gorilla families that are habituated for gorilla trekking safaris, though its high-priced, spending one hour with gorillas is a once lifetime experience and also helps to conserve these endangered species.
Other than the gorilla trekking experience, the park has more adventure activities affordable for budget travellers, including golden monkey tracking, hiking the Virunga volcanoes, hike to Dian Fossey grave site, cultural and community tour. You have to spend at least 3 days in the park to do these activities.
The gorilla trek is usually done in the morning, after you can spend the afternoons or evenings outside the park to visit Iby'iwacu cultural village. There's a display of Rwandan art and cultural heritage and visitors can take part in traditional dances while dressed like a Rwandan king or queen along with visiting iron smelters, herbalist and farming projects.
Within the park, there are 3 dormant Virunga volcanoes namely Mount Karisimbi, Mount Bisokeand Mount Muhabura is a haven for hikers and offers a stunning view of Virunga landscape plus a variety of birds and monkeys to sight.
Akagera National Park
Located in north eastern Rwanda, Akagera, the only savannah national park in Rwanda offering game drives, boat cruise and nature walks with an opportunity to spot great wildlife in the park. Akagera has Big five African mammals as well as other mammals such as giraffes, eland, zebras, impala, warthogs and also hosts over 500 species of native and migratory birds.
The park is named after river Akagera which meanders through the open acacia savannah feeding the park's low-lying area of swamp fringed lakes that attract hippos, Nile crocodiles and a variety of birds which can be seen during boat rides on Lake Ihema. On this lake, there are also opportunities for catch and release spot fishing.
Nyungwe Forest National Park
A nature lover's dream, Nyungwe Forest National park protects more than 1000 km of evergreen tropical rainforests that support a rich biodiversity of flora and fauna. There are 12 species of primates including chimpanzees, over 300 species of birds, butterflies and over 1000 plant species.
Visitors can do chimpanzee trekking and colobus monkey tracking, best done during the dry season June to September and December to February. Seeing chimps is great, but you will not have explored the park.
Canopy walks
The canopy walks, where bridges 30 to 50 meters high above the ground connect through the treetops allowing visitors to take in aerial view of Nyungweforest. There are 13 guided nature walks and trails of varying duration that go through the jungle to beautiful waterfalls like Kamiranzovu waterfalls, and likely spot a variety of primates such as black and white colobus monkeys, red tailed and blue monkeys.
The communities surrounding the park grow tea and run a number of eco-tourism projects in partnerships with some of the luxury lodges such as one and only.
Gishwati Mukura National Park
Created in 2015 to protect chimpanzees and golden monkeys against encroachment, Gishwati Mukura National Park covers 34 km which is a mixture of primary and replanted forests. Visitors can visit the park for chimpanzee treks, though in its initial stages, it's a great way of managing the landscape for both nature and the local communities that live there. Tourism is playing a vital role to ensure survival of the wildlife while benefiting the people.
Visit Kigali city
---
The best way to learn about the economy, cultural heritage and history of Rwanda is a tour of Kigali city. Whether half day or full day, though there are so many things to see and do, the ones that shouldn't be missed such as the Kigali genocide memorial, local markets such as Kimironko, workshops such as Nyamirambo women's center and museums such as Kadt house, museum of Natural history.
Kigali Genocide Memorial
The genocide against Tutsi that happened in 1994 is a baggage that the country is stuck with – Rwanda's enduring trauma. Such a ruthless carnage of more than 800,000 people in 100 days and about 250,000 victims were laid to rest at the Kigali also known as Gisozi genocide memorial located in Kigali city.
Looking back to this civil war in 2004, the memorial was opened for peace building and reconciliation to invoke freedom and patriotism for the country and for the world to take a lesson. There are audio and visual programs that take visitors through the events that led to, during and the aftermath of the genocide. More than just a memorial, the campaign "Never Again" is geared towards supporting the families of victims.
Lake Kivu beach holiday
---
Rwanda's beach holiday destination, Lake Kivu is located west of the country's border with Democratic Republic of Congo. Along its shores, the developing Rubavu town where you will find beaches, lodges and hotels and basing from there, you can make an excursion to the lake's beautiful islands such as Idwiji island. There are also lots of water spots to do such as kayaking, kite surfing, fishing and boat rides. Rubavu is also the gateway to Congo-Nile trail, this biking route covers 257 km and runs up to Rusizi on the border with DR Congo.
Congo–Nile Biking Trail
---
Possibly one of the best biking routes in East Africa, the Congo Nile trail covers a distance of about 257 km of trails are mostly dirt roads both single tracks and public roads, running along the shores of Lake Kivu from Rubavu all the way to Rusizi district. The terrain is moderate; the highest point on this trail is at 2399 meters above sea level. You will finish this trail in 5 days and be happy with the scenery, cultural encounters, food and markets – and be immersed into the real rural lifestyle of Rwanda.
When to visit Rwanda.
---
You can visit Rwanda anytime of the year because the country has tropical weather that is warm and cool all year round. However, there are two seasons; dry and wet season which you need to consider for the type of tour activities you want to do on your safari.
First of all, the dry season (peak season) is from June to September and December to February, is regarded as the good time to go gorilla trekking, chimpanzee trekking, golden monkey tracking and volcano hiking. Because the trails in the forests are not so muddy due to less rainfall, thus easier for trekking such as in Nyungwe forest and Volcanoes National Park.
Having said that, it does not mean that you cannot do primate trekking activities mentioned above during the wet season. Definitely, you can do gorilla trekking or chimpanzee trekking during peak of the rainy season from April to May or October to November. So, if coming on for the rainy season, expect that muddy road conditions especially in Nyungwe forest and Akagera National Park will be difficult to navigate due to rains.
written by Elly.T travel and safari planner