Starting southeast of Munich, a good gateway airport (hint: rental cars are usually much cheaper in the city than at the airport), and traveling west by road or rail:
1] Herrenchiemsee Island with gardens and the great palace. Drive to the pier, take the boat to the island, transfer to horse cart for the trip thorough the forest if its raining or walk cross the gardens to the palace. Mad King Ludwig set out to outdo Versailles, and he was well under way when he died in a suspicious drowning in another Bavarian lake.
There are three islands of interest to tourists to the west in the Bodensee (Lake Constance), Germany shore.
2] Lindau is a well preserved Medieval village that completely covers a small island in the Bodensee. Lindau is so close to shore that you only need cross a bridge to get there. Hint: its easier to park on shore than on the island.
3] Reichenau Island, a wind swept coastal vacation spot, very free of foreign tourists when we spent a night there; and
4] Mainau Island, by ferry boat from Meersburg, with a mansion and an extensive collection of tropical plants. A short bridge connects the island to Switzerland. Mainau can also be reached by ferry from Bregence, Austria and from Lindau, but Meersburg is the shortest trip and a visit to Meersburg, with its old town center, although not as old as Lindau, is worth a visit.
Allow at least 3 days for the four islands.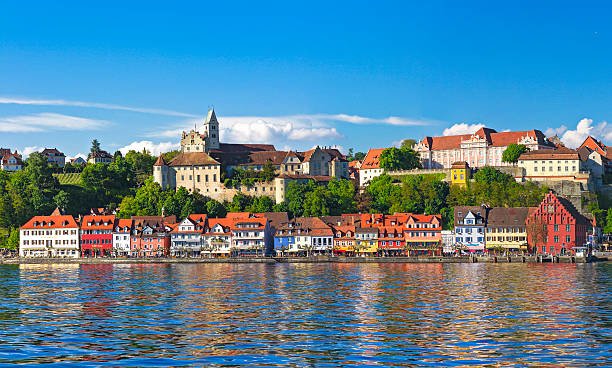 Meersbung from the boat