Anyone who knows me knows that I'm always up for adventure. Everything from sky diving to scuba diving, I've ticked off my bucket list. But biking trips are not among the numerous adventures I'd like to enjoy. Forget bikes, sitting on a humble scooter is a big enough struggle for me. So, when an old buddy from college tried convincing me to join him on the epic Leh Ladakh bike trip, I entirely shot him down. He's an avid biker, and I remember him gushing about this biking route since our college days. I didn't want to leave him hanging, so I weighed the pros and cons and realised, I do like travelling, I've been meaning to visit Ladakh since ages, I love mingling with random groups of people, and well, I've always loved a good adventure. Some negotiating later, we reached a midground where he'd be a rider and I'd simply be a pillion rider who'd kill for a stunning view. And that's how I ended up embarking on a life-changing Ladakh bike trip.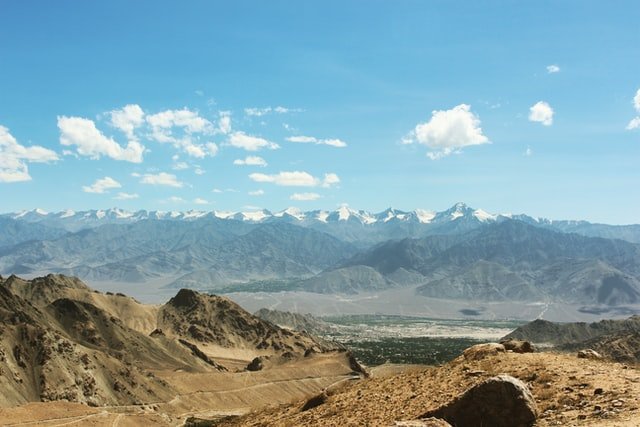 Views while biking in Ladakh
We reached a day early so we'd get to explore Manali at our own pace. It had been a while since I'd visited the old town; the last time I was there, I was prepping for one of my first Himalayan treks to Hampta Pass. It was fun revisiting all the markets and local eateries that hadn't aged a day since my last visit.
The next day we met our fellow riders and crew, and got our Enfields and biking gear. The day went by in socializing and chatting with the amazing group of people we'd be on the road with for the upcoming days and took our bikes around Manali for a test run. The morning after, we were up at the crack of dawn and set out on our Ladakh bike trip with hoots and cheers while riding out of Manali.
Over the next two days, we passed several high-altitude passes including the Rhotang La, Baralacha La and Tanglang La. We soon crossed the Indus valley, and arrived in the stunning town of Leh. After days of being on the road, we appreciated our acclimatization day at Leh as we explored the area and chatted with locals over steaming hot cups of chai. We soon set off toward the Nubra Valley. I was excited to zip through the gorgeous mountains again – my camera and I were as ready as we could be.
That day, we crossed the Khardung La, one of the highest motorable roads in the world. Even for a novice like me, it felt like a deeply moving experience to be at the supposed top of the world. I could only imagine what it felt like for my friend and the other bikers who had joined us from across the country, some even from across the globe! Once we reached the legendary Nubra Valley, we were stunned. Even the chatty riders were at a loss for words at the looming, magnificent mountains that were around us. The next morning, we made our way to the infamous Pangong Lake, the crystal clear, teal waters mesmerising each and every one of us. I'd taken some wonderful photos along the way, but as I clicked some pictures of the lake, I realised that no photo could ever capture the raw beauty that was before my eyes.
We spent the next few days tracing our tracks back to Manali, crossing the gorgeous landscapes from earlier all over again. Although it was the same route, it didn't feel monotonous. I guess I could stare at these mountains and valleys for days as they stand there, unchanged, but I'd still never grow tired of their beauty. We spent our days stopping at roadside tea stalls and chatting with locals and other biking groups, exchanging our endless stories.
On the last day of our Leh Ladakh bike trip, we arrived in Manali with a newly charged up spirit. We returned our bikes and gave a million thanks to the amazing crew that took us on a trip of a lifetime. We all exchanged photos and said our goodbyes to our new friends, promising to keep in touch and try to align our next biking trips. As I boarded the flight home, my mind and heart were still in the mountains, and I'm sure a part of it will always remain there.