I've been taking a poll of people who have seen both the spectacular fall foliage in Vermont and fall in Utah. I ask, "Which is better? ", and 80% say Utah. Fall in Utah tops Vermont in several ways. First, there is the setting. Vermont's hills can't hold a candle to the peaks of the Wasatch Range, where fall centers on 11,970 ft. Mt Timpanogos and 12,002 ft. Mt Nebo. These are not the rolling hills of the east. These are great craggy mountains, where glaciers and evergreen forests provide the setting for fall colors. Even without the fall colors, Utah's mountain highways are scenic spectaculars.
Second, fall is off-season in Utah, high season in Vermont. Room prices are at their lowest in the fall. We drove more than 20,000 miles seeing Utah's fall over six years, never made an advanced room reservation, and never needed one. Highways are free of traffic, except on the weekends when Salt Lake City goes to see fall, but even then, there is no comparison to grid locked VT Rt. 100. Restaurant prices also drop, with a flood of 2-for-1 coupons in the Park City Record, making a meal at Grappa, Glitretinde, or Goldner Hirsch a major bargain. Rental car prices at the airport are also at their lowest.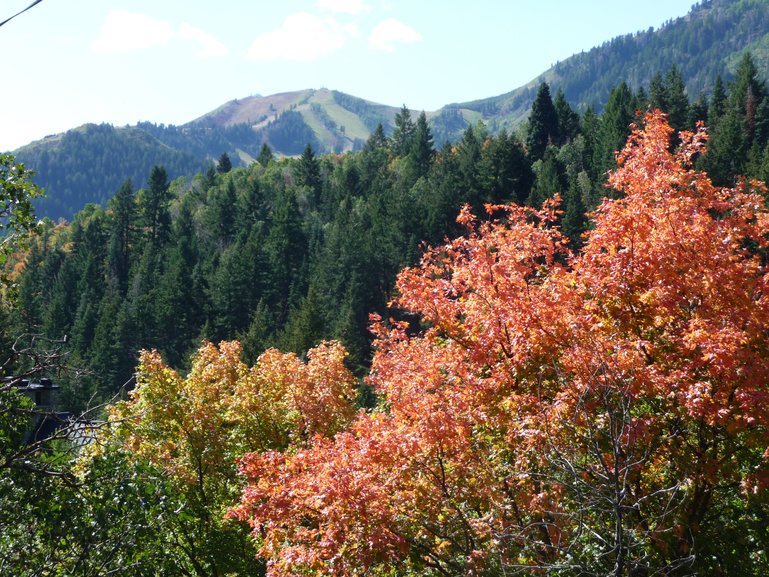 Fall in northern Utah lasts 6-8 weeks. Including the late colors in Zion Canyon, Utah's fall runs from late August to mid-November. Vermont is good for about a week, 10 days at the most. There are four seasons in Utah's fall. First, the preliminaries, a few mildly red bushes and trees that only hint of what is to come. Second, in early September, come the spectacular red wild mountain maples, fully the peers of Vermont's famed Sugar Maple. Third, in late September-mid October the glorious golden Aspens arrive, followed by pastel season, when the lower mountain slopes take on the colors of the palate of an Impressionist artist at the end of long day, mottled mountainsides of muted orange, purple, and brown, unlike anything we have seen anywhere else.
It's hard to say whether the maples or Aspens are the stars of the show, but there are a lot more Aspens. The maples are most concentrated in the foothills south of Heber City. Prime viewing is from UT Rt. 92, and Wasatch Mtn. State Park Golf Course, where a September round on the Lake Course is surrounded by blazing red trees beneath the high mountain tops, sometimes capped with snow.
Aspens are everywhere. Top viewing from UT Rt. 224 traveling south from I-80, and UT Rts. 92, 150, 35, 39, or any mountain road north of Zion National Park and west of Capitol Reef National Park. Utah's Rt 12 between Bryce Canyon and Capitol Reef National Parks, one of the most scenic drives on Earth, is at it's best when the golden Aspens top vast Boulder Mtn.
Do not miss riding the lift at Deer Valley if the Aspens change while the summer lift still operates.
US 40 east of Heber City climbs 2,5000 ft. up a canyon whose walls display every possible color and the canyon floor is bedecked with cottonwoods along the stream bank. Stop at the visitor's center at Strawberry Reservoir to see the salmon spawning (late Aug-Oct. ), surrounded by Aspen groves.
More or less in order, scenic fall day trips (if you encounter a herd of cattle or a flock of sheep ambling down the road, go very slowly, but try not to stop. You have to bluff them out. If you stop, they will surround you and trap you. This is the end of the round up when the herds return to the valleys from the high mountain summer pastures) are:
(1) UT Rt 92 (US day use fee), with a stop at Robert Redford's Sundance Resort for lunch, ride up the lift, and a stroll around the grounds. We have driven scenic highways all over North America and Europe, and parts of South America and Africa, and our vote for the most scenic drive goes to UT Rt. 92 in the fall. Be sure to go both directions and take all side roads. When you come to the dam along the side road to Granite Flatts Campground, stop for the view downstream from the middle of the dam.
(2) Follow Midway's Main St. onto UT Rt 224 ( Turn right off Main St onto Rt 224). At the Blue Boar Inn intersection, continue straight ahead for Snake Creek Canyon or bear right to either Park City (aspens) or left up and over to Guardsman Pass to Brighton and Big Cottonwood Canyon) (maples and aspens).
(2) I-80 east to WY/UT 150 to either UT 35 or UT 214. On Rt. 150 ( fee) south from Evanston. Do not miss the short side trip to the incomparable Mirror Lake (near mile marker 32) with a pretty but flat trail circling the 9,000 ft. high lake, and a stop at Provo Falls, a series of 10 cascades and waterfalls, near mile marker 26.
(3) Mt. Nebo Scenic Loop, another National Forest scenic Byway. Take US 189 toward Provo to I-15 south, exit at Payson and ask directions. The Scenic Loop ends at Rt. 132. For a fast return, go right on Rt. 132 to I-15. The scenic return is to retrace your way back to the Santaquin Canyon road and take it to I-15. Restaurants in Payson and in Nephi.
() I-80 east to I-84 west to UT 161 to east bound UT 35. When you descend from the mountains on UT 35, there are choices. If your timing is right, fall in Grand Teton National Park, about three hours north via UT 16 and WY 89 is hard to beat. Yellowstone is next door, and while Yellowstone is no great shakes for fall foliage, it isn't very crowded in the fall. Stay overnight in Jackson Hole or Yellowstone. Return by US 189 and I-80 via Hoback Canyon, a good place to see mountain sheep.
Or, go north on UT 16, then east on US 39 & 89 through Logan Canyon. From Logan, return either by reversing the itinerary or by continuing to I-15. Although longer, the reversed itinerary is far prettier, and the views going this direction are quite different than what you saw on the way.
Or, head south on UT 16/WY 89 to Evanston and pick up either WY 150 (slow) or I-18 (fast) back to your hotel.
Or, turn around and go back the way you came. The scenery is quite different driving this direction, with no sense of doing what you have already done.
(4) Rt 224 from Kimble Jct to Park City. Follow the signs for Deer Valley. Just after the road becomes divided, turn right on Royal St. to Silver Lake Lodge and ride the lift through the Aspens to the great views from the top of Bald Mtn. Start back the way you came, but take the first left
Take UT 32 toward Kamas, but go straight at the four way stop in Francis onto UT 35 [great fall Aspens]. There is a beaver dam, pond, and lodge in the stream on the right near milepost 32, just across from the higher of two stretches of fake rock lining the cliff. Cliffs along the highways that are especially prone to falling rock are covered with concrete for stabilization, and then the concrete is colored to look like rock [also along US 189 on both sides of the tunnel near Rt 92].
Turn right on US 40 and to Muir's Smokehouse in Fruitland for fine smoked meats and home made pies, but if you never had one, opt for the bargain priced Buffalo Burger. We lunched at Muir's once while showing a visitor from a big eastern city around. During lunch, we fell into conversation with a cowboy taking a break from the round up who came by Muir's for a lunch of half a peach pie. Citified dudes are surprised to run into real cowboys on real roundups, but it happens here. The cowboy didn't arrive on horseback. It was his day to use the Jeep. That's why he could make it to civilization for lunch.
Continue toward Heber on US 40 to Strawberry Reservoir Visitor's Center where you can see a salmon run late August- Continue toward Heber on US 40 to Strawberry Reservoir visitor's Center where you can see a salmon run late August-October. If it is fall, the roads circling the reservoir have good Aspen views. There is also a beaver lodge along the side of the road between Fruitland and the summit, but it is impossible to spot from the highway going this direction. Go to the top of the hill and turn around.
(7) US 189 to Provo, I-15 to US 6 east to UT 96 to UT 264, turn left on UT 31 to Huntington. At Huntington, turn around and take UT 31 to US 89 back to US 6. Mostly Aspen.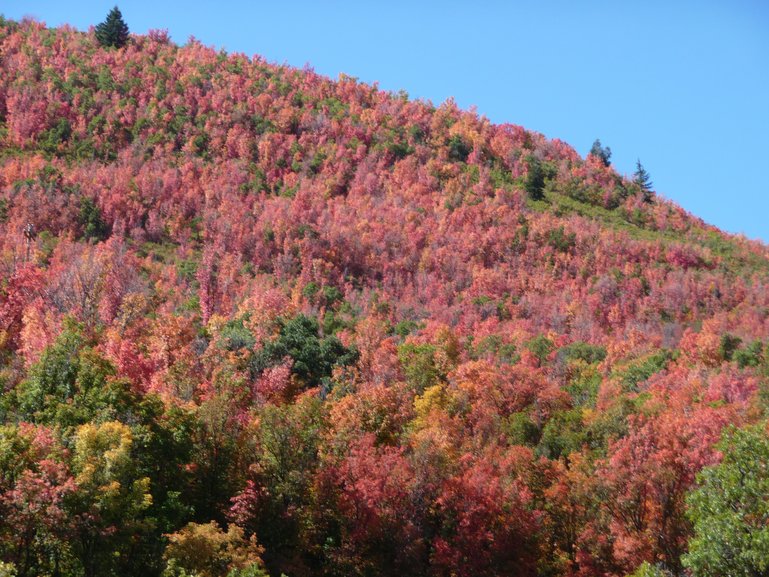 Snake Creek Canyon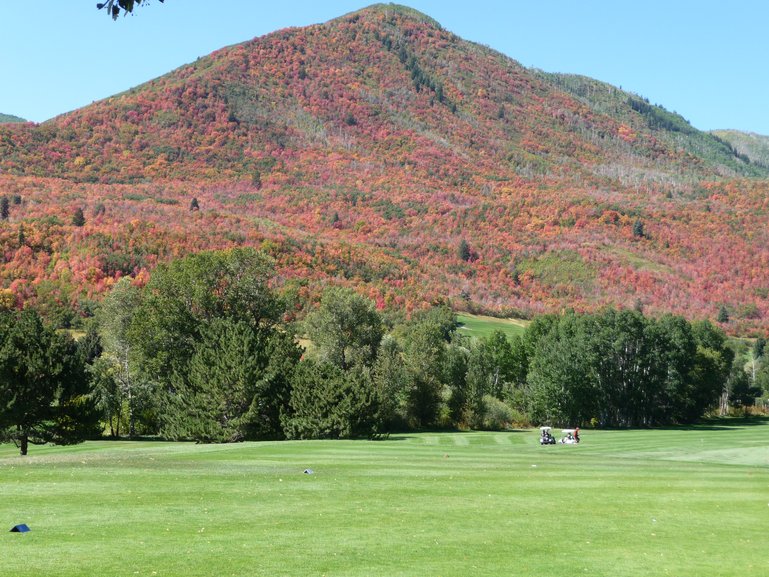 Golf course