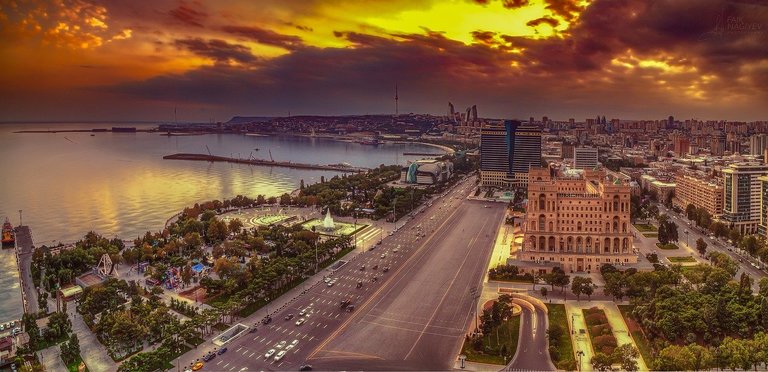 When you think of a tourist destination, Azerbaijan is probably far from the first destination that comes to mind, but it is surprisingly an excellent travel destination with cultural and geographical gems. Located in between the old Silk Road and great former empires, it's advanced rapidly in recent decades due to its oil supply. Known as the "Land of Fire", this former Soviet republic in the Caucasus mountain range is a study in contrasts. The capital, Baku, is refreshingly modern and filled with 21st century buildings, ski resorts and dreamy Caspian Sea landscapes. A few hours out of the capital and all you'll see are isolated villages peppered around the mountains that seem stuck in the past.
In this article we'll break down what you need to know before you visit this magnificent country.
1. Arriving by plane from Europe
---
The majority of tourists in Azerbaijan fly in to the international airport in Baku, with certain flights from Moscow and Istanbul going directly to other cities like Ganja, Lankaran, and Nakhchivan. There are Lufthansa flights from Frankfurt to Baku five times a week as well as Turkish Airlines flights from Frankfurt, Vienna and Zurich four times a week connecting through Istanbul. Air France flies in via Paris and Austrian Airlines flies to Baku through Vienna. Azerbaijan Airlines (AZAL) operates flights from major European airports to Baku, Ganja, Lankaran, Zagatala and Gabala.
2. Arriving by plane from the US
---
Azerbaijan Airlines operates flights from New York to Baku or you can fly with Turkish Airlines, Aeroflot, Lufthansa, Qatar Airways and more, transiting through Europe to arrive in Baku.
3. Arriving by train
---
A reliable train service operates regularly from Georgia to Azerbaijan.
4. Visa requirements
---
Visa requirements depend on your country of nationality so the best thing to do is to refer to the information provided by your country's appropriate authority.
For individuals traveling on a British or American passport, you are usually required to obtain a visa before arrival. Consult the website of the Azerbaijan Ministry of Foreign Affairs for more detail, as you may be eligible for an electronic visa. Electronic Visa Applications, once approved, are valid for 30 days, single entry, at a cost of $20.
5. Language
---
After independence from the Soviet Union, the official language is Azerbaijani (sometimes known as Azeri-Turkic). It's related to Ottoman Turkish and uses the Latin alphabet. Russian is still used in everyday life and English is increasingly spoken by the young population in tourist locations.
6. When to travel
---
The best time to travel really depends on the region you want to go to, because the climate varies with the geography of Azerbaijan. The lowlands near the Caspian Sea are at their best from April to June, with greenery abounding and clear skies every day.
The summers are extremely hot and wet, but the winter time is pretty mild. The hottest months are July and August, at which time you should head to the mountain region which is usually relatively inaccessible. October is the best month to travel to the capital, Baku. If you're a ski fanatic, you should go to Azerbaijan from January to February.
7. Currency
---
The official currency of Azerbaijan is the manat. You can use credit cards at banks in Baku and large hotels and restaurants which cater to travelers, although cash payment is always preferred. Use only notes that are in good condition as others may not be accepted. Try to pay the exact amount to avoid someone saying they don't have change for your larger bills.
There are no issues with ATMs and most international cards are accepted here, although we still recommend that you bring euro or US notes with you to exchange as you need to.
8. Accommodation
---
It's easy to find big chain hotels in big cities like Baku and the standards are quite high. It may be difficult to find cheaper accommodation and youth hostels as these are still relatively rare.
9. Safety
---
Azerbaijan is quite a safe country to travel to with low levels of crime. You should still exercise a normal degree of caution and common sense, especially at night. Refer to your country's travel and safety advice recommendations.
10. Getting around by bus
---
There is a well built, modern road network in the country with many buses and minibuses traveling between Baku and other areas that are relatively affordable. The driver must be paid in cash and no schedule is followed – the bus leaves when there are enough people on board.
11. Getting around by metro
---
There is a metro system in Baku which works smoothly and is very cost effective. You can catch a train every few minutes all day with the exception of 1am to 6am.
12. Getting around by train
---
The rail network in Azerbaijan is quite extensive but it doesn't match Western standards. The trains are quite slow and we strongly recommend that you stick to road travel.
13. Taxis
---
Taxis in Azerbaijan are purple and they must all have a meter installed. You should still agree on the price beforehand to avoid getting scammed. They are available in and out of Baku but they're more expensive outside of the city.
14. Religion
---
There is a very well-respected separation of state and religion in the country. Although most Azerbaijanis are Muslim, it does not influence daily lives outside of the festival of Ramadan.
15. Health
---
It's free to get medical aid for residents and travellers, but it may not be easy to get outside of Baku. Get travel insurance and bring a first aid kit. You should also avoid drinking tap water. Consult the WHO website for more information about the health advisories for Azerbaijan.
16. Food and drink
---
Food is very important in local culture and is influenced by many places like Turkey, Georgia, Iran and more. A lot of foods are grown at home due to the varied climate like vegetables and spices. Seafood dishes are popular near the Caspian Sea, and yoghurt makes a frequent appearance in soups. Meals are paired with black tea and a piece of baklava.