Morocco is a beautiful place for a road trip, all year round. In March, when I went there, the weather was really pleasant (23-25 degrees in Marrakech) so apart from having a generous amount of coffee and lamb tagines, I had some driving experience, too. It was quite exciting to jump on the road and enjoy a variety of views, from snow sprinkled mountains to warm sands of the Sahara desert.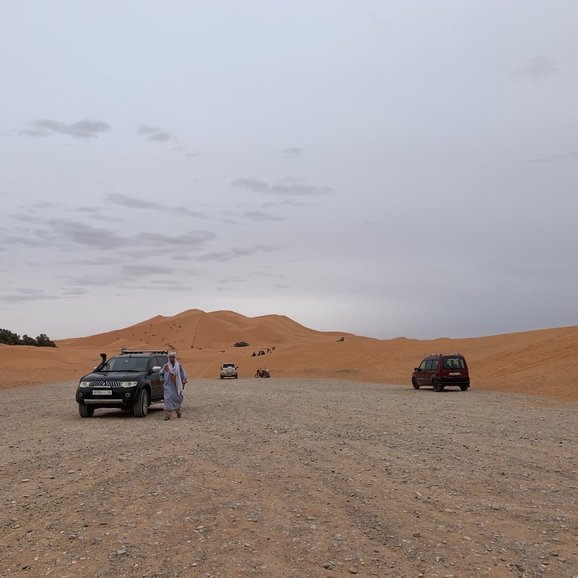 Driving in Morocco
My next trip there will definitely follow an Atlantic coast route. Can't wait to see those beautiful breezy cities with blue and white painted houses.
What do I need to rent a car in Morocco?
---
I recommend finding a good rental company before you arrive. With more time in advance, you will be able to compare prices, consider what kind of car you want and have plenty of time to find an alternative, if the rental company don't have a car for you at a time.
Apart from driving license from your country, you will need an international driving permit. International driving permit is a confirmation for local police that you have required permits to drive a car.
International driving permit
---
If you have a UK or EU driving license, it is okay to drive in Morocco, however, you will need to obtain an international driving permit. There's no additional test involved, the document is a little grey book which might be checked by your rental company before they hand you in the car keys.
In the UK, you can get it in the post office. More info here.
There are three kinds of driving permit:
1926 IDP
1949 IDP
1968 IDP
For Morocco, you need 1949 IDP. To check the requirements for other countries, please refer to the official government website here. After you obtain a document, it will be valid for 1 year. It cost £5.50 to get it, and you also need a photo which will be glued inside it.
Where to rent?
---
Fatcar – the best-rated car rental in Marrakech, I think it's a family-run business. Please note that French will get you through this country way better than English, but even without any particular knowledge, I still managed to rent a car and get the deposit back (turned out that I knew better how to operate card machine to issue a deposit refund) so that's pretty sweet!
They have different cars, but the one I rented out was Dacia Duster for a rate of 40-45 EUR per day depending on the length of your rental. It comes with A/C and manual gearbox. Deposit is 800 EUR and they put it only on a credit card.
Roads in Morocco and driving culture
---
From my personal experience, driving in Morocco is very varied and exciting (and of course it matters what makes you excited, and what makes you frustrated). In towns and cities, it's rather hectic, as there is a lot of little motorbikes and scooters outrunning you from every possible side. Also, a lot of people travel on foot, ride mules and donkeys. Many cars look like they spent their whole life in the desert, and it wasn't a fun time. Traffic seems to govern itself in a very special way, keeping your heart rate up without a coffee or syrup-like sweet Maghrebi mint tea.
Stay calm, look out for pedestrians crossing the streets in the least expected moment, and you will be alright. Majority of roads are in quite a good condition, with smooth tarmac and not many potholes. It gets exciting (and cold) in the High Atlas mountain range. Mystical, dwarf-like trees, massive stones and deep cliffs just off the edge of the road make a good contrast with wide, sandy yellow landscape of Sahara.
Driving in High Atlas
---
In rural Morocco, you get the best of both worlds – a good surface of the roads, beautiful views on the mountains, occasional cars passing by and big trucks transporting the wood or sand. What might feel a bit surprising, not in a pleasant way – if you want to go through the whole range of Atlas, remember to fill up the tank to the fullest before attempting to do so. Halfway of the road is going uphill, meaning higher fuel consumption than you would expect. It seems to be so obvious, but at least once every holiday I am experiencing a stress sweat if I'm going to make it to the petrol station.
Driving off-road
---
Getting off the beaten track and seeing a cloud of dust rising behind your car might convert you into an adventurous explorer of the new lands. There are few restrictions to do so, unfortunately. It's not just all-wheel drive what you need, but also a skill, few tools (like a shovel and tow rope) special off-road tires with appropriate depth and pattern to minimise the chance of being stuck. You also shouldn't go off-road without accompanying cars, as those will be helping you out if you get lumped in the sand or mud. Most of the rental companies do not allow you to take the rental car off road, though, and I wouldn't recommend breaking any of their rules (they can keep your deposit, after all), however, there are many options you can get the off-road experience in Morocco.
When I arrived in Taous it was hard to miss over 30 off-road cars going around sandy hills and people inviting you to jump in one of those to be a part of exciting, short excursion to a land of dust and camels. In this case, I wouldn't worry about booking in advance – just come and see who is the most friendly!