In few minutes from Tomar, you can find a medieval castle on a granitic outcrop at the top of a very small island, known as the Castelo de Almourol. While each castle in Portugal is unique, this one piques visitors' curiosities precisely because of its picturesque location in the middle of the Tagus river. The access to the castle is by small boat with capacity for 20 people, either just outside the castle without any reservation. Price: 4,00 € / pax (boat trip and entrance to the castle).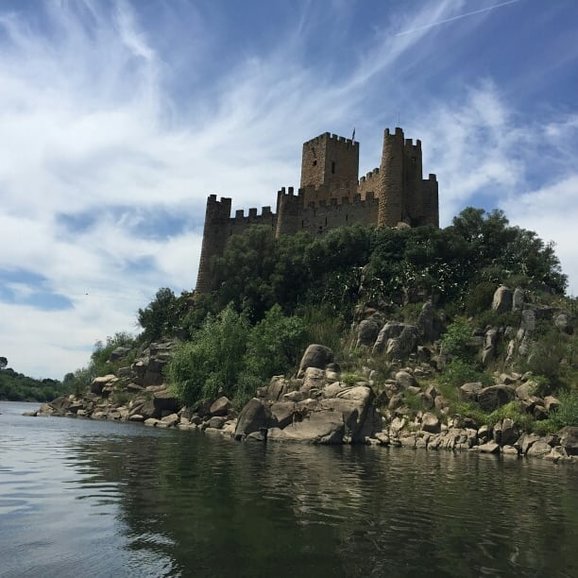 Castle of Almourol, Portugal
There's archaeological evidence that the castle was originally built in the 1-st century BC by the Romans, and then occupied by the Wisigoths and finally by the Moors, who called the castle "al-Mouro" (high stone), during the 8th century until the conquest of the place by the Christianы. It was rebuilt in 1171 by Gualdim Pais, Knight Templar and founder of Tomar, under the service of Portugal's first King, D. Afonso Henriques. It was of strategic importance in defending territories along the Tagus river. When the Templar Order was dissolved in 1312, this castle was remained in the hands of the Portuguese Crown until the creation in 1319 of the Order of the Christ, which inherited the entire Templar possessions.
Strongly damaged during an earthquake in 1755, the castle was rebuild in the 19th century following the romantic inspiration of the time. It was registered as National Monument in the 1919. By the middle of the XX century thanks to the drawings archives have been completely restored all the walls and the interior. Updated Almourol Castle came under the guardianship of the Ministry of Internal Affairs and became open to the public.
It's better to bring a light snack, because there is only a small cafe near the castle where you can buy soda and ice cream. There is no lunch. Near the pier there are ruins of the convent, which you can not visit. Along the shore there are abandoned orange gardens, where you can taste very juicy and sweet oranges. But be careful with ticks.
Visit this beautiful place and discover Portugal!
GPS: 08º23'02,301''W - 39º27'43,126''N
Opening:
May 1st to September 30th: everyday
From October 1 to April 30 (closed on 2nd Friday)
Time:
November 1 the January 31:
10h to 13h (last ticket to the Castle at 12.20)
14.30 to 17.00 (last ticket to the Castle at 16.40)
February: 10h to 13h - 14h30 to 17h30
March 1 to October 31:
10h to 13h ( last ticket to the Castle at 12.20)
14h30 to 19h30 (last ticket to the Castle to 18h50)