The average income of US tourists flying out of the country is $109,000 per year. Depending on family size, the Pew research center puts the start of upper class income at $78,000-175,000. The typical American tourist is not a budget traveler, contrary to what you might think from all the budget travel advice on the Internet. So, if you are not excited by the prospect of having to wash out one of your allowed two pairs of underwear in your Rick Steves' backpack in the bathroom sink at the gang toilet down the hall in a noisy hostel every night, read on.
The basic decision in choosing an EU trip is how to travel in the EU:
1] fixed base-- spend 1-2 weeks in Paris (or where ever); Pros: you get to see a lot of one place. Cons: you only see a lot of one place. Of the more that 600 days we have spent traveling in EU on 57 different trips, only 5 times have we spent more than 4 days in one city, and most of that came before we learned not to do that. Its called "travel", so travel.
The modes of traveling travel are:
2] public transportation (bus; train). Pros: cheap for solo travel. Cons: very slow, often crowded, and uncomfortable unless you pay big bucks for first class trains. For two to four people, rarely less expensive than rental car.
3] Packaged bus tours are probably the most common form of middle class travel. Not all bus tours are the same. They vary in price and comfort level. If you think a tour that provides "first class hotels" means you will be staying in a Hilton, forget it. It will be closer to Motel 6. You can get a guess at the comfort level of provided hotels from TripAdvisor or a good assessment from the Michelin Red Guide.
Lots of tour operators are part of larger companies that operate a range of comfort levels across their various tours. For example, Insight Vacations is the second from the top of a larger travel conglomerate that operates tours under several different names and each set of tours represents a different level of comfort. Words like "family style hotels, first class hotels, deluxe hotels, **** or ***** hotels denote the different levels of comfort (and usually price) across the range of tours offered by the conglomerate. As a general rule of thumb, deduct at least one level of claimed comfort to get it to correspond to your idea of what first class or deluxe means.
Packaged tours proclaim they offer good value compared to what it would cost if you did it on your own. This is kind of true, and kind of Fake News. The issue is that on your own, you can usually find comparable accommodations for less money than the rack rate for the tour group hotel-- but not always.
One trick they use to promote good value is to use low cost hotels that are way out from the center of town which is where you want to spend your spare time.
4] Pre-packaged river cruise. At age 78, this is our preferred mode of EU travel. Much like bus tours but with superior benefits: A bus tour means packing and unpacking every day or two. On a river cruise, your hotel travels with you. Higher quality food. Generally, higher quality rooms although on the small side.
5] Ocean cruise. The only thing ocean and river cruises have in common is the floating hotel. Except for a few high end ocean cruses, sight seeing excursions cost extra, as does all booze and the better quality food (specialty restaurants). The published fares rarely include tips and they automatically add $15-18 a day per person to your bill for tips (extra in the bar). Most of the great cities in Europe (Rome, London, Paris, Prague, Budapest, Berlin), Warsaw, are inland on rivers, not on the coast (Barcelona, Istanbul, Lisbon). Ocean cruises are as well designed as a Las Vegas casino for separating you from your money-- our cruise ship's land trip to Ephesus excluding the Terrace Houses, was $120 per person ($240 for two) on a crowded 50 passenger bus. We spent $120 for two to hire a 6 passenger van with a driver and tour guide and our tour included the Terrace Houses and an ice cream.
Your only hope of breaking even on a drinks package is to be drunk 24/7, but it is hands down a better deal that buying individual Drinks (the ship computer will, for your convince, add a 15% tip per drink to their listed overpriced bar menu).
On the other hand, if you do your own sightseeing on shore, forego booze and specialty restaurants, an ocean cruise is the great bargain in EU travel. Although in the budget travel price range, this is not budget travel, except maybe for food. The meals included in the base price, usually the main dinning room and the cafeteria, range in quality from high school cafeteria to not quite what you get on a river cruise.
6] Rent a car. Hands down the best way to go in my book. For 2-4 people, a bargain buy compared to the alternatives. You are not tied down to somebody else's schedule like you are on a pre packaged tour.
Many would think this counts as a con, but I think its a pro: stay out of big cities. Nothing good can said about trying to drive in an EU city. Fortunately, to really experience the EU, you must get out of the cities.
Not as common as it once was, but when traveling by car, you can pick up hitchers. I only did that twice, and both times turned out to be excellent experiences. Heading west from a visit to a German concentration camp near Munich, I picked up a solo girl hitch hiker. When it comes to conversation, it was magical the way we hit it off. It was even educational. I learned the proper pronunciation of Munich in German as she was Munich native. It is Monkun with only one syllable, and 'monk' is as in the TV show or as in the guys in the long brown dresses. She made me say it over and over until she said, "you got it".
I saw two cute girls hitching on the cost road along the Cote d'Azur, so I picked them up. We drove along the scenic coast chatting away in French for a while and then I changed to English and asked, "So, where in America are you from?"
"The University of Michigan".
This was decades ago. I suspect that hitching is not so popular in the EU as it once was.
Beware hidden charges when comparing pre purchase prices. Rental cars have all sorts of hidden fees you need to look for, like restrictions on what countries you can drive it in for the quoted price, drop off charges unless you return it to the same place where you rented it (I always do round trips by rental car).
Cruises and some bus tours often automatically tack on a $15-18 per person per day "tip" for the staff and docking fees which can add up to several hundred dollars are usually hidden in the small print, not included in the advertised tour price. Look at what this adds up to: a couple takes a 10 day cruise with an $18 per day per person tip and $500 docking fees. That adds $860 to their advertised great low fare. Why do you think the first they make you do when you go on board is hand over your credit card, "for your convenience"?
There are times on prepackaged tours when you get a pleasant surprise, like the $700 a night four room suite we got for three nights on a river cruise that ended in Istanbul. Do not expect this as a regular feature. See the photos.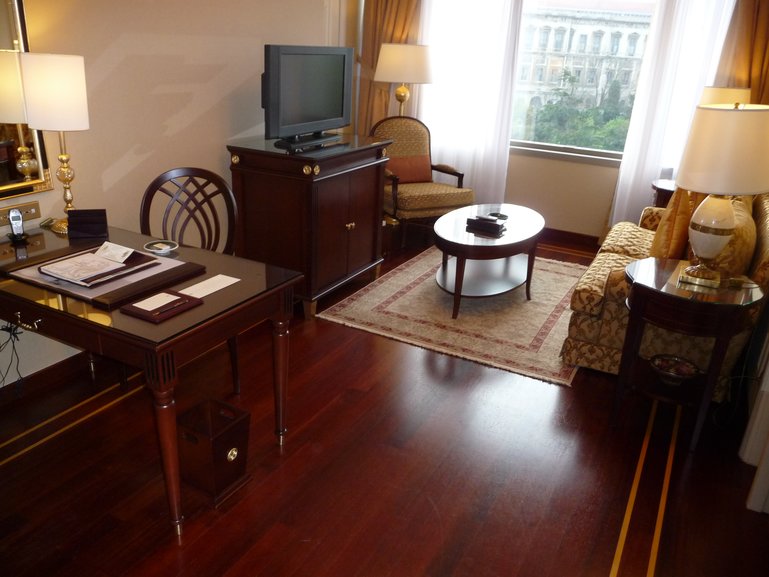 4 room suite, living room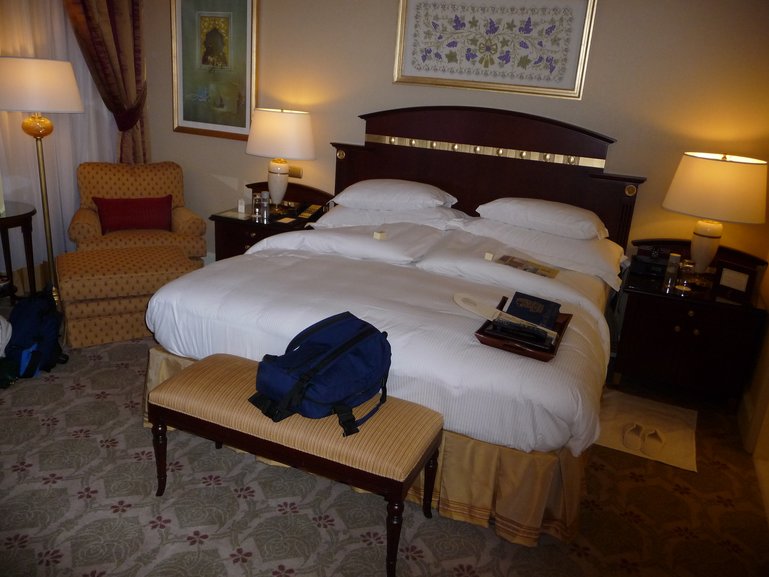 4 room hotel suite, bedroom