When I started planning my first trip, I was feeling lost and didn't know what to do or where to start. In fact, the first few trips that I went alone ended up with me panicking during the holiday because I didn't plan everything right.
With time I got better when it comes to plan my travels, with less hassle during the actual holiday. Thus, I would like to share with you my suggestions when it comes to planning a holiday or a long travel trip.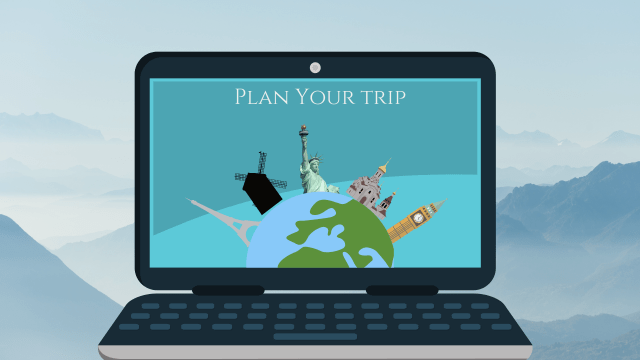 1. Decide where you want to go
---
The first thing to do is to decide which country you would like to visit. Depending on whether you like to travel to cities or countryside will result in the place where you want to go. The budget of your travel will also affect the choice of country. If you want to travel cheap I suggest that you don't go to city centres or touristic destinations, since the prices of amenities tend to be more expensive. The airline ticket prices should also be considered when choosing a destination, since at different periods throughout the year (peak season) a country tends to be more expensive. Apart from that, the airline tickets of other destinations tend to be more expensive than others.
2. Research the cost
---
Researching the cost is an important step because you will calculate how much this holiday will cost and how much you need to save. Thus, you must check how much are the hotels, hostels, restaurants, food and attractions. This will depend according to the length of your stay.
3. Book a flight
---
After you know how much this whole trip is going to cost you, you have to book that flight! There are different websites and apps that tells you the cheapest fare according to the different airlines, such as Skyscanner and eDreams.
4. Search and book the accommodation
---
There are different accommodation types, such as hotels, hostels and apartments. Thus, you have to see what suits you best. It is a crucial point that you check out the reviews and the area that the property is in. It can also be a bonus point if the property is close to amenities and public transport.
5. Plan the activities
---
Outline the activities that you ant to go, how to get there and its cost. This will save you a lot of time when you are travelling because you have everything planned out beforehand.
Just a tip, I like to make an itinerary planner with the times, where I have to go and the maps of how to get there. I find this method very useful and I rarely get lost.
6. Buy travel insurance
---
A lot of people don't buy it when they travel, and it is a big mistake that you shouldn't do. Travel insurance protects you for health reasons, stolen things, flight cancellation and delayed. It is cheap to purchase it so just buy it because it saves a lot of trouble if you are in need.
7. Advice your card company
---
A week before your holiday, you should advice your card company because it is less likely that they will block the cards. Thus, no card transactions can happen if your card is blocked, and you have to take the time to call your card company, so they can unblock it.
8. Pack for the trip
---
A few days before you leave for the trip, its time to pack your luggage/ backpack. Make sure that you pack the right amount and don't overpack! Another important aspect is to weight your luggage before you leave to the airport, so you know if you have the right amount of weight. Airlines will fine you if you exceed the weight limit, so be careful on this one!
9. Enjoy your travel!
---
Now the fun part comes, when its time to board that plane to discover new places all over the world. So just go, have fun and relax!
This list will help you to be more organised when planning a holiday! Thanks for reading and hope you enjoyed my post!