Is healthy eating in Vegas a total fantasy? The city is home to indulgent all-you-can-eat buffets, bottomless mimosas, countless steakhouses, and the infamous Heart Attack Grill with its motto "Taste Worth Dying For!" and the Guinness World Record for the world's unhealthiest restaurant…
If your arteries are clogging just thinking about it, fear not. Vegas has been slowly undergoing a plant based and local-produce-focused revolution. World-renowned restaurants are starting to realize what a a huge draw healthier options are for locals and tourists alike, and making necessary adjustments to their menus.
Even some long-standing traditional diners like Komol (authentic Thai), Panevino or Paymon's Mediterranean now offer plenty of greener options.
Committed to environmental stewardship with its company-wide Code Green program, Caesars hotel group continues to encourage team members to get involved in global conservation. Chef Katherene Brookshire embraced the challenge by planting an organic garden in the courtyard of the Flamingo hotel, and uses it to teach fellow chefs and employees about food sustainability.
Giada at the Cromwell next door serves cocktails crafted from ingredients sourced from local farmers. Giada will also accommodate all your dietary requirements, from meat-free to allergies, just let your server know and they'll guide you through the menu options or whip you up something special, house-made gluten-free pasta included! Top tip: ask for a window table for the best view of the Bellagio fountains in the city.
For vegan travelers, whether you're after a bargain or a luxury dining experience, there is an abundance of vegan-friendly restaurants both on and off the Strip. The hip Downtown area in particular is the new hot spot for more budget vegan eats. Check out places such as Vegenation (which also hosts pop-up community yoga and art shows) and the Donut Bar with their awesome creme brulee vegan donuts.
At the very cool Container Park, worth checking out in itself, is Cheffini's with their meatless hot dog options, JoJo's vegan cactus jerky, and Simply Pure by the amazing chef and nutritionist Stacey Dougan, specialist in gourmet vegan and raw foods. Worth going off the Strip for are also Violette's vegan cafe (do not miss their 'egg' & 'cheese' breakfast muffin!) and Panchos Vegan Tacos menu, totally proving you can go meatless with Mexican food without losing any of the traditional flavors.
Nacho Daddy (two locations – Downtown and Strip) has a plant based equivalent of almost all their classics, including breakfast items. Why not was down a plate of awesome loaded vegan nachos with their infamous scorpion tequila shots if you dare.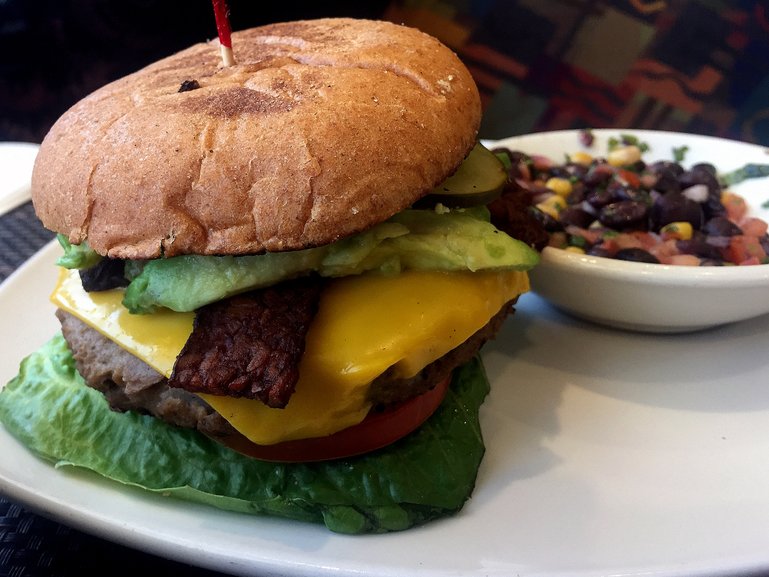 Vegan burger with seitan bacon in Las Vegas.
There is also a brand new very promising kid on the block (two blocks from the Hard Rock Hotel to be exact) – The Modern Vegan. With an array (100) different plant based items on their breakfast and lunch menu, it's a safe place to bring your meat eating friends. Surprise them with a planet-friendly fried chick'n or veggs benedict