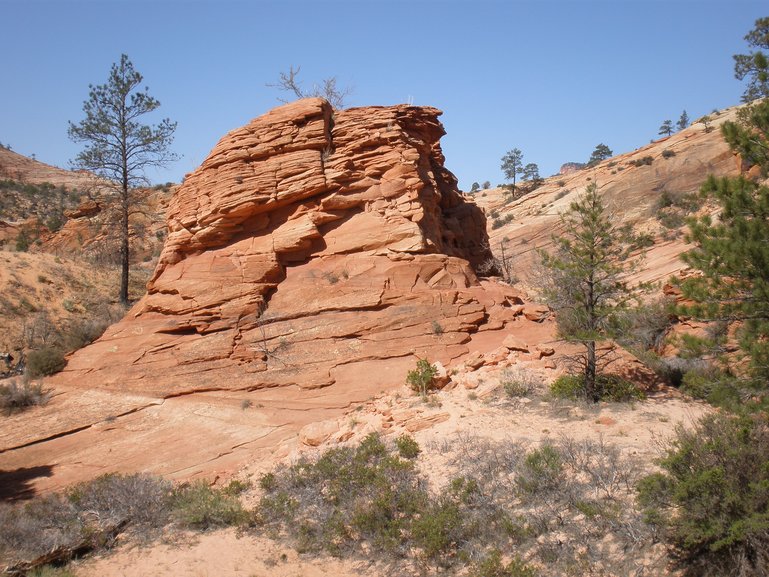 Zion
Our first visit opened on series of highs- we were escorted through the pleasant dining room to our choice of tables by a window overlooking the grand cliffs of Zion. After the waitress recommended a less expensive dish over my first choice, we followed her advice and started with the Smoked Trout appetizer, which exceeded her effusive praise. This is dish ranks in the top small handful of really great foods we have encountered on our travels on four continents. Wonderful smoked trout is served on bed of spinach with ripe olives and aoeli, accompanied by toasted pita points, a wonderful blend of flavors. This is a must not miss dish.
The elk, buffalo, and beef tenderloin meatloaf holds its own against all comers. We just wish it were served with more of the superb sauce (at this level, meatloaf comes with sauce, not gravy). The accompanying green beans were almost perfect, the best we have yet encountered in Utah where the norm is to overcook them in cheap places and undercook them in high priced joints to show they are above café fare. Glazed carrots were done to perfection. Then came the roaSt. Petersburgotatoes, nicely seasoned with rosemary and garlic, but ruined by too much pepper.
Diner #1 was so good, we returned the next night. C ordered smoked trout appetizer and a Caesar salad, plenty for a light meal. Trout #2 revealed some inconsistency in the kitchen as the pita toast was not as crisp as the night before, but still, even two days in a row, a knockout dish.
I had braised lamb shank, nice meat that fell short only in comparison to the incredible lamb shank served at Park City's Goldner Hirsch. Having been put off by the potatoes the night before, I asked the waiter to substitute green beans. After such success with the advice from the waitress the previous night, I took his suggestion to replace them with an extra serving of the mixed vegetable that also accompanied the lamb. Big mistake. Not only were these cooked veggies almost as overly loaded with pepper as the were the potatoes, they were also unevenly cooked, cold in spots, hot in others– bummer.
Bottom line– if you like spicy food, you'll love Flanigan's if you can overlook the occasional flaws that creep in, which aren't that serious except for the pepper dose. If you don't like spicy food, insist on green beans or carrots as your vegetables.
Although right on the main street close to park entrance, the restaurant is a little hard to find since it seems it can't make up its mind as to what it's name is. I've seen it called Flanigan's Inn, Blind Dog Café, and Spotted Dog Café in various guide books. The sign over the main entrance says "Flanigan's", the sign facing the street says Spotted Dog Café.
Prices are very reasonable for this high level of quality in a tourist trap town, and it is the best place for dinner in the Zion area.