Are you thinking of one day trip from Amsterdam?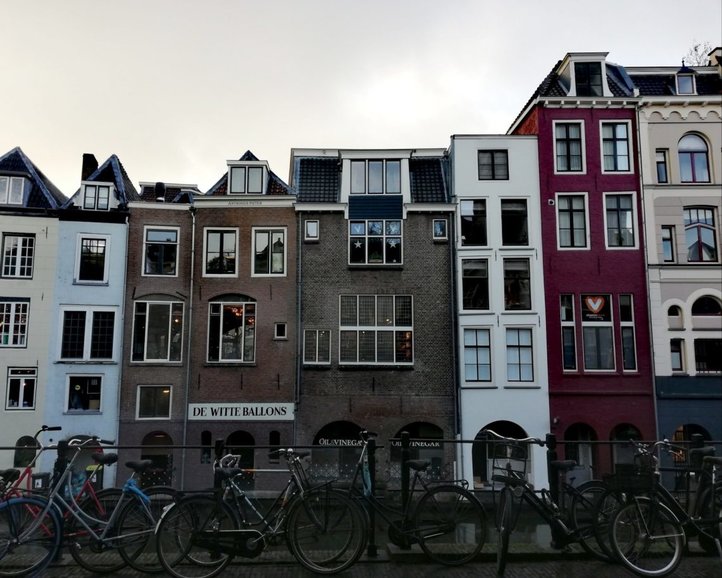 Utrecht
Utrecht, a small city located about 30min by train from Amsterdam, is the perfect place for one day trip.
Many people visit Amsterdam, however, there are many other places to see around. One of the places which should be on your list to visit is Utrecht. When we visited Utrecht, we thought that it is like a small version of Amsterdam. But without tourists:). You can easily walk around and explore this beautiful city without being surrounded by many tourists hunting for taking pictures of the main attractions.
How to get there?
---
As mentioned before, in the Netherlands you can easily get anywhere with a train. In this case, we took a train from Amsterdam Centraal station. It takes about 30 min and you can check here the travel information for each train. The price for 1 adult/one way is around 7-8 EUR if you don't have the chip card (if you live in the Netherlands, you can have personal travel card-chip card, which provides discounts for you). The best option is to get off at Utrecht Centraal station as it is in the middle of the city. When you get off the train, you will see that you will have to walk through the huge shopping mall, so you can also do a bit of shopping on the way back:)
What to see?
---
One of the main attractions in Utrecht is definitely Domtoren (Dom Tower). Dom tower is the pride of Utrecht and it is definitely must-see during your trip. At 112m, it still remains the highest church tower in the Netherlands. The Dom Tower has a long history and the tower stands where the city Utrecht was originated 2000 years ago. The main attraction is to climb all 465 steps up without any lift! You can visit the tower only as a part of the guided tour and it will take you around one hour. Here you can find more information about opening hours and possibility to buy combine ticket with a visit to Museum Speelklok.
Disclosure: We went to Utrecht in Autumn 2018 and the Dom Tower was still under construction so we could not visit it. We recommend checking the official website to see if the construction has finished.
After the Dom Tower, you should definitely visit Padhof Garden which is part of the monastery garden. It's a beautiful spot to relax, sit down and during the summer reading a book. The Padhof Garden remains as one of the most stunning courtyards in the Netherlands.
Time for Break
---
If you follow our blog, you might know that we always explore all different kinds of bars and restaurantsin each place we go. This time we headed to Kafe Belgie. It has a massive selection of beers, either draft (20+) or bottled (30+) so it might take a few minutes to decide. You might also find some unusual beers so if you are a beer lover, this will be a place for you!
Time for food! Yes, we love it.
---
We did some restaurant search before we came to Utrecht and we found amazing Vietnamese restaurants Kimmade. Kimmade restaurant is located in the middle of the city centre and it is very small, max 10 people can fit in the restaurant. That is why you will probably see people waiting outside to get a free table or waiting for taking away. We had delicious Pho Bo soup and Banh Mi sandwich.
Coffee Break
---
Oh yes, coffee break is must for us! After walking around the city, we wanted to have a good coffee and something sweet to accompany with. We discovered Anna Pancakes which already gives you a hint what they serve there:) coffee and pancakes, both delicious!
With the sweet pancakes, we finished our day trip in Utrecht and we took a train back to Amsterdam.