Winter has always been my favourite season. Layered up in fuzzy sweaters and blankets, enjoying piping hot cups of chai and breathing in the crisp air brings me loads of joy. One winter staple I was yet to experience, however, was snow. And so, to tick that off, I decided to go on a trek to experience it. Fortunately for me, since I was in Chandigarh, iconic Himalayan snow treks were not too far for me. Trekking in Uttarakhand and Himachal Pradesh had many such options, so, after a bit of research, I singled out the one I felt was perfect for me.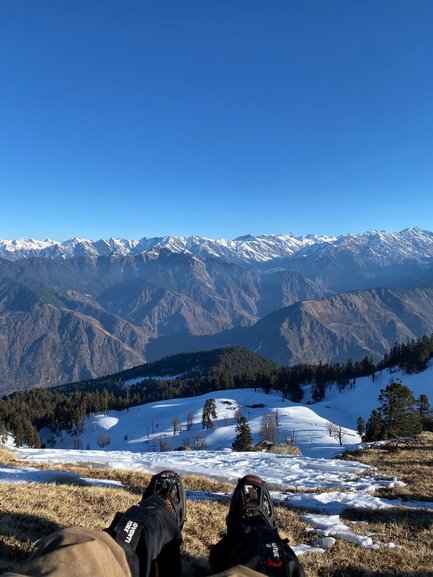 The Kedarkantha trek
The Kedarkantha trek is a popular snow trek among adventurers from all around the world, and reading numerous travelogues and skimming through photos had me convinced. I booked my seats for the next departure and began prepping for the big day. I looked up a few packing lists and gathered all my essentials and soon it was time for me to depart for Dehradun.
I was greeted by the operator at the station and was driven down to Sankri along with a few other trekkers who were in my batch. The long drive went by quickly as we chatted, admired the beautiful landscapes on either side of the roads and caught a few naps here and there. We reached our guesthouse by evening and caught up on some much-needed rest after a delicious dinner.
The trek began the next morning, after a breakfast enjoyed amid snowy mountains. We trekked through thick forests on our first day as we made our way to the Juda ka Talab, which was frozen in the cold winter. Right off the bat, I knew the next few days of trekking in Uttarakhand would be wonderful, with the perfect blend of adventure and beauty in equal measure. This was my first experience with high altitude trekking, so by the time we reached the lake, I was exhausted and welcomed the cosy tents by the serene lakeside wholeheartedly. I sat outside my tent, huddled in some warm shawls, and gazed at my surroundings, the biting cold freezing everything around me. It seemed as though time had halted, with the lake completely still and the mountains standing firm for eons. I sighed happily and joined the others for dinner before heading back to my tent to rest for the night.
The next day, we headed towards the base of the Kedarkantha peak. The route was moderately easy, but the thick snow made it slightly challenging to power through. We crossed several villages and even stopped at a few for a quick cup of tea and to mingle with the locals. I enjoyed hearing the legends of Lord Shiva and other tales that the locals gushed about. We soon reached the base, located in the middle of the Tons River Valley, and set up camp. The guide took us through the next day's challenges as it had snowed quite a bit over the past few days, which would make the steep ascent to the peak even more challenging. He reassured the first timers that it would be a feat that they could easily achieve, given their rigour and experience from the past two days. With that positive energy, we ended our day with a hot meal and slept with the mighty Kedarkantha peak overlooking us.
Next morning, we began our ascent at the crack of dawn and enjoyed the beautiful views of snow-capped peaks. We made our way through dense pine forests and white meadows that would be lush with rhododendrons come spring. After a few hours, we reached the summit and celebrated with a round of chocolates that the guide had in his backpack. Our group took some photos to take home as an eternal memory of our feat. It was hard for me to stop smiling as I looked at the valleys and snowy stretches around me.
Alas, it was soon time for us to head back and we spent the next two days making our way back to Sankri. As we drove down to Dehradun, I could only think of how much I truly loved my snowy Kedarkantha trek. Though sad that it was over, I knew there's a lot more in store for me the next time I decide to put on my trekking shoes!