Home to some of the tallest mountain peaks in the world, the mighty Himalayas present the ultimate adventure for mountaineers and trekkers from all around the world. From easy treks around Manali in Himachal, to complex ones like Pin Parvati Pass, the Indian Himalayas offer it all.
When on a trek in India, travellers are often at altitudes as high as 16,000 feet, out of their comfort zones, eating new types of food and dealing with extreme weather. This makes them vulnerable to common health issues like blisters, stomach upsets, body ache or a cold. If you're one of the thousands attempting a Himalayan trek this season, here are a few travel tips to keep you healthy and fit throughout.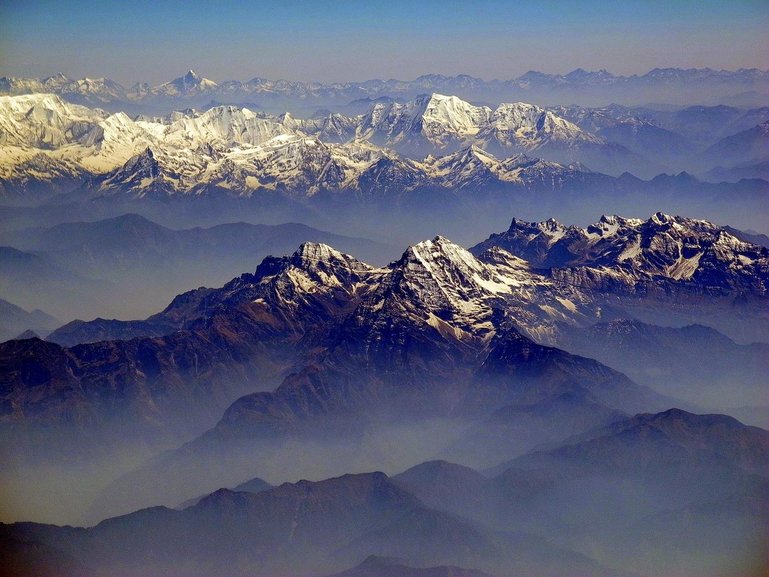 The Himalayas
Do your homework
---
Before you book, do your background research on the tour operator. Ask questions about the quality of meals and accommodation, read reviews posted by past travellers, and compare with competing tour operators. Booking with a quality, certified operator is the best way to make sure you'll be well looked after, and hopefully will prevent tricky situations.
Be prepared
---
After you book, make sure to carry enough supply of all your prescribed medicines, because you might not be able to find the same in India. Don't forget to carry common OTC medicines for common ailments like cold, cough, fever, indigestion, body ache, etc. A basic first aid kit is always a good idea - make sure you check expiry dates and refresh any depleted items. A first aid kit should always have band aids, antiseptic spray, antiseptic cream, gauze rolls, and a heat spray for muscle ache. Don't forget to carry the feminine hygiene products you're comfortable with, because you can't rely on local availability!
Stay all-weather ready
---
No matter the season, if you're trekking in the Himalayas, pack a raincoat. The mountains are prone to sudden showers even in summer, and the easiest way to catch a cold is by trekking with wet clothes on. Make sure your rucksack has a rain-cover too. Similarly, no matter the season, pack thermal inner and outer wear, as well as a woolly hat, gloves, and warm socks to sleep in. You don't want to find yourself shivering in the wind with chattering teeth!
Keep the right creams and lotions at hand
---
Himalayan terrain is varied, with snow-capped forests, pine forests, arid desert-type land, and shrubs. Carrying (and using) an insect repellent to ward off mosquitoes, mites, bugs, bees, is a good idea. Even if you're expecting to be trekking in snow, pack your bottle of sunscreen with SPF 40+. The ground may be covered with snow, but the sun will continue to blaze overhead, especially during peak hours of afternoon. You don't want sunburn ruining your holiday. Sunbathing is best kept to the beaches. Lipbalm and a good face moisturizer will protect your face and lips from the cold and wind.
Your shoes will make or break the trek
---
Invest in a good pair of trekking shoes, and make sure to break them in before you leave for the trek. When you're busy exploring the beauty of the gorgeous mountains, your trekking shoes are the only things keeping blisters and frostbites at bay, while keeping your feet safe and warm.
Watch your diet
---
Watching what you eat is very important to staying healthy. Stay away from anything too rich before the trek - yes, that spicy butter chicken might look enticing, but it is best to stick to vegetarian food. You really don't want to start a trek with an upset stomach. It's not just awkward, but you might end up dehydrated too. Similarly, avoid dairy products like curd or yogurt, and raw pre-cut food like salad or slices of fruit. If you're in doubt, stick to bananas or fruit that you peel yourself.
If you're surrounded by snow, you might feel like a thirsty sailor in the middle of an ocean when it comes to drinking water. Always carry a reusable water bottle with you. You can drop a small chlorine tablet in to purify drinking water or simply carry a LifeStraw bottle to safeguard from any water-borne germs.
Most importantly, prioritize your health. Place your well-being ahead of everything else, and remember that if you feel like you're not well or cannot climb any farther, there's no shame in turning back. The mountains will wait exactly where they are until you recuperate and come back to conquer new heights.