I've also been in Stockholm before and to be fair – I couldn't share the hype about that city. Sure it's a lovely place with a charming old town and nice people, but I expected far more after all those recommendations. I guess that's the problem about high expectations… but that's a different story.
So I had the chance to spend a whole day just exploring the culinary side of Stockholm.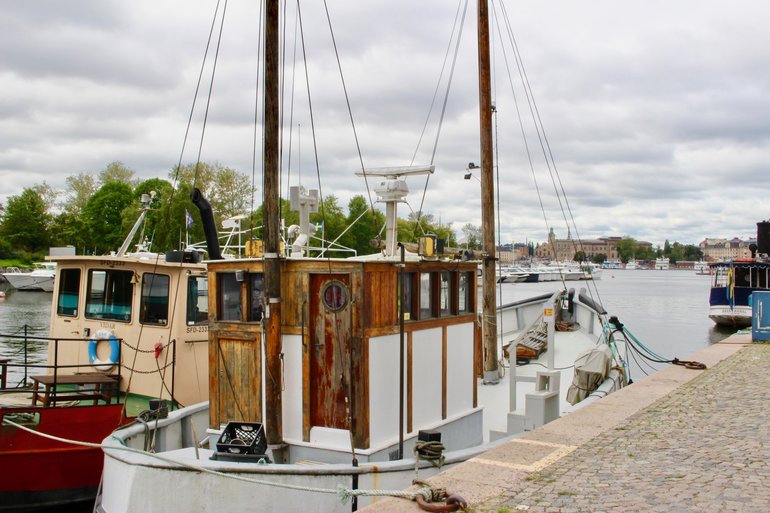 I parked Spencer far away from the city center (and still had to pay horrendous parking fees) and walked my way to town. It was early in the day and I wanted to begin with an original "kanelboller" (cinnamon roll). Therefore I made some research before and guided myself straight to one of the best bakeries in town called "Gateau". I was a bit irritated when I was standing in front of a big shopping mall when my phone told me that I've almost reached my goal… It took me some minutes of walking around until I noticed that little stall in the middle of the crowded shopping mall which was supposed to be one of the best bakeries in town. At least I found it and of course I bought the famous cinnamon roll, too… With that in my hand and no cozy place to sit around I just strolled through the mall chewing on my popular Swedish pastry… sure, it was delicious but somehow I imagined a bit of a different feeling (a chair at least to sit on…)… I started a second try and searched my way through town to a recommended cafe called "Snickarbacken" with a little store included. That was similiar challenging to find because -tadaaa- it was permanently closed… Second little bummer for that day… ok so no coffee for this morning! I cheered myself up thinking about the foothall that was waiting ahead. I've visited it years before and I loved it.
So I walked straight through the streets on my way to the "Saluhall". On my way I found some cute food stores like "Eataly" and a bakery called "Fabrique" which has several stores in town. There were also different cheese mongers to find and I felt my mood lightening up.
Around a few corners and after some meters I found the Saluhall… closed! Or more under construction. It's a beautiful building made of brick stones with an oriental architecture. Now that was covered behind scaffoldings. I was really becoming sad as I remembered the Swedish atmosphere, a big elk head above the entrance and a delicious Swedish dish I've ate years before and which I couldn't see or eat again… the little food hall which was built next to the "real" Saluhall and which was replacing it during construction time didn't create the same atmosphere at all. I mean, it was nice to have some shops and delicatessen but it was simply not the same. After that it started to rain so strolling around town wasn't an option anymore…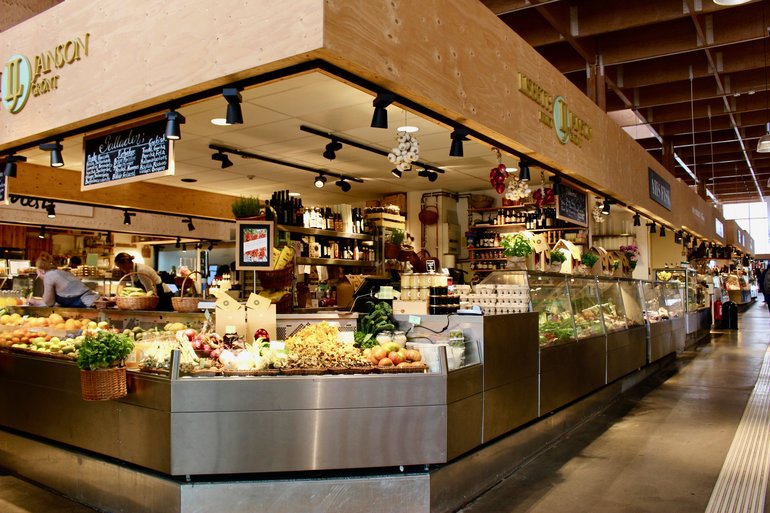 Somehow I got the feeling that Stockholm didn't want to convince the second time either. But I tried my best and continued my way through the old town which is actually really lovely. I loved the antique stores the most and bought some little second hand souvenirs (of course some old plates, a Swedish wooden horse and a classic movie). That cheered me up!
I crossed another bridge to enter a district in the south of the city center which is supposed to be the new "hip" part of Stockholm. I finally wanted to get my coffee and searched for "Drop Coffee" which was recommended on different blogs. I found it and it was open! Lucky me. When I got in I was irritated by the lights which were turned off the and chairs which were already placed on the tables for the clean up. A friendly waitress told me that they are closing early today and that I might be able to take something to-go… seriously?! There was no coffeehouse in Stockholm which wanted to host me that day! I left without ordering anything and just entered the next coffee place nearby… which was surprisingly good! Nothing fancy but friendly staff, a great choice of bread and finally a place to sit (Sit Paul Bageri).
After that I faced my last culinary stop for today – a restaurant which is supposed to have the best "köttbullar" in town (meatballs with a gravy sauce and potato mash). The place is called "Meatballs for the people" which speaks directly out of my heart. I found it, it was open and it served food. So everything was all good in the end. I got my traditional Swedish dish and a Swedish (expensive!) beer. I was happy and walked the long way back to Spencer.