So, why New Mexico? It's one of the last three to complete my quest to visit all 50 states in the union. What's missing: Washington State (because a Seattle-airport hop to Alaska does not count), then there's Hawaii. Just two more to go to complete one of my travel bucket-lists!
You've heard about southern hospitality, but what about New Mexican hospitality? On an April trip to Albuquerque and Santa Fe, we discovered a new breed of friendliness. At the Airbnb casita, at bakeries, restaurants, breweries and bike shops, everyone was supremely pleased we chose the desert to visit. Of note, most Albuquerquians are not native but transplants from Santa Fe, Taos, Austin or as far away Buffalo, New York. Local or transplant they were all about pleasantly chatting, offering up suggestions on food and places to visit.
Ken, our host for the week pampered us in our quaint home-away casita, complete with local artwork and surprises like French press coffee. At the Boiler Monkey and Golden Bakery just down the street, all the patrons sensed we were new in town and inquired about our visit. Plus, we got a free Biscochito (the official state cookie) when we placed an order. The Bikesmith Cycle shop, ironically owned by Michigan natives, attended to my ailing rental bike, fixing my shifter and sending us out to the trails with a full compliment of gears. (I had whacked my brake lever squarely on a rock on the north trails on day two).
It's dry in Albequerque, really dry. Bring lots of lotion for your body and saline for your sinus. The terrain is considered a high desert. Albuquerque metro is at about 5500 feet and the Sandia Mountains just to the east top out at 10,300 feet at the top of the tram and ski resort. The dry air and desert landscape will bloody the nose, but the views and the hospitality ultimately outweigh any dry skin or minor sinus complaints. When the sun sets and glows pinkish and purple against the granite in the Sandia's it's easy to see why it's the land of enchantment. The combination of mountains and desert make for a memorable landscape and one ideally suited for hiking and mountain biking. Both activities were prime reasons to visit the southwest instead of Florida (where half the state of Michigan goes in winter). Albuquerque's trails proved an old adage true, there's a hiker in every biker!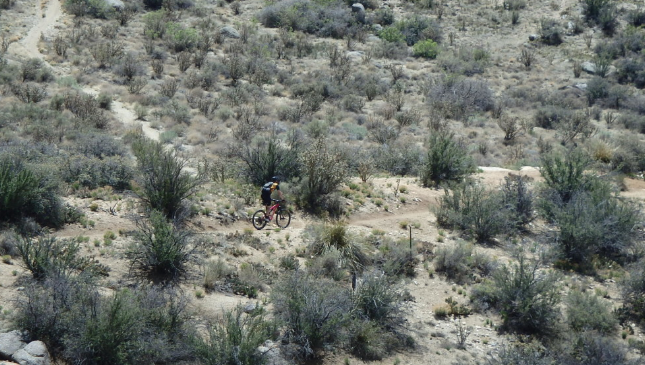 Albequerque desert mountain biking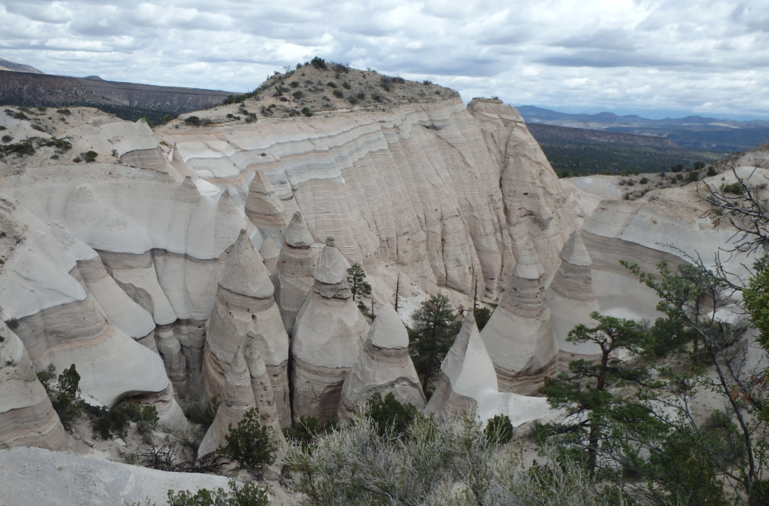 Tent Rocks, Cochito, New Mexico
We hike-a-biked on many occasions where elevation, stone steps, cactus and plenty of loose rocks made the passage on two wheels treacherous. Josh and I became bike-tourist-pin-cushions with scrapes, bruises and bloodied-knees from the north trails, the Dale Boss in Santa Fe and the East Mountain trail system. All the trails were above my bike-pay-grade, thankfully my Santa Cruz Bronson rental took most of the beating with it's fancy full-suspension. We took our lumps, pulled out cactus spikes from my hand, bought Band-Aids and Neosporin then nursed wounds with local cuisine and an excellent compliment of craft breweries.
Marble Brewery was close to Old Town where we downed Irish stouts, an Imperial Red and food-truck sandwiches. Red Door Brewing provided much needed hydration and nourishment after biking on day two. And, near NMU campus at Kaktus Brewing, we sipped brown ales, then their Red Card alongside a plate of bison nachos. Right across the street was Bosque Brewing, a more contemporary bar version. The best New Mexican culinary specialty: Green chile stew. This hearty bowl of spicy goodness left a spicy burn on my tongue and fond memories in my heart. A pattern emerged. Go biking. Get tired. Find local brewery, eat and drink. Or, go hiking. Get tired. Find local brewery, eat and drink. Rinse and repeat.
We gave our scrapes a break and went hiking instead on a few occasions. On the way to Santa Fe, a green mileage sign listed Las Vegas at 103 miles. An animated discussion immediately ensued.
"Did you know Vegas was this close?
"I had no idea, that can't be right."
"Are we that close to Colorado and Nevada?"
"If we are only 100 miles from Vegas, we're going babe!"
At that comment, I set about searching our Thrifty Rental Car map for an indication that this tidbit of news was indeed true. Then, I found it. There is little borough northeast of Santa Fe, also called Las Vegas, but in New Mexico.
The Vegas disappointment faded quickly as we pulled in Kasha-Katuwe Tent Rocks National Monument near Cochito. This geological marvel shows the power of volcanoes, Mother Nature and erosion as we walked through narrow slot canyons then ascended up a rocky trail to a panoramic lookout. The rock formations seemed otherworldly with hundreds of ringed layers of rock, tent caps on each spire. The tent-top looked like a rudimentary martian helmet strapped on each peak. We completed a loop in about two-hours, getting more suggestions from friendly local hikers on where to dine and shop. I'd give the hiking a high-rating. We didn't fall off our bikes when we did not ride them!
The desert landscape and mountains made for a unique spring break playground, the cactus spikes often glinting in the sun warning us about getting too close. After a week of exploration, I can affirm the land of enchantment is more than a marketing slogan. The high-desert will draw you in.
On returning home, I checked New Mexico off my list as my 48th state.