The Kasol to Kheerganga trek is one of the most scenic treks in India. I had taken this trek a few weeks ago and I'd give anything to go back. Despite being only 2 days long, it takes you up to the Kheerganga springs, nearly 13000 feet above sea level, while crossing Barshaini, Rudra nag waterfall, and the villages of Kalga and Pulga.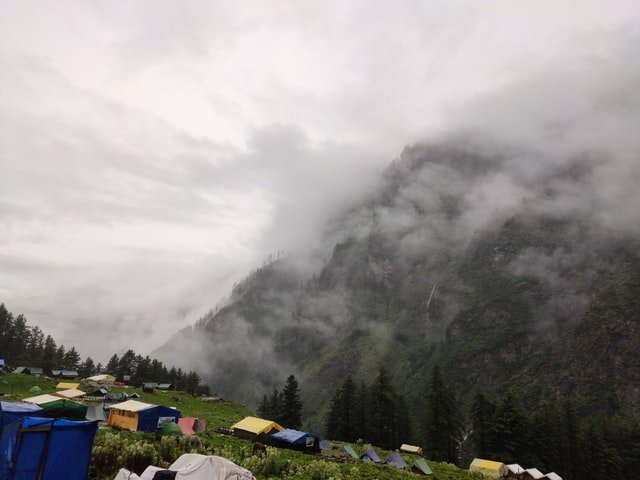 The Kheerganga trek
After taking a train to Delhi, I drove up to Kasol with my friends. We had never been to Himanchal before, and this trek seemed like the best way to start. We started our Kheerganga trek around 9.30am in the cold but sunny weather. Kasol is beautiful. There were lush trees all around, each a different height and shade of green. We were literally trekking on the edge of a forest with greenery surrounding us. We trekked our way up to Rudra Nag, an infamous serpent shaped waterfall. This waterfall was snuggled between green mossy rocks and foliage and the sight was so gorgeous. I never usually take note of waterfalls, but this one in particular was just so serene to look at. Definitely worth trekking past. Next we passed the sister villages of Kalga and Palga. The sheer simplicity of the villages was something unreal. The houses were small and quaint, the people, who I presumed would be annoyed with all the trekkers they constantly see, were actually warm and friendly. The freshness of that 'wet grass' smell, mixed with a sort of 'masala chai' smell was the perfect concoction. And it was so clean! It made me wonder why everyone wants to run to large cities, when true beauty is in villages like these.
Finally, after seven and a half hours of a rather laborious trek, we finally reached Kheerganga. I was smitten by it. We were surrounded by conifers and pine trees, with the Pin Valley National Park visible in the distance. I didn't know such a place could exist in India! After setting up the tents, everyone in our group dipped our feet in the hot springs nearby and just relaxed. After being on foot the whole day, this was a treat to our worn out muscles. The spring water was hot, soothing and perfect in the cold. After, we started a bonfire. Singing, story-telling (especially horror), games, stargazing, gossiping and a little dancing, set the perfect ambience for the night. A group of 15 or so strangers became a family that night and that is something none of us will ever forget. After a night under the stars, we headed back to Kasol the next day.
This trek was a perfect end to my very hectic week and I'm sure it will be the same for you as well. Many trekkers even visit Barshaini on the way to Kheerganga, for it's stunning views of the Parvati River, the Manikaran Gurudwara, and it's offbeat, rustic wooden bridges. Next time, I shall definitely be going there too.
If you're looking for a cheap, adventurous, quick and absolutely gorgeous getaway, the Kheerganga trek is meant for you.