If you know me, you'll know that I love making checklists. It helps my disorganised mind and gives me a clear overview. That's why I've decided to put this list up, this will help you prepping for your trip.
After all, packing will take the most prepping time. Once on the road you have nothing to worry about.
If you did forget something just go to the local store!
N° 1. Clothing
---
2x trousers and a belt
1/2x shorts
1x dress and sarong/scarf
1x skirt
4x t-shirts
7 pieces of underwear
5 pair of socks
1x bra and extra bikini top
1x bikini or swim trunk
1x sweater
3 pair of shoes (hiking/walking shoes, flip flops and sandals)
1x cap/hat
1x light rain jacket that's windproof
1x pyjama
1 pair of thin gloves
N° 2. Toiletries
---
Toothbrush
Toothpaste
Deodorant
Hand sanitiser
Shampoo (if you're going to hotels, they'll have it)
Hair brush
Lipstick and lip balm
Quick dry towel and smaller towel to dry your hair or feet
Ear sticks
Sunglasses (spare glasses or lenses)
Sanitary towels or tampons
Razor blades
Day/night cream (You can use aftersun too)
N° 3. Electronics
---
Laptop/tablet
GoPro/Camera
Powerbank
World plug
Bag with wires of all electronics
SD cards to take your pictures + online cloud service
Hard drive to save all pictures (in case of no internet connection)
E-Reader
Phone
Online banking card reader
Headphones/earbuds
Headlight or normal light
Music speaker
N° 4. Divers important items
---
Wallet with cash and credit card(s)
(International) Driver's licence
Vouchers and tickets
Passports and printout of IDs
Insurance papers
Refillable water bottle
Travel cutlery
Swiss Army knife
Laundry line
Padlocks for your valuables
Swimming goggles or mask/snorkel
Glue or duct tape
Travel pillow
Deck of carts / Small games for on the road
(Light) sleeping bag
Water purifier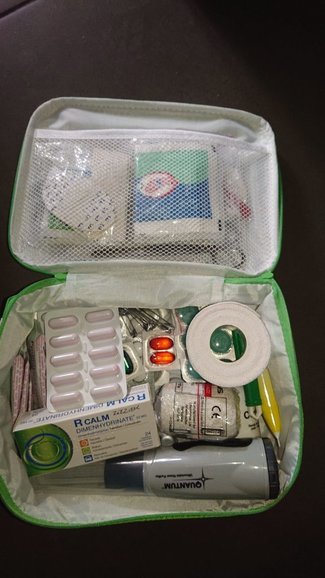 A good medical kit
N° 5. Health supplies
---
Vaccination card
Sunscreen and aftersun
Mosquito repellent and afterbite
Vitamins
Blister tape
Thermometer
Tick pliers
Painkillers
Cough and throat tablets/medicine
Probiotics
Abdominal pain medicine
Safety pins
Nail clippers, tweezers, scissors & file
Skin rash cream
Antiseptic cream
Medication for pre-existing medical conditions
Condoms and/or birth control