Andaman's Havelock island is famous for its pristine beaches with clear blue water. It's Radhanagar beach is ranked amongst Asia's best beaches. Along with its numerous pristine beaches, visitors get drawn to this tiny island for scuba diving and snorkeling. Scuba divers from across the world come to Havelock island for its marine life. And when they are not diving, visitors indulge themselves in surfing or snorkeling in the wide open sea. With so much to experience, people rarely find time to explore its surrounding areas. Leave it to us and our penchant to take less trodden path, we went on a night kayaking trip to explore surrounding mangrove forests. And to our delight, it turned out to be one of the most enchanting experiences of our trip.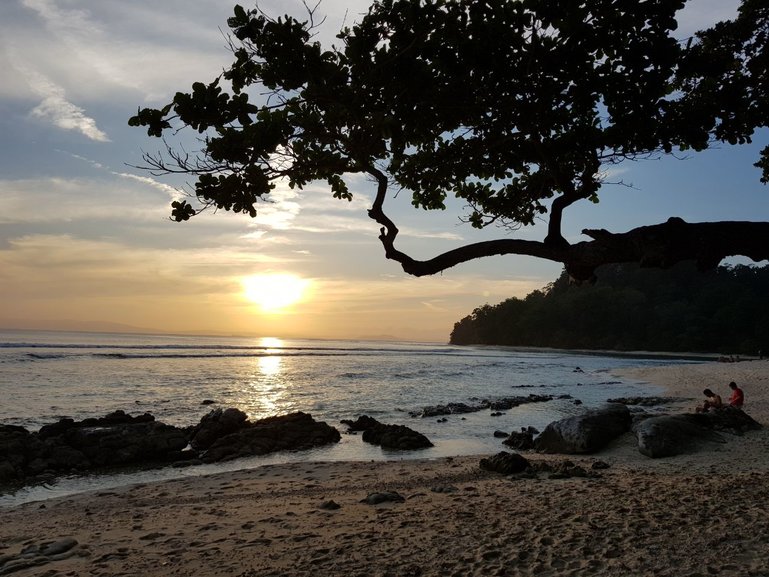 Beautiful Havelock Island, Andaman, India
We booked our kayaking trip with Havelock kayaking and adventure activities at 3000 INR per person . The thought of venturing out in the open sea, that too in darkness made us feel apprehensive in the beginning. We were also bit sceptic since we were not very good swimmers as well. But soon, all our fears were laid to rest when we met Thapa, our kayaking instructor. We met Thapa at the Havelock jetty at about 5 pm, an hour before sunset. He introduced himself and his colleague to us. Thapa was actually native of Nepal and was conducted river rafting courses in the Himalayan Ganges for about three decades. The opportunity of managing his own adventure activity center in Havelock lured him into becoming kayaking instructor. And he thoroughly enjoyed his work. Our other instructor was state rowing and kayaking champion from Kerala and had represented India at numerous sports events internationally. With such able and experienced instructors, all our fears were laid to rest and we looked forward to our first night kayaking experience.
We followed Thapa to place where he kept kayaks. As we moved away from the jetty and humdrum of shops, we entered the quiet mangrove forests of Andaman. Along the way, Thapa provided information about mangrove forests of Andaman and Nicobar islands. Mangroves are shrubs which typically grow in shallow and brackish (muddy and salty) waters especially along the shorelines and estuaries. Deemed as ecological wonders for their ability to grow between land and sea, they are regarded as the natural soldiers of the coast. The mangroves provide protection to the island from erosion caused by severe cyclones and storms. The mangroves of Andaman are regarded the best in the country due to their density and growth. Based on extensive field surveys carried out by the Environmental Department of India, Andaman and Nicobar islands treasure 38 different varieties of mangrove species.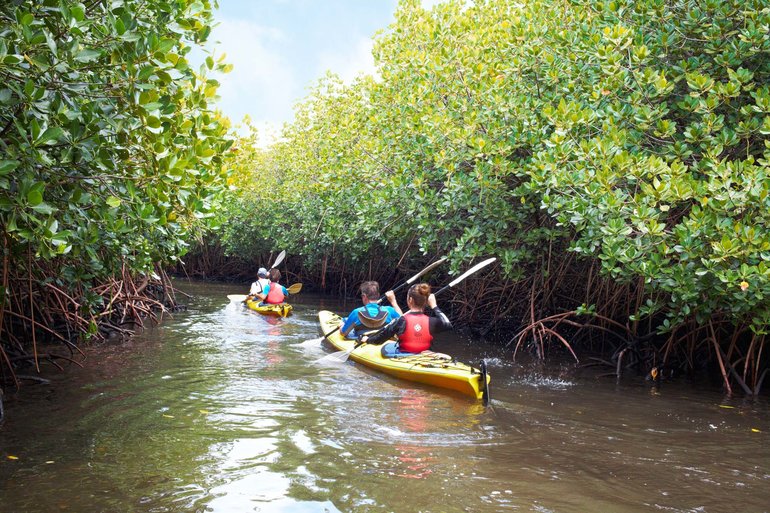 Starting our kayaking ride
Once we reached, Thapa provided instructions on how to board and alight kayaks. He then gave paddle to each of us (we were group of three) and instructed on how to paddle. Mangroves attract mosquitoes and hence Thapa provided us with Odomos strips. We then ventured out in the small bay separated by mangroves with our kayaks. After crossing the small bay, we were out in the open sea. Here, the water got deeper and we could feel the waves strongly. River kayaking and open-sea kayaking is different mainly due to the waves intensity which is much higher in the seas. Hence, it takes little more effort to navigate with the paddles.
Thapa was taking the lead and other instructor was tailgating us to ensure we were comfortable. After few minutes of rowing in open sea, we realised kayaking was less exercise. It was more a deeply relaxing experience. By that time, sun had also set and sky turned dark as few stars appeared twinkling. We could see the lights of the civilization far away. The mangroves looked shadowy and the water reflected the night sky. The quiet of the night was interrupted by egrets and other birds who nested in the mangroves. One particular and peculiar cry of night-owl was identified by Thapa. He was able to spot it in the shadows of the mangroves with his headlamp.
As we moved away from the shore, the civilization lights had disappeared. All we could see now was shadows of mangroves. Being amateur star-gazer, I observed the sky and tried to identify the stars. As kids we had read how sailors used their knowledge of constellations to orient themselves in the sea. We tried to orient ourselves in our little kayaks. That's when Thapa asked us to observe our paddles. We were amazed to see blue-green bio-luminescence that covered our paddle blades. It grew brighter as we moved into the denser mangroves. I was in utter disbelief initially but slowly made sense of this natural wonder. Our experience was almost similar to sparkling light displayed in movie 'Life of Pi'. The thought of kayaking under the stars in sea full of glowing specks filled our hearts with rapture.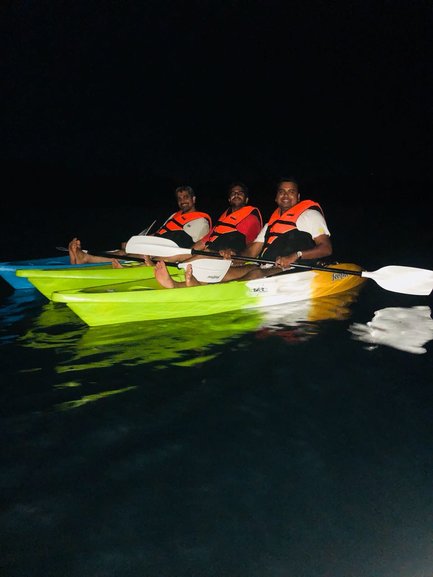 Us!
As we made our way back to civilization the jetty lights grew brighter, and the beautiful bioluminescent particles faded into the night. But we were still recovering from the enchanting beauty of nature and thrilling, unique experience with night-kayaking.