It is that magical time of the year again when everything turns pink here in Japan! And especially enjoying the cherry blossoms in Kyoto at this time of the year is an unforgettable experience.
It is one of the most popular places to come to in spring, so make sure to plan ahead as this is the busiest time of the year, high high season!
It is good to know, that cherry blossoms usually bloom around late March/ early April in Kyoto, a little bit earlier than in Tokyo. And it can be tricky to find the right timing to see them in full bloom. So make sure to check the cherry blossom forecasts, which are released sometimes as early as January. Furthermore, as we are dealing with mother nature, you can never be 100% sure, so it is generally best to time your visit in the middle of the forecasted dates if you can. Or earlier, as you will already get to see the plum blossoms starting in February.
Once you are in Kyoto, there are plenty of places to see them. There are famous cherry blossom spots throughout Kyoto, including Maruyama Park and of course, trees popping up between temples and shrines creating that perfect picture moment. Just imagine any of the many World Heritage Sites in Kyoto surrounded by pink clouds, it's truly magical.
So if you get a chance to visit, these are the best places, our top 12 spots to view the cherry blossoms in Kyoto.
1. Maruyama Park
---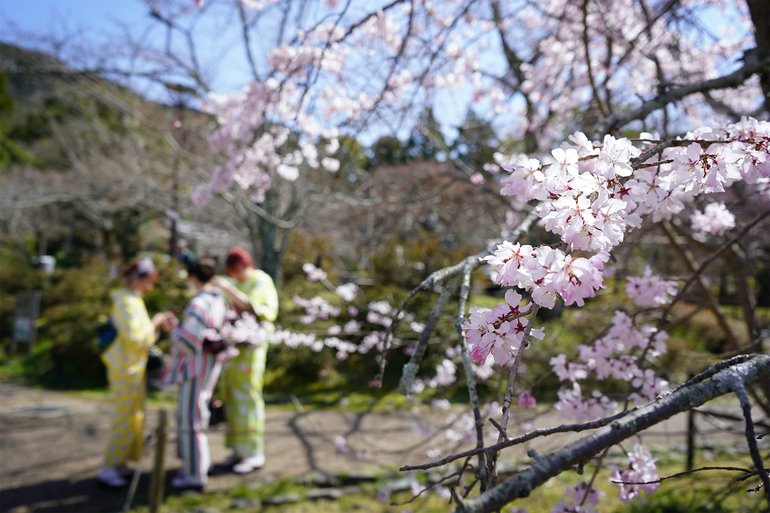 Cherry blossoms at Maruyama Park in Kyoto, Japan
Maruyama Park is Kyotos best-kept secret. Loved by locals, it is home to about 680 cherry blossom trees. It features a small river, lakes, and a few terrace-style cafes.
There are some special events during this time of the year, including the spring illuminated from mid-March to mid-April open until midnight. And normally has Food stalls set up around the park, although this year there will be none due to the Corona Virus.
Opening Hours: Always, but with illuminations until midnight
Address: Kyoto, Higashiyama, Maruyama Park
Website: https://kyoto-maruyama-park.jp/
2. Toji Temple
---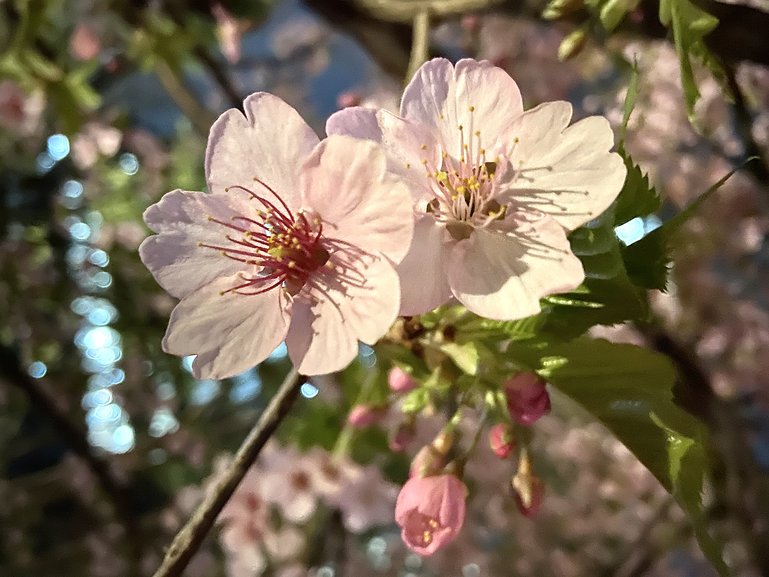 Cherry Blossoms at night at Toji Temple in Kyoto, Japan
Kyo-o-gokokuji Temple, how it is officially called, but better known as Toji Temple is home to Japan's tallest wooden pagoda. Making it one of Kyotos many registered World Heritage Sites and the perfect cherry blossom backdrop.
It is a must-visit for its five-storied pagoda but also for its mirror lake. Combined with the Cherry blossoms this is the epitome of traditional Japanese essence. Especially during the evening illuminations held in spring.
Opening hours: 8 am – 5 pm. With illuminations from 6:30 pm – 9:30 pm (mid-March – mid-April)
Admission Fee: Admission for adults is 500 ¥, high school students 400 ¥, and for junior high school students and younger 300 ¥. Illuminations admission is 500 ¥ for adults and high school students and 300 ¥ for junior high school students and younger.
Address: 1 Kujocho, Minami Ward, Kyoto
Website: http://www.toji.or.jp/
3. Umekoji Park
---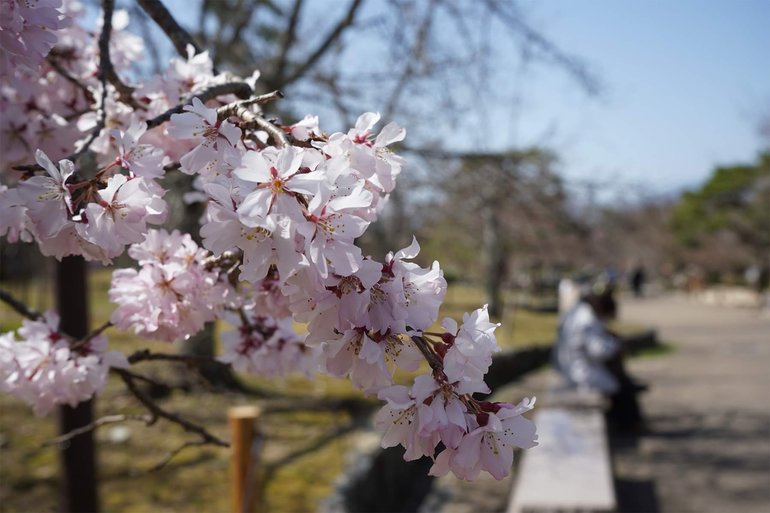 Cherry Blossoms at Umekoji Park in Kyoto, Japan
Only known to locals, this park is especially great for families as it has a massive playground. It is also close to the rail museum, the Kyoto aquarium and it is one of the best places in Kyoto to have a Hanami picnic during cherry blossom season.
Address: 56-3 Kankijicho, Shimogyo Ward, Kyoto, 600-8835
Website: http://www.kyoto-ga.jp/umekouji/
4. Takase River
---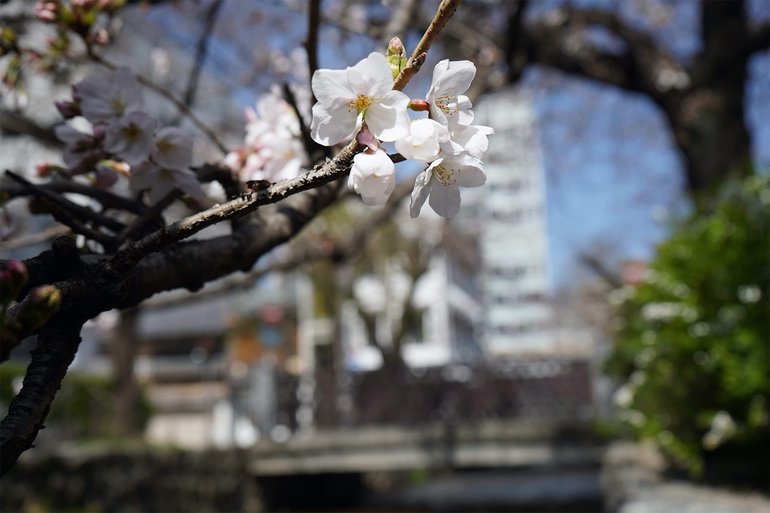 Cherry Blossoms at Takase River in Kyoto, Japan
The Takase River or canal flows along the entire Kiyamachi Street (about 2km) and it is lined with cherry blossom trees on both sides. So make sure to walk along, stop for a coffee or visit one of the many shops and restaurants that are surrounding it.
There are special illuminations from 6 pm – 10 pm in late March to early April. So if you're in town make sure to go for a stroll at night.
Opening Hours: Always, but with illuminations from 6 pm – 10 pm
Address: Takase River (Kiyomisu-gojo Station)
Website: https://kanko.city.kyoto.lg.jp/detail.php?InforKindCode=4&ManageCode=7000044
5. Philosopher's Walk
---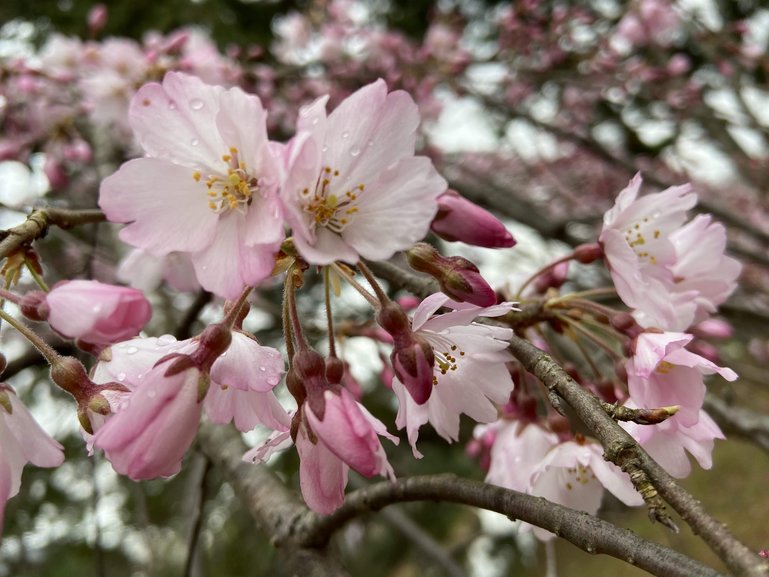 Cherry Blossoms after the rain in Kyoto, Japan
The Philosopher's Walk, a beautiful path loved by literary scholars is also famous for its cherry blossom and autumn foliage.
Stretching for about two kilometers alongside the canal, the 500 Yoshino cherry trees create a stunning cherry blossom tunnel. It also connects the Heian Jingu Shrine with Higashiyama Jisho-ji, both worth visiting.
Address: Kyoto, Kyoto, Sakyo, Jodoji Ishibashi Google Map
Website: https://kyoto.travel/en/thingstodo/entertainment/111