Spiti & Ladakh are definitely on your bucket list or your one of the most memorable women's special tours in India ever, however to witness these extremely surreal natural beauty you need to cope up with some harsh weather conditions. So here we have a brief guide to all the girls traveling solo in India, on how to pack and prepare yourself for your first trip to either Spiti or Ladakh: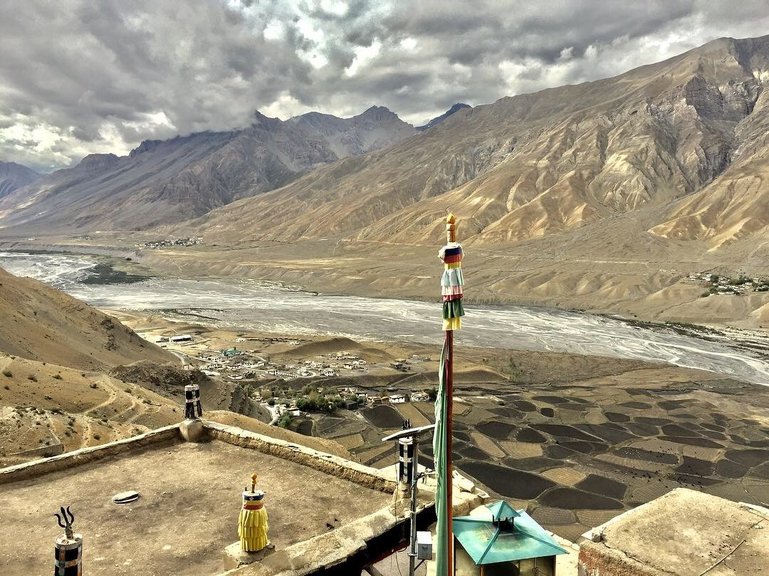 Things to Carry
---
1. Woolen Clothing( jackets, caps, Gloves, Sweater, Wind cheater etc)
2. Sun Glasses with UV protection & caps
3. Your Favorite Drinks or Dry Snacks you don't want to miss en-route
4. Sun protection cream & cold cream
5. Inner clothing(Thermal wear), enough under garments etc
6. Backpack/duffel bag to carry everything you need for smaller / overnight trips around Ladakh & Spiti.
7. Torch and Camera with extra Batteries
8. Swiss Knife
9. Personal Toiletries
10. Shoes, Floaters & Slippers
11. Wind-cheater / Rainwear (rainproof pants + a poncho + raincoat)
12. First Aid kit with good supply of medicines needed regularly & Electral Powder (with Diamox and regular medicines).
Do's
---
1. Must walk slowly, slower than the capacity. Drink lots of water.
2. Have plenty of drinking water, Electrol powder mix with water or any kind of liquids except Alcohol.
3. While Visiting any Gompa, Please take Lama's Permission for Photo or Video( no flash allowed inside Gompas)
4. Please take Suggestions of Family Doctor before Visiting Ladakh for any kind of medicines
5. Please follow the Guidelines given by your respective Tour Leader.
6. Put on a warm jacket before sun goes down.
7. Dress in layers, not just one thick jacket
8. Carry chocolates or Dry fruits all the time.
Don'ts
---
1. Don't exert unnecessarily or suddenly.
2. Don't smoke too much.
3. Avoid Alcohol
Acute Mountain sickness (AMS) is a real danger and can be fatal
---
Symptoms of acute mountain sickness (AMS) include headache, light-headedness, breathlessness and nausea. Sujata Sahu, founder of the 17,000 ft Foundation, explains, "Hospitals in Leh are filled with tourists who think the weather is great and take acclimatization lightly." If you think something's wrong, stop or descend to the lowest possible point immediately.
Medicines such as Diamox may be prescribed by general physicians prior to the trip and help reduce the chances of AMS—in case of any discomfort, this should be your first go-to. Having said that, the body is also fully capable of adjusting to the altitude on its own, if given time. Chewing something (especially garlic and chocolates) helps keep symptoms away. Most local vehicles and campsites are equipped with oxygen cylinders; don't hesitate to use them if/when necessary.
Good to know
---
1. Carry government-issued photo-identity proof—driving license, Aadhaar card, PAN card, etc., which come handy at checkpoints and in case permits are required.
2. Plastic bags are banned in Ladakh, so make sure you carry biodegradable/paper bags.
3. The weather is unpredictable: it's usually windy and can go from pleasant to chilly very quickly. Wear layers instead of bulky warmers to stay comfortable at all times.
4. Keep in mind that most establishments in Ladakh are shut during the off season i.e. the time when roads are closed.
5. Carry waterproof luggage; this will ensure that the contents of your bag remain dry in case it rains unexpectedly or you need to drive through water.
6. Remember to take spare batteries for your camera, as the altitude and cold will drain them out quicker.
7. When traveling alone or in travel groups around Leh, it's best to avoid alcohol; drink water instead. Breathing in dry air drains the moisture from the lungs, so make sure you consume at least 4–5 liters to stay hydrated.
8. If you're the one at the wheel, it's important to know that driving here is different from driving anywhere else. It's a constant mental and physical test, and covering more than 50km a day is a challenge for anybody who's not a seasoned driver. Don't push yourself more than you need to. "If something goes wrong, you'll fall 1,000ft into the valley." Take it slow and easy, and enjoy the scenery.
9. Prepaid SIM cards don't work well in Leh, but postpaid do (Airtel, Aircel and BSNL are your best options). The main market in Leh city also has multiple STD booths.
10. Most importantly, don't try to do too much in too little time. Ladakh & Spiti are not meant to be zipped through, they are more of an experience. Try to immerse in nature, introspect and find yourself.
If you think we missed any point or have any suggestions do let us know :), thank you for reading!!