Hong Kong is the perfect example of "east meets west". It's one of the Chinese territories filled with a vibrant global culture. Being once a colony of Great Britain, walking around Hong Kong gives you the perfect harmony between Chinese and British influences.
Apart from that blend of cultures, when people think of Hong Kong, the first things that come to mind are shopping, luxury, and Disneyland. But, there's more to Hong Kong than just the dazzle it brings. Even for backpackers and travelers on a budget, there's a lot that you can do in Hong Kong.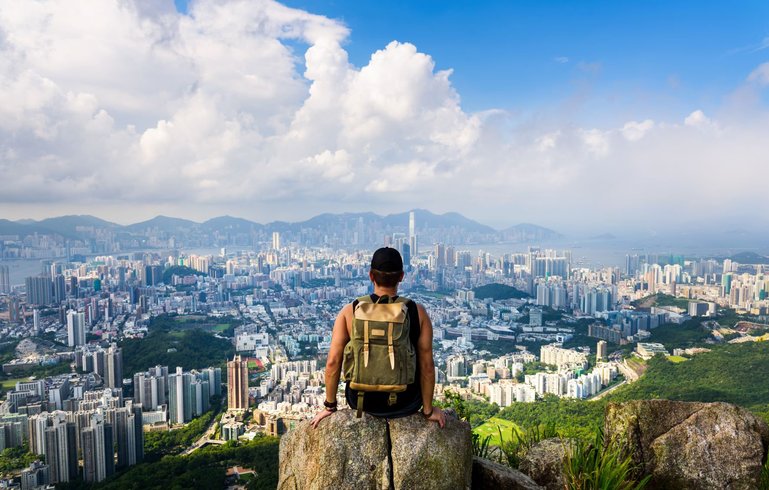 Here are some tips you have to take into account for your backpacking adventure in Hong Kong:
1. Take A Bus From The Airport
---
Hong Kong is easily accessible from the rest of the world. With the right timing and promos, you can get direct flights from anywhere. From the USA, for instance, there are direct flights from New York City that travel to Hong Kong.
But, as easy as it is to book tickets, the opposite is true when traveling from the Hong Kong International Airport to the rest of Hong Kong Island or Kowloon, where all the fun is. When you're on a budget, getting a taxi shouldn't be an option. It's expensive. Rather, you need to take the bus.
Here are tips to remember when taking the bus:
There's a bus terminal in the airport, where you can wait for the right bus.
Bus drivers don't give change, so you need to have the exact amount, pre-pay for a ticket, or get an Octopus card.
The last bus usually leaves between 10:30 to 11:00 pm.
2. Prepare The Right Budget
---
While Hong Kong isn't exactly the cheapest destination for backpackers, there are still ways for you to stretch your dollar. On average, however, you'll need around 50 to 100 US dollars per day for a budget trip in Hong Kong.
A sample breakdown of expenses is as follows:
Beer from a local bar = 8 to 10 dollars
Beer from 7/11 = 2 dollars
Hostel or cheap hotel = 15 to 25 dollars
Small basic room for two = 30 to 40 dollars
Airbnb in a shared apartment = 40 to 50 dollars
Dimsum for two = 20 to 25 dollars
Street food meal = 3 to 4 dollars
History museum = 1.50 dollars
Per ride cost on the metro = 1 to 4 dollars
3. Ride The Metro To Go Around
---
If taking the bus from the airport is the easiest and cheapest way to travel, once you reach the main island, riding a metro is the most affordable option you have. Hong Kong's metro system is very easy to use. Plus, it's also spotless. Many of the other commuters also speak English, so they can help you much in case you get confused.
4. Consider Doing Free Activities
---
In Hong Kong, there are a lot of free activities that you can also do. These activities are some of the great ways for you to discover the hidden gems of Hong Kong. And, you can enjoy these adventures regardless of the age level that you belong to.
Examples of these free or cheap activities include:
Visiting the Avenue Of Stars in Tsim Sha Tsui's waterfront
Watching the Symphony Of Lights at the Victoria Harbour at 8:00 in the evening
Walking the Golden Mile
Going up the Victoria Peak for a stunning evening view
Visiting a temple, such as The Tian Tan Buddha and Po Lin Monastery
Exploring a museum, such as the Heritage Museum, Hong Kong History Museum, and the Maritime Museum
Hitting the beach
Visiting the Nan Lian Gardens
5. Choose To Stay In Kowloon
---
Many of the fun activities can be found on Kowloon Island. So, if you want to save on the costs of having to travel through the metro regularly, you might also want to consider living around Kowloon. It's also around this area that you can find some of the cheapest accommodations. Kowloon is more of a local area, with a lot of its working-class centered around. Hence, you'll also find cheap markets, friendly locals, and parks.
Conclusion
---
Beyond the crowded streets and luxury shops in Hong Kong, there are small alleys with hawkers, night clubs, markets, and anything for those on a budget. Hong Kong is a paradise of hidden secrets. When you give yourself the chance to walk through it, you'll get to uncover so many more of its treasures. Truth be told, Hong Kong isn't exactly the cheapest destination for backpackers. But, these tips can help you enjoy a holiday in this Asian territory, without burning a hole in your pocket.