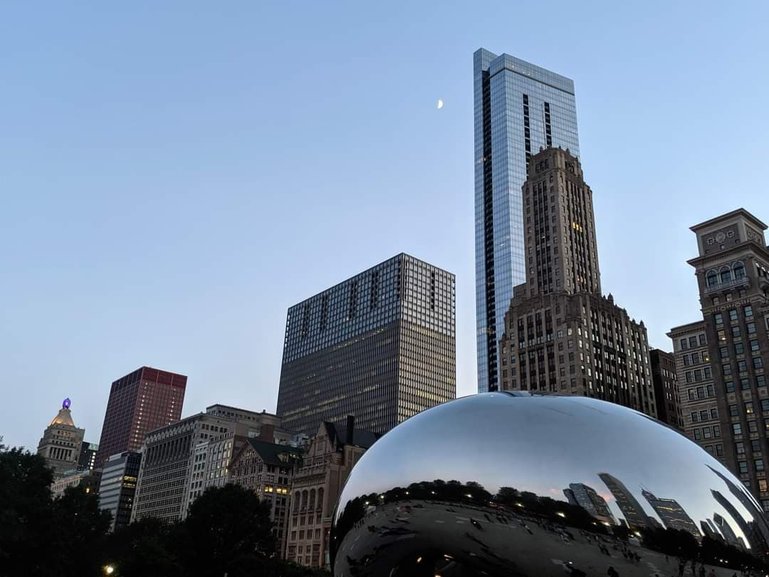 Photo Credit: Nate Benz
We can all search for "free things to do in Chicago" and get the Lincoln Park Zoo, Garfield Park Conservatory, etc. Here I highlight some smaller gems, beloved by locals on a typical day!
Chess Pavilion
---
The Chess Pavilion is a hidden gem in Old Town. Located near North Avenue beach, this concrete pavilion overlooks Lake Michigan and a jaw-dropping view of the skyline. Come bring a chessboard, and sit with a leg on each side of these great cement blocks, with a black and whiteboard in-between. You'll likely encounter some chess pros who will invite themselves to the bleachers of your game.
Oz Park
---
Oz Park brings the magic of The Wizard of Oz to Chicago. Complete with a Yellowbrick road, statues of the characters, and an "Emerald Garden", this delightful park is a great place to pack a lunch, enjoy a Chicago summer, and reminisce on some childhood memories.
Hollywood Beach
---
Located in Chicago's Northside Edgewater neighborhood, this beach stands out for its cleanliness. Away from the tourists, you feel like you've left the city for a bit and you're on the coast. Filled with great views and beach shacks for snacks, Hollywood Beach is a great weekend "get away" from the hustle and bustle of the concrete jungle.
Also known as Osterman Beach
Walk The 606 Trail
---
This 2.7-mile elevated trail once was the Bloomingdale train lane and has since been converted to a haven for runners, walkers, bicyclists, and art admirers alike. Stroll this east-west trail on Chicago's northwest side while enjoying art installations, local views of the city, and truly getting to "be with the locals".
Take A Brewery Tour
---
Chicago is home to some of the best brews around. Many breweries offer free tours that come with a tasting at the end. My personal favorite is Lagunitas. Walkthrough their trippy Charlie and The Chocolate Factory-esque entrance, and see beers swinging past you on conveyor belts. It's truly a grown-up candy factory.