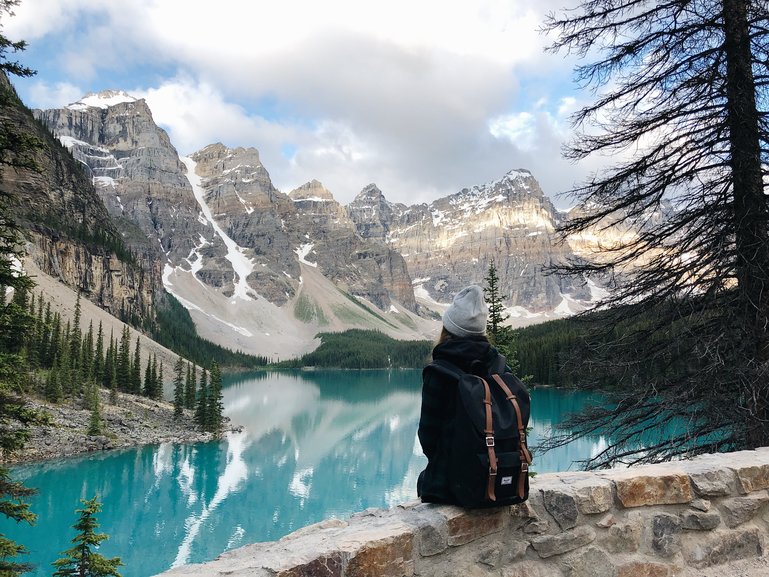 Moraine Lake is one of the most iconic spots in Canada, just 15 minutes away from Lake Louise. Known for its mountains, waterfalls and blue water this lake has since become a popular spot for picnics, canoeing, hiking and of course Instagram photos! It is also super easy to get here if you have already planned a trip to Banff or Lake Louise. To get here, take the Lake Louise onto Lake Louise Drive exit off the Trans-Canada Highway. Then follow the signs for Moraine Lake! Yes, it is really that easy.
However as more and more people find and add this "hidden gem" to their bucket list, visiting has become a little more difficult. As a local Calgarian (a city close to Banff National Park), here are five (and a half) tips we have learned about visiting this spot.
1. Canoe Rentals Are Pricey
---
While many influencers have popularized the idea to go canoeing at this lake from sunrise, this isn't as easy as it sounds. Canoe rentals on the lake are 105 CAD per hour which can blow any budget travel tip. Rentals are also only available from 9:30 AM to 5 PM meaning using their services you may not get to see the sunrise and sunset. Availability of canoes is also available on a first come, first serve basis. That said, staying at Moraine Lake Lodge will give you free access to the canoes which can save you a fortune if you like to paddle.
Alternatively, visiting Emerald Lake a little further down the highway will offer you a very similar experience at a fraction of this cost.
2. There is Only One Hotel at Moraine Lake
---
At the lake itself there is only one accommodation. That is the Moraine Lake Lodge. While staying here has perks like free canoe rentals and breakfast, and early and late access to the lake (without worrying about parking) it is also very expensive during high season in the summer months. As a once in a lifetime place to visit, we would encourage you to visit during the off season if possible or stay in Lake Louise, Banff or Canmore where other affordable places to stay can be found. If you aren't visiting Banff on a budget, booking well in advance is also encouraged to ensure you get a spot!
3. Visit Early During the Summer
---
Unfortunately, with limited parking spots (and maximum Instagrammers) the parking lot fills up fast (there are only 150 spots total). To avoid missing out on this spot, our advice is to visit early (before 6:30 am if possible) or after 9 pm. As an added benefit, you might enjoy the breathtaking sunrise and sunset colours, making these inconvenient visiting hours SUPER worth it!
4. Moraine Lake Is Not Open All Year
---
The road to access Moraine Lake is only open from June to early October but this depends on the weather. If you are planning to visit during low season (October) we encourage you to do a quick search on their official website to ensure the gate is still open and you won't be disappointed. However, most years it is the second tuesday of the month that it closes. This is to ensure that nobody gets caught in an avalanche which can be common on the road in the winter.
During the winter you can still access the lake, just not by vehicle.
5. The Iconic View Is Up the Rockpile
---
You know the iconic view? The one everyone associates with Moraine Lake. Yes, the one on all the postcards. It is very easy to get the same shot. Just follow the signs to view the "rockpile", a 350 meter trail that takes you to a higher viewpoint to view the lake.
5.5 Tour Bus' Get an Express Pass
---
I say this as a half point since this tip may not apply to you. If you plan on booking a tour or taking the Hopon Bus or another shuttle like the Roam bus you don't have to worry about parking! If you have less flexibility about when you can visit, this can be a great alternative to driving up.
By following these 5.5 tips we know you will enjoy your visit to Moraine Lake that much more and get a commemorative photo to prove it!