So, I travel for work - a lot! I work in the film industry and sometimes I am required to work out of town. I am also sometimes require to work out of state - and if I am lucky - out of the country. When I travel for work, it can anywhere from a few days to a few weeks - and there have been times that I have had to travel with just a couple of days notice. [Putting your life on hold for 5 weeks with just a couple days notice is tough - very tough!]
But, it has helped me prepare myself for solo traveling.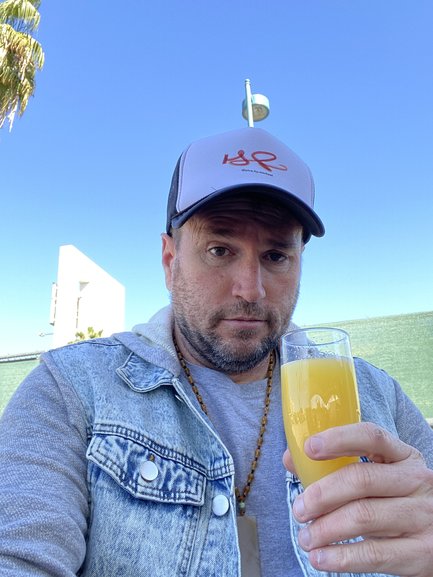 Also, I should mention here that I grew up as a twin. I have a twin sister; therefore, I have spent every birthday sharing it with someone else. So, to celebrate my birthday, I try to book a trip every year. [Sometimes, it could just be a road trip a few hours away] But, it is definitely something I do, in which, to celebrate myself! Because of that, it is always hard to get people to invest in a trip, and I totally respect that, so I have learned to travel solo.
People ask me, why I travel alone so much. For work, it is just part of the job, especially because I am a department of one....and so because of that I have learned to travel alone - I actually do not mind it at all!
My favorite reasons to travel solo are:
I can change my mind last minute, especially if plans do not work out
It is easier to talk/make friends with the locals
It can be easier to maneuver through crowds
If you find a unique place along a planned route, you can stop and enjoy it, without having to ask for another person's approval
So here are my tips for solo traveling.
In this blog post, I plan on going over PLANNING, PREPARING, PACKING, and PROCEEDING.
Planning
---
The best advice I can give you before any trip is to do your research. Nowadays, it is so much easier to look up all of the information you would need to know before traveling - it is just important to know what sort of information you need to research.
Okay, the first decision to be made is: where do I go? Is this a day trip? Road trip? Weekend getaway? Is this a Domestic flight? International flight? A cruise perhaps [hopefully once the pandemic is under control.]
Once that decision is made, the next step really is to figure out, how to get there: plane, car, boat, train, etc. For me, I try to plan about a month to two months in advanced. I understand, for some trips [especially those that are short term] that might be a bit tough - but in my opinion, two months in advance is enough time to find some good deals.
Some may argue that you can find really good last minute deals for flights. Yes, that is true...BUT then you risk not being able to plan most of your trip. In this case, there is no right or wrong answer to this. It just depends on what you are more comfortable with. I am just, personally, someone who likes to have an itinerary planned.
Okay, now the next step is to find a place to stay. I use Air BNB a lot, especially traveling alone, because sometimes you can find really, really good deals [especially a month or two out - although again, sometimes there could be last minute deals] in areas where you would not normally find rooms. PLUS, hotels in really good locations can be quite pricey. So, unless you want a vacation in a classy hotel, overlooking the beach, where you can order room service - [and there is absolutely nothing wrong with that] - do it! I just know that sometimes, I prefer to save money.
Also: my best advice is to use either Google Earth or Google Maps Street View and look around the neighborhood of where you are staying - get a sense of the surroundings. You do not want to arrive and be disappointed that you are in an unattractive area - or that it is too far from the beach, or from restaurants, or any other form of civilization [unless, of course, that is the kind of vacation you are seeking.]
Things I like to pay attention to when looking for place to stay
Location to restaurants/museums/attractions
Location to trains/buses [in case I don't have/rent a car]
How safe is the neighborhood?
What are the reviews like about the location/amenities
The next thing I do is research things to do in the area, in which I am traveling too. I use Trip Advisor a lot.
Keep in mind, not all excursions provide pick up - OR if they do, it is usually at a hotel or other destination. So make sure to research how easy it is to get from your hotel/Air BNB to that location. Does your city/country use Uber? Taxi? Is there a bus or a shuttle? It is definitely better to know that before traveling - remember, you are alone, so you do not want to appear lost. [That just screams tourist!]
So now you have decided on your destination; booked your means of travel; your lodging; and some fun, exciting excursions.....(and not every day has to be filled with activity - the fun part of vacation is relaxing)
But with that, it is time to prepare for our trip.
Preparing
---
First things first - check your passport! If you are traveling abroad, some countries will not allow entry if your passport expires within six months of your travel date. So, if it is about to expire - get it renewed!
Contact your bank [and/or credit card companies] and let them know the dates and location of your trip. I think this is important, because if you use your credit card a few times in a location different from where you live, this could flag your account for fraudulent charges and your bank could freeze your card. This is especially true, if you travel to another country.
Also, for international travel, check with your bank about conversion fees when using your credit card abroad. There is usually a small fee [like a few cents - but this could add up from transaction after transaction] when converting from one currency to another.

My other advice is, check with your bank about obtaining currency. Most banks do not keep currency from other countries on hand, and ask for a couple of weeks lead time when needing to order it. So, keep that in mind. You could find a currency exchange company, but the exchange rate is usually not as good as if you exchange through your bank. ALSO, you could pull money out of an ATM at the airport or train station when you arrive at your destination. The exchange rate is good with that as well, rather than through a currency exchange company.
Call your cell phone company and check about your international phone plan. You do not want to be roaming while you are traveling abroad. You could end up with a very expensive bill. Most cell phone companies have much better plans now for traveling abroad than they did in the past. It will give you comfort and peace of mind to have a working cell phone while traveling [both domestically and abroad.]
Make sure to ask about data. So many apps run in the background and you need to be cognizant of that. I do love having my cell phone with me when I travel, especially since I travel a lot for work. But it is also good in case you need to get directions, order an Uber, look for restaurants or attractions.

Some hotels provide a cell phone upon check in. This happened to me once when I was staying at a hotel in Hong Kong. They provided a phone that I could use while staying there - it had internet and I was able to use it to map locations, book tickets, check social media - and even make phone calls! It is activated when you check in, and deactivated when you check out.

When I get back to my hotel/hostel/AirBNB I usually put my phone on airplane mode and use the WiFi. Most phones have WiFi calling capability, so therefore I can still use my phone without using International Data.

Also, consider using a VPN on your cell phone for protection when on public Wifi.

This might also seem obvious but if you have other devices that have their own cell line for data - such as a smart watch or tablet - keep them in AIRPLANE mode the entire trip. International plans usually only work on a mobile device but NOT other devices. Watches will still connect via bluetooth with your phone, just do not use LTE. I would check with your cell phone provider just in case.
Make sure to get all prescriptions refilled that need to travel with you.
Check the weather before you go, so you know how to pack.
Dependent on where you are going, it is definitely a smart idea to research local customs. Some gestures we do in the Unites States [or which country you reside in] may not work in a foreign country, so be cognizant of that. The signal 'OK' [three fingers up and thumb and forefinger in a circle, do not mean the same. In countries like Italy, Greece, Iran, and even in France that gesture is very obscene.
Also, my last piece of advice for traveling solo is, leave any pertinent contact information with a loved one or family member.
Include your travel itinerary.
Make sure to note all flight numbers
Put the addresses of all hotels/hostels/AirBNB in which you are staying.
Notate any contact number for each location - or the Air BNB host.
Packing
---
My advice here is to pack LIGHT. Our first thought is to take many different options so we can be prepared for all situations. Guess what? If you pack heavy luggage, you will have to carry heavy luggage.
I took a trip to Costa Rica for my 40th birthday. My friend met me at the airport but I was unaware that he did not have a car - since public transportation is very easy there. Easy or not - I packed a HEAVY bag and had to carry it with me on public transportation. And, he wanted to show me around town, and I had no place to keep my bag.....lesson learned!
There are so many amazing travel bags now, with tons of pockets to carry all the small things you might need on your trip. Of course, if you are exiting the plane or cruise ship and staying in the same hotel/location, then bigger luggage could be necessary. Keep in mind though, you could have long layovers or have to move through big and busy international and domestic airports...and you will still have to carry your heavy luggage.
Depending on the length of your stay, I find that it is easier to pack for at least 5 or 6 days. Hotels provide laundry service - or there is laundry service in most areas. Plus, you can do simple laundry techniques right in your hotel room. You can pack a very small amount of soap in your bag, or get some when you arrive, and wash items in the sink after you wear them; hang them up to dry and wear a couple of days later.
Download a packing list. There are so many online that provide a nice checklist for you to ensure that you have everything you need in your luggage/carry on.
Keep your passport CLOSE. It should be in a pocket in your carry-on, where it is easy to access, but also safe and out of sight of pick pocketers. The worst thing is being out of the country and your passport gets stolen Consider a money belt. It is a small pouch that lies against your stomach, under your shirt, where you can safely store your passport, credit cards, and extra cash.
Also, any excursion tickets or RSVP's that you have printed should be close at hand as well
Do not carry any of your prescriptions in your checked luggage. They should be in your carry on, especially if you are on long flights and might need to take them in flight. ALSO, even though it is more rare than before, luggage does get lost.
Sometimes, I carry an extra outfit in my carry on, for that off chance that my luggage does get lost, or arrives late to my location, and then I am not stuck with wearing the same clothes. Sometimes just taking a shower and putting on clean clothes, can help change your attitude/outlook when dealing with a difficult situation.
Do not forget to pack all charging cables for phones/tablets/cameras/laptops. They should also go into your carry-on. If you have layovers or long flights, you do not want to be stuck with dead devices!
If traveling abroad, each country has a different electric outlet, so make sure to invest in a plug adapter. I used to put 5-port plug outlet in my bag, but now-a-days, mosts devices have a USB port with a detachable base AND you can find charging docks with 5 or 6 USB holes. I would say invest in those, that way you can plug that into the adapter and then be able to charge all of your devices at the same time [rather than having to charge one at at time.]
Packing clothes is the hardest part. Again, I think it is smart to pack light. If traveling to a warm climate, I would still suggest bring a jacket - as there might be a night it is cooler, or there could be a sudden storm. This also works if traveling to a cooler climate. Pack one outfit that could be used for warmer weather, just in case.
Jackets are hard to pack, as I find they are hard to fold. If the jacket is not too bulky, most times I will just end up wearing it while traveling, because it can be easily removed. Keep in mind, airplanes are often kept at cooler temperatures and you can always use the jacket as a blanket.
If you do pack a pair of shorts for a colder climate, you can always lounge in them in the hotel room, or perhaps use them in the hot tub, if there is one readily available at the hotel.
I would also throw in an eye mask. They do not take up much room and they come in handy.
I always try to bring at least ONE nice outfit. I am not talking about suit - although, if traveling for work, that might be necessary. But for general travel, sometimes it might be nice to enjoy a nice dinner out, or perhaps you want to take in a show, or attend a church service; or you make a new friend and they invite you out - to say, a bar, or a club, or just for drinks with some locals, why not have one cute outfit on hand. If not, you may have to go shopping!
Proceeding
---
Your trip is planned and you are all packed. Now, it is time to travel!
If you are like me, you will not sleep the night before. I love traveling so I am always excited and barely sleep. I am sure that may sound ridiculous, but when it comes to traveling, I am like a little kid, the night before Christmas.
The best advice I can give while traveling is to always be cognizant of your surroundings. Never leave your backpack or purse unattended. I usually keep it down by my feet, the strap wrapped around my leg, if possible.
Do not keep valuables in your pockets, you can be easily pick pocketed. Instead, keep them in your bags, or hide them down at the bottom of your back pack - or, as stated earlier, invest in a money belt. This goes for cellphones! Smart watches still work abroad via bluetooth, when in airplane mode, so keep your phone hidden and use that watch - that is why you bought it!
It is easy to get distracted when going to new places. There are new sights, new smells - it is sensory overload, but that is when your valuables - or luggage - can be taken.
If possible, do not carry all of your cash on you when you are out. And do not carry your passport, while sight-seeing. It is best to keep your passport and extra cash in the hotel room - in the room safe if possible. If there is no safe, I usually hide my passport deep in luggage, which is then hidden in the closet.
On those days, you do not have plans - or you have a light itinerary, explore! This is literally my favorite reason to travel alone. Sometimes, just going 'where the wind takes you,' is the best way to find hidden gems in any new location. There have been many occasions where I deviated slightly on my path at the last moment, and found something unique: a cool statue or building, a small cafe with an amazing view, or a cute waiter/waitress, or maybe a museum or historical site that you were not aware was in the area. Even having an itinerary does not mean that you should not leave room for adventure!
You should leave reviews for places you visit; ie, hotel or AirBNB, restaurant, or any excursions you attend. Just like you did when you were researching your trip, other travelers could your reviews to help plan their future trips. Plus, it is a nice gesture - and sometimes, you may be invited back with, perhaps, a forthcoming discount - I mean, you never know! [I post a lot of reviews on my Tripadvisor page, as well as Yelp, and here on my blog.]
If you use social media, why not tag them if you are happy with their service. Word of mouth advertising is free, and I know most business would appreciate it. Ask them for their social media handles. [Some places also public display them as well.]
example, if you find a quaint cafe, that makes a kick ass chai latte, post a photo with you, drinking it, and a cute caption: best chai latte here at @SOCIALMEDIAHANDLE. And use hashtags!
Also, remember to take photos, so you can always remember the amazing trip you took.
And last but not least, have fun! You deserve this trip!