Armenian folk dances have been the brightest expressions of the character and aesthetic thinking of Armenian people. While watching Armenian folk dances, you will feel the spirit of Armenian history, when dancing yourself, you go through the centuries of the struggles and victories that Armenians went.
Now let's look at some Armenian folk dances:
Erishta
---
Since ancient times, dance was a companion to the song, but later dances gradually gained value. They have become a separate art phenomenon, yet still intertwined with working processes.
A number of household works – mortar grinding, wool cutting, wheat grinding, pottery, kneading and so on - were performed with multiple repetitions of the same movements, which already contained rhythm and dance elements. These rhythmic movements were often accompanied by a song.
Such a beautiful dance-song is Erishta or Rshta. Erishta-making was a community activity in summer. During this period Armenians made these noodles for winter use. The footsteps of kneading the Erishta dough turned into dance footsteps. This working process was accompanied by "noodle" songs like:
I am sieving flour and longing for my sweetie
I will die for his curl (kyankul), as a fragrant as an incense.
Then people gathered around the dough covered with a piece of cloth or rag and danced so that the dough was kneaded in accordance with the rhythm of the song and music. Modern folk dancers recreate these ritual performances and include them in their dance programs. For them, noodle-making becomes an artistic endeavor as well as gastronomic work.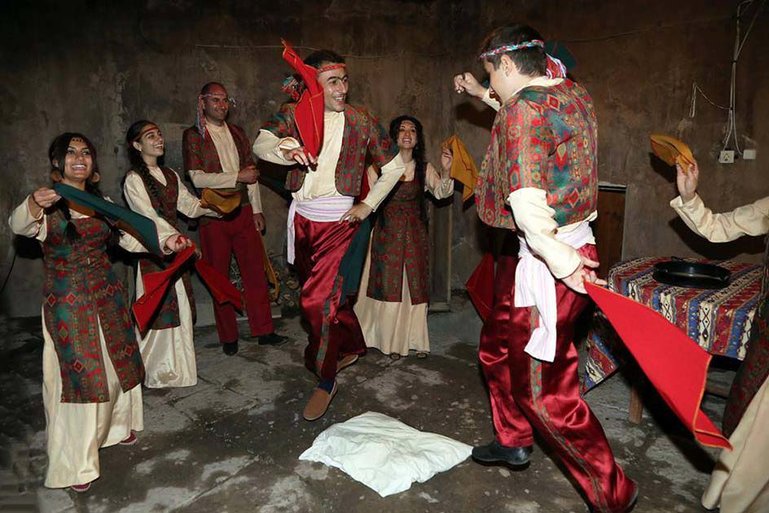 Erishta making process
Kochari
---
Kochari is an Armenian folk dance that is highly performed throughout Armenian Highlands. This dance was accompanied by "dhоl" and "zurna" (Armenian musical instruments). The dance consists of impulsive and slow movements, that come one after another. It is mainly performed at festivals and has been featured in Aram Khachatryan's (Armenian composer) ballet Spartacus, Symphonic Dances by Edvard Mirzoyan.
Kochari dates back to the pagan culture of Armenia. During these times Armenians worshiped animals and nature.
Zakeni
---
Zakeni is an Armenian folk dance dedicated to the totem animals. The dance was written down by ethnographer, folklorist Rudik Haroyan, the founder of "Masunq" ethnographic song-dance group.
In the past, there were special celebrations dedicated to the totem animals, and later to the divinities formed of those animals. During these celebrations, magic acts and dances were performed for the sake of animal fertility and their reproduction. Theatrical acts and dances took place especially with similar movements of animals. The expressive side of this dance has gradually evolved and encompasses all aspects of descriptive and metamorphosis.