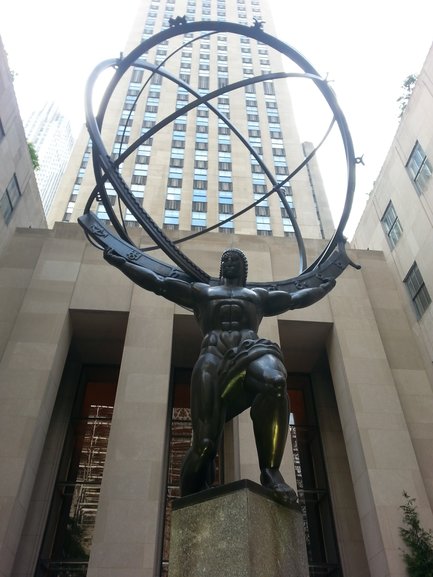 Many people love travelling to NYC to visit and why not. It is a great city with so many things to see and do. No matter the time of the year there is always something going on to keep you busy. However, if you ever just stop and stare at the people on the street, you can easily identify who lives there and who is visiting.
Now you are thinking, well if I visit, I will be looked at as a tourist. While that might be true, there is a way to make yourself look more like a native NYer. Here are some tips to help you blend in and seem like you have lived in NYC all your life.
1. New Yorkers rarely refer to Manhattan as Manhattan. For anyone living around the boro, whether it is another boro or New Jersey, or any other place near, they refer to Manhattan as The City. So if someone in Queens wants to go to a club in Greenwich Village (referred to as The Village) they would say they are going into The City. It will be pretty rare for a New Yorker to actually say the word Manhattan.
2. Escalators. There are many escalators around, especially in the subway. I have found that throughout my travels around the world, this etiquette applies to NYC only. Basically, when riding the escalator stand on the right side of it. If you are with someone, have them stand behind or in front of you. Never stand side by side. The reason being, is a lot of NYers are in a hurry and will walk up or down on the escalator. By standing on the right side, you leave space for people that want to walk to use the left side. And let me tell you, if you stand on the left side and block people, you will hear about it.
3. Finding your way around the city (see what I did there) can be a challenge for many. Address can be very confusing depending where you are. One thing that can confuse people is that you can have the same address twice. One can be an East address and one can be a West address. This East/West signals where it lays in relationship to 5th Ave. 5th Ave cuts the island in half. Everything west of 5th Ave will have a West address and everything east of it has an East address. Also, look at 5th Ave as a starting point. Addresses start at 5th Ave so the further away you go from the avenue the higher the number is for the address. So for example, if an address is 2 West 44th st, it would be on the corner of 44th St and 5th Ave, on the west side of the street.
4. Public Transportation. If you use the subway or bus, you will need a Metrocard (as of the time of this post). They are changing the system to use your phone or credit card but for now you still need a Metrocard. Some stores will sell them and pretty much every subway station sells them. My tip though is when using the subway or bus, don't wait until you get to the turnstile or enter the bus to get your card out. Be prepared. Have your card out and ready. When you get to the turnstile, you should already have your card in hand so you can just walk, swipe, and keep walking. For the bus, you should be able to walk on, swipe and keep moving. Remember, NYC is a busy place and there will be people right behind you. When you stop, everyone stops.
5. Times Square is a tourist trap. Yes, I know what I just said. I basically just said if you are visiting NYC, don't go to Times Square. Truth is most NYers hate the area and will try to avoid it as best they can. I do understand there are many hotels in the area and some stores you might want to go to and some places to visit like Ripley's Believe it or Not. But, it is very very crowded. There are people standing around looking into space because they are overwhelmed and for us native NYer's it can slow us down. Walking down 42nd street is like an obstacle course. To be truthful, there isn't anything special about the area except that it is well known. Yes it has The Hershey store and the M&M store…but really, you can buy those items anywhere in the country. There are some good things in the area like Broadway and I will touch on that.
6. Broadway tickets. You can spend a lot of money and buy tickets to a show ahead of time. You can spend a lot and have your hotel concierge get them for you. Or you can do the smart NY thing. Go to 47th St between 7th Ave and Broadway. There is a place there called the TKTS Booth. You can get last minute reduced fair tickets there for a show for that day. These are usually tickets that they couldn't sell and since they want a packed house, they will sell them at reduced cost.
7. Top of the Rock. Want to see the skyline of NYC? Go to the Top of the Rock in Rockefeller Center. It is less expensive then the Empire State Building and not as crowded. You will still get a great view of the city. And when you are done, explore the rest of Rockefeller Center. If you are there in the winter time, you can go ice skating and visit the Christmas tree. Maybe take in a show at Radio City Music Hall and see The Rockettes. Yes, these do seem touristy, but NYers do go to Rockefeller Center so you won't look too out of place.
8. Subway. I can't stress this enough. If you are using the subway and there is an empty car, do not get in it. Very rarely is there an empty car so it is empty for a reason. The first is the heater can be broken and on full blast making the car seem like it is 200 degrees. The second, it smells. And not that garbage smell, but really bad smells. Smells so bad, that, yeah, no one wants to be in the car. True NYers know better and will quickly shuffle down to the next car. Follow their lead. It might be a packed car, but it will be worth it.
9. Food carts. This is a tricky one. As far as food carts go, avoid them. They are just pretty unsanitary and many of the vendors don't wash their hands or use gloves. On top of that, the food is out in the open in the dirty air. If you don't want to get sick, avoid them. Food trucks on the other hand are the latest craze and people will line up down a block to eat from them.
10. Sticking to food, try garlic knots. Go into any authentic pizza place and order some garlic knots. They are pizza dough that is cut up and tied into a knot. They are then brushed with garlic oil and baked off. They are kind of unique to NYC and a real good knot will get you addicted.
That is my quick list of ways to look more like a native NYer. If you use these tips, you will be able to blend in a lot better and won't get too many stares from people. I do have one more tip though and this is something NYers know but probably will never do. You are a tourist though so indulge. If you want take a nice little boat ride and see the Statue of Liberty, take the Staten Island Ferry. It is free and you can get some nice views of Downtown Manhattan, Staten Island and New Jersey as well as the Statue of Liberty and Ellis Island.