I knew absolutely nothing about Seattle outside of Starbucks and what Grey's Anatomy taught me (I can feel you rolling your eyes). My roommate, Jessica, suggested we take a tour of the Seattle Underground. Little did I know, much of downtown Seattle is built on top of old Seattle. Like Chicago, Seattle had their great fire and decided to rebuild on top of the burnt land.
Downtown Seattle's Pioneer Square neighborhood is actually built 12–30 feet above the original city grounds. When walking around this neighborhood, the first floor you see of buildings is actually the second floor. After the fire, the city was anxious to get back to business immediately. They left the first floor of their buildings, which would be underground, as plain and saved their grand re-openings for their ornate second floor when the rebuild was complete.
I found this a little morbid at first, but I soon learned that there were no recorded deaths from the great fire. The fire stemmed from a glue accident in a carpentry shop and spread quickly throughout the wooden business district. Miraculously, civilians escaped and were back to business the next day with makeshift tents. Seattle business people wasted no time in keeping their economy up and running.
Today the underground spans over 30 city blocks. Following the legal closure of the underground, speakeasy and brothels popped up throughout the city. It is said that the Seattle Underground was so corrupt in paying off police to look the other way, that not even the Mob could break-in to this underground sin city.
Today, most of the Underground is inaccessible except for some tours. A few comedy clubs and shops have utilized the underground space on their property for entertainment.
We often think of the corrupt nature of the New York's mob and Chicago's gangsters — but Seattle's Underground can certainly hang with the best — or worst– of them.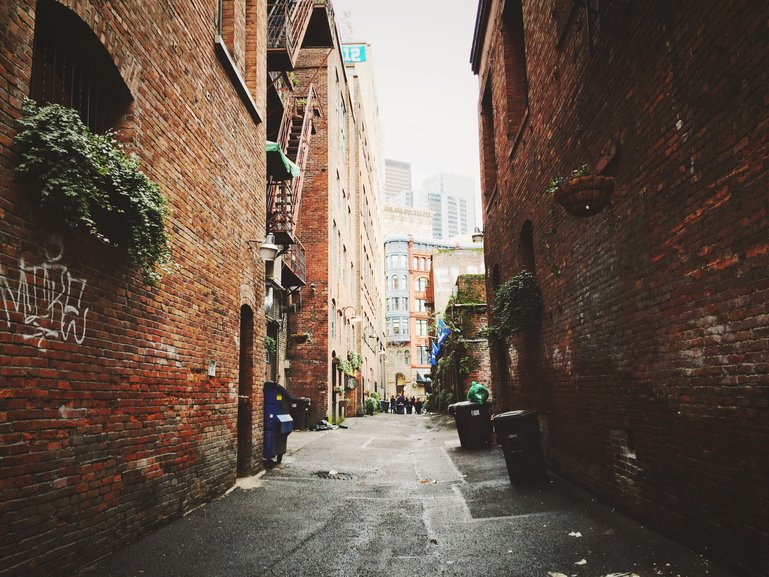 Photo by Serg B on Unsplash
I used the tour company Beneath The Streets. While not my favorite walking tour, and perhaps a bit overpriced, it provided me with a plethora of information about the origins of Seattle, and I am glad I did it.