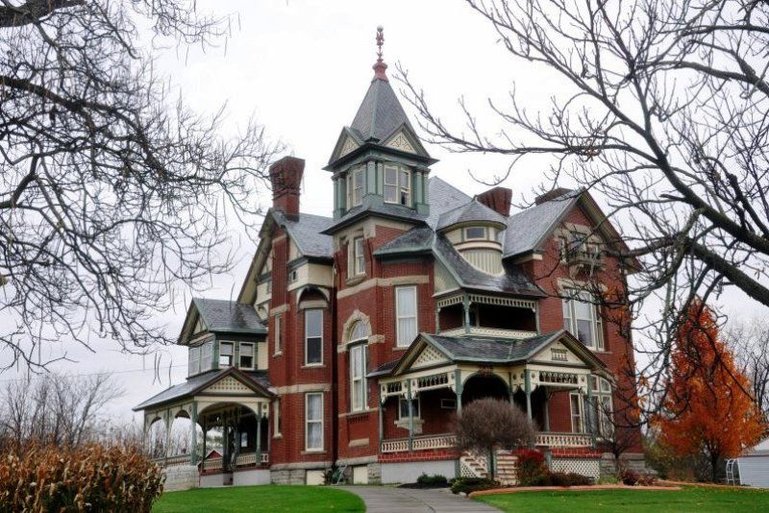 Main St. Findlay
Should you find yourself in the corner of NW Ohio more or less around Lima and Findlay (on I-75), There are some things see of modest architectural and historic interest. Although most Victorian style homes in the USA were built before 1910, they remained popular in Midwest for several more decades, and so there is a plethora of impressive Victorian houses in Lima and Findlay, financed by the local manufacturing wealth.
Lima, OH (Lime-ah, never Leemah)
---
The Lima oil refinery, 130 years old, produces 25% of the gasoline used in Ohio. From 1879 until 1956, Lima Locomotive Works was a major producer of train engines, especially steam engines. The Lima Tank Plant started in the 1942 and built the Pershing Tank for WWII. Recently, The Lima Tank Plant built the MI Abrams tank. As expected, with an economy based on oil, railroads, and war, Lima flourished for decades, but then fell into decline in the "Rust Belt Bust" engineered by three Republican Presidents and Republican Congresses who enabled shipping high paying USA jobs over seas to foreign countries with cheaper labor, like that Republican darling, China (This short sighted Republican policy came back to bite Republican trump in the butt when it turned out his Republican predecessors had exported most of the facilitates for making everything needed to combat a pandemic to China).
See the Town Square, and Market St which extends out of the square; Main St, and the Lima Court House.
Findlay, OH
---
The Marathon Oil Co. was founded in 1887 in Lima, OH, but in 1905, moved 35 miles north to Findlay, OH, also the home base for the Cooper Tire Co. , Go thru the downtown and out Main St toward Ada, OH
In the Vicinity
---
The Van Wert Court House. , Van Wert OH near Lima
Bluffton's Main St. Bluffton is midway between Lima and Findlay.
The Bottom Line
---
This is not Grand Canyon level blow you away sight seeing. Its a pleasant look at an early to mid 20th C Midwestern economic powerhouse behind the rise of the USA as a world power.