Hi! I am Sohyun, local Korean, also travel guide. If you're travelling to Seoul, Korea for the first time, here are 10 things you need to know.
1. Watch some K-drama or K-pop music or Netflix
---
Yes, I know it might be unnecessary, but please feel the Korea by those things. These can give you a general idea of fashion and culture and travel places and Korean FOOD.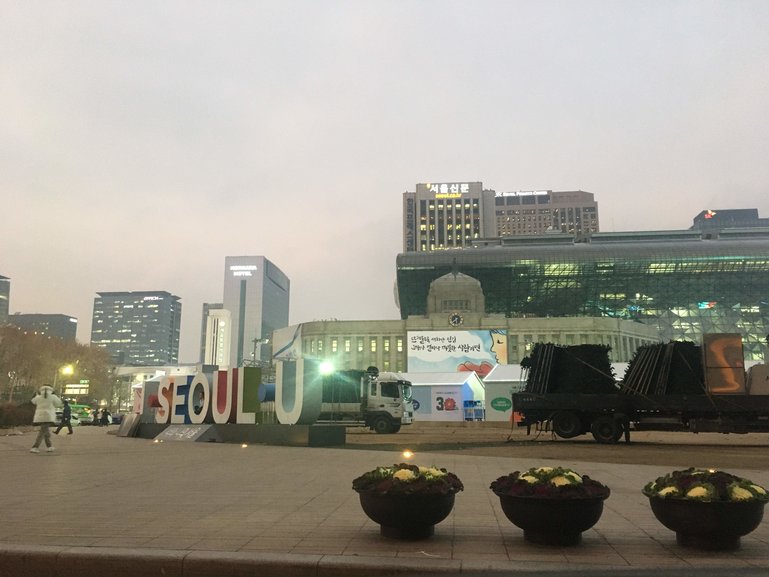 Seoul, Cityhall
2. Korea is expensive and cheap!
---
If you've been to Japan, then Korea is cheaper but compare to China and Vietnam, you can be shocked. For example, Street food can be 2000-6000 KRW.
Transportation(Subway and bus) fee is mostly between 1200-2500 KRW in Seoul.
A subway system in Seoul is crazy easy in the world.
And Korean meal can be 7000-15000 KRW depending on which food you eat and where you go, but usually 7000-10000 KRW.
3. What to do in Seoul?
---
Seoul is awesome city to travel.
You should experience:
1) Traditional Culture
2) Trendy Cage (not Starbucks)
3) Trekking Fortress Wall at night
4) Visit JSA / DMZ for watching Korean War
4. Korea is safe?
---
Yes, VERRRRY safe. You never felt safer than in Seoul. You don't need to worry about this. We even have special police system for foreigners, Travel Police.
5. Do and Don't in South Korea
---
1) Age is important! Many Koreans will ask your ages upon meeting. You might be surprised.
2) Take off your shoes indoors, for example when you enter temples, house, school.
3) Dress modestly in Summer. Tank-tops and shorts and short shirts are considered taboo most places, especially with elders.
4) Don't tipping! It is not common to leave a tip, even in taxi and restaurant.
5) Say 'thank you' in Korean, then Korean show you a smile. SAY "Gamsa habnida"