There are just a few stops on my journey which are very clear and without any doubt. Barcelona and it's food market is one of those.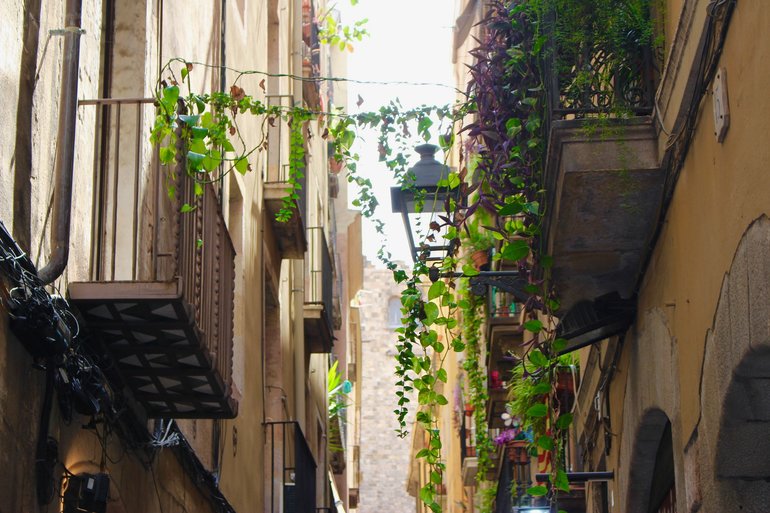 Unfortunately Barcelona isn't the safest place to stay for a camper van and I have to be honest, that I did a lot of research before coming here. I checked several websites searching for the best place to leave Spencer alone. It would be the worst nightmare if someone would broke into my car, rob my personal stuff or even the whole van. And as I wanted to enjoy the day in Barcelona I searched for a safe place for Spencer to stay. I found that about 30km away from Barcelona in Mataro. I arrived very early and left the van behind, took the train for about 45 minutes and found myself in the city center of Barcelona. I didn't intent to do the main touristic sights but the culinary ones. I wanted to enjoy the flair of the city by strolling around without having a clear aim or a fixed route. So I just walked in the sun and followed narrow streets that looked pretty and interesting. By that I found many many beautiful shops and hidden spots of the old town center. I felt that certain vibe of start ups and pretty individual locations rather than blank streets without any character. I took my time to breath in that atmosphere and wandered from shop to shop. About lunchtime I discovered a small restaurant serving home made sangria (in a more fancy way) and tapas. Perfect for a stop over. I remembered the brand "Lolea" from Germany where it was promoted by Foodist (monthly culinary boxes I received). They are making sangria in different versions like with a sense of rose, grapefruit, vanilla and so on. The staff was very helpful explaining all the differences so that I had a perfect lunch.
After that I walked straight to the popular food market "Mercat de la Boqueria" I was so excited about. Of course… it was crowded and packed with tourists! It was difficult to capture the market itself with all those nervous people walking around taking pictures and talking in so many different languages. So I walked around for more than an hour to take my time watching the different stalls with their various products. And do you know that certain effect when you are awaiting something for a long long time and you are really really (I mean really!) excited about it? And when that moment comes you are kind of disappointed because all the pictures that were in your head are totally different? Well, that happened to me. I expected the market to be more traditional and atmospheric (foolish) rather than crowded and touristic. Every stall offered small bites of cheese and ham for takeaway and loads of smoothies! More than half of the market was full of fruit stalls or butchers all offering the same. It was difficult to find locals doing their regular shopping. But in between there were a few stalls with a larger variety of products talking to locals recommending something special. One corner of the market was about sea food and that was much more what I had expected (of course, most of the tourists aren't interested in buying fresh fish just to go). Loads and loads of fresh fish, mussels and other seafood I have never seen before. That was the atmosphere I was searching for! And I liked it. I just sat down at one corner observing the people buying food for their families and the fishmonger handling their products with knowledge and routine. That's what a food market should be – a place to offer local goods for the people living around to buy their daily food serving their families and friends.
After that it was time for something sweet. I read about a very traditional small shop selling home made churros with sugar. It took a while to find it and even after locating it I had to wait half an hour because of the lunch break (I will never get used to that siesta thing). But it was worth it! An elderly couple made the churros in a very small store with just one stove and a serving bar. And they tasted fantastic! I couldn't get enough of those… So I walked along the streets with my sugary treatment and found a little flea market in front of a small church. Perfect end for my stay in Barcelona.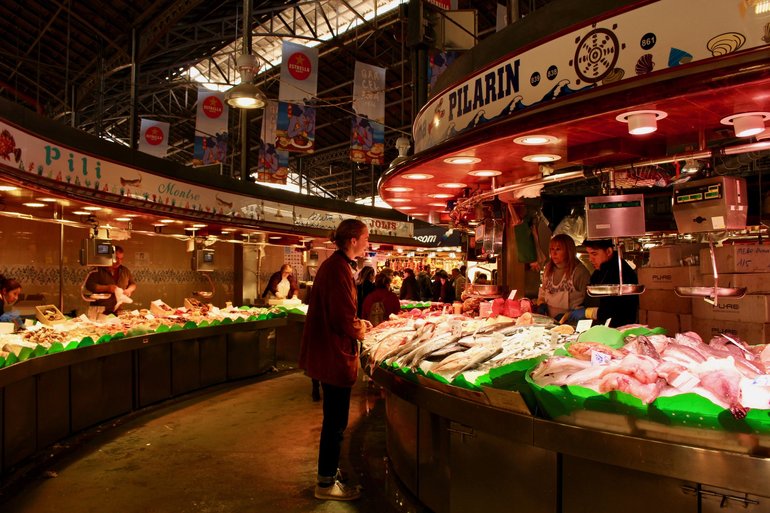 So finally the market had a mixture of touristic facelessness and atmospheric tradition. I ended up buying some cheese and smoked ham as well as olives at smaller hidden stalls for the evening.
After that I took the train back and enjoyed the food I brought at the market with the rain drumming against the windows of my van. Lucky me!