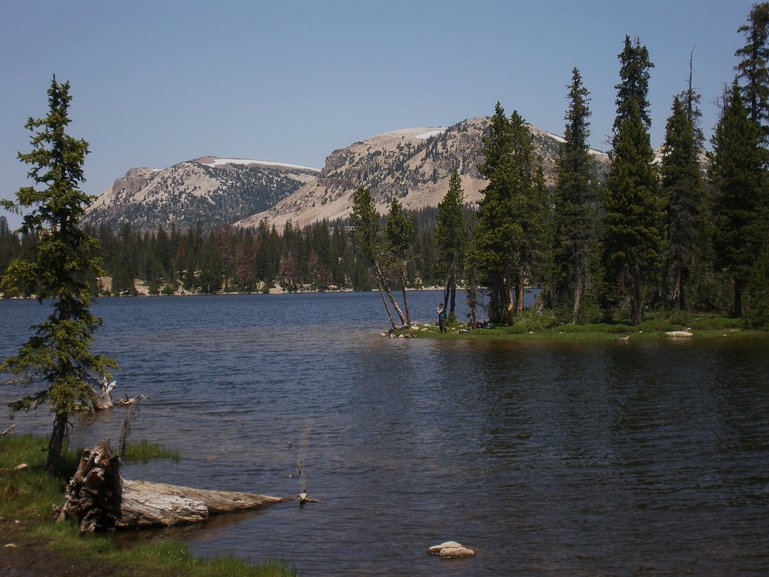 Nearby Mirror Lake
Travel of Historical Interest
---
Fort Bridger is a good example of an early wild west military outpost, but its more interesting for its curious history. Mountain Man Jim Bridger, an early explorer of the West, established a trading post at the what is now Fort Bridger. While it is not very well known, Abe Lincoln's Civil War was America's second civil war. In the first civil war, generally called the Mormon War, Fort Bridger, which wasn't a fort then, but became a fort during the war, played a major role in the first civil war. When the USA decided that rebellion in the Utah Territory required military intervention, an Army was sent from St Louis to pacify Utah. The chosen route for the invasion of Utah by the US Army was thorough Echo Canyon, today's I-80 highway. The Army's invasion force was delayed in departing St Louis by conflicts with greedy businessmen devoted to fleecing the taxpayers in selling provisions to the Army in St Louis. The Army's invasion route, more or less I-80 across Wyoming, has long stretches of high altitudes-- 6,000 to 8,000 ft above sea level. It snows a lot here, really, really deep snow, the Army got bogged down in the deep winter snows before it reached Utah. The Army camped for the winter at Jim Bridger's trading post, and turned it into Fort Bridger. My the time the winter snows melted, allowing Army to move again, the USA Ambassador to Utah had negotiated a satisfactory agreement with Utah Territory, and the Army's invasion of Utah was called off, much to the advantage of the US Army for military experts agree that had the US Army been stupid enough to invade Utah via Echo canyon, ash they had been ordered to do, the US Army would have been destroyed by the Utah Militia.
While the Army was hogged down at Ft Bridger in the winter snows-- it takes 4-6 months to clear-- the President sent decided to appoint a drunken political fund raiser who couldn't be ignored because the money he raised, but was a disruptive force in Washington DC, the Governor of Utah Territory (Utah territory included what is now Utah, Idaho, most of Wyoming and most of Arizona) to Utah by ship through San Francisco. When the drunk arrived in Utah, to everyone's surprise, he turned out to a diplomatic wander who negotiated a peaceful settlement with the Mormons and so ended the First Civil War. When the snow finally melted and the Army could move again, it went back to St Louis.
I will eventually detail the story of Echo Canyon and the threat it posed to the invading US Army in a Tip, but for now, a visit to Fort Bridger and drive down Echo Canyon is a visit to an unusual and little known part of American history.
Sights in the vicinity of Fort Bridger
---
Evanston, WY
Sheep Creek Canyon
Kemmerer, WY
Fossil Butte National Monument
Flaming Gorge Dam and National Recreation Area
Mirror Lake National Scenic Byway