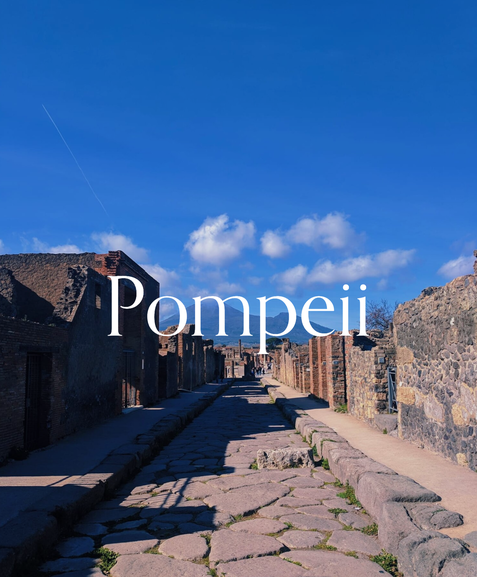 When you go to Roma, I beg you, please don't miss Pompeii.
Pompeii has been a dream of mine for as long as I can remember. As tragedy so often does to us, the story of Pompeii gripped me when I was a child. I knew it was just one of those places I needed to see before I died.
How do I get there?
---
It is so much easier than you think! There are a few options. You can take a train from Rome to Naples, and then catch a shuttle or taxi to Pompeii. There are also numerous tour operated buses you can take either just for transportation or for a full tour. (I used Greenline Tours and had a pleasant experience)
My advice? Spend some time alone
---
In my opinion, it's best to explore Pompeii on your own. I wandered the grounds solo for hours, and I don't feel I saw one-fourth of the city. Pompeii is gigantic. Every turn makes you hold your breath.
Aside from walking at your own pace, you may find the need to be alone to process what happened here. As you pass through Pompeii you see incredibly preserved homes, markets, and town squares. As you look around, you realize none of these people were ready to leave earth that fateful day. Their lives were paused mid-motion, and you are there to see what their world looked like in their last breath.
It's a lot to process.
The bodies
---
Now I know you've heard that there are bodies preserved at Pompeii. Bodies of animals and humans have been preserved with plaster in the soft cavities of ash.
It's hard to view. Although as humans, we all want to see it. It's a strange fixation us humans have with viewing horrible things.
I too was eager to see these famous remains. I wasn't prepared for the emotional toll it takes on you. But you should see them. It changes you.
The preserved ash of a child curled in a fetal position haunts my memory. The child's face is of terror and you know that the last moment of this human's life was devastating.
There are many like this, including pets, who knew their time was ending in an instant.
The faces of these preserved ashes humanize the experience of our global ancestors in 79 A.D. Fear in 2020 A.D. and fear in 79 A.D. look all too similar.