Tuscan cuisine, you know, is renowned all around the world, but today I want to introduce you to something more specific. Let's talk about typical products you should try while visiting Casentino Valley, one of the best hidden treasures between Florence and Arezzo, surrounded by Foreste Casentinesi National Park.
All of the delicacies I'm going to list here, are traditional peasant dishes and they have remained basically unchanged until today. Wandering around the Casentino Valley in search of these dishes, you will also find small and charming lesser-known villages, all to be discovered.
If you are in Florence, you can also join a food tour or a cooking class!
Scottiglia
---
Let's start with a sort of a soup with all kind of mixed meats (veal, beef, chicken, rabbit, pork, pigeon, duck, turkey, goose, lamb). Everything is cooked with vegetables, red wine, tomatoes and broth and served with homemade toasted bread.
Have you ever heard about Cacciucco alla Livornese? Scottiglia is a similar version with meat, instead of fish.
The best place to eat Scottiglia in Casentino is Lonnano, a small town located in the municipality of Pratovecchio, where every July a dedicated festival takes place.
Tortelli di patate and Tortelli alla lastra
---
These two dishes basically have the same main ingredient inside: potatoes.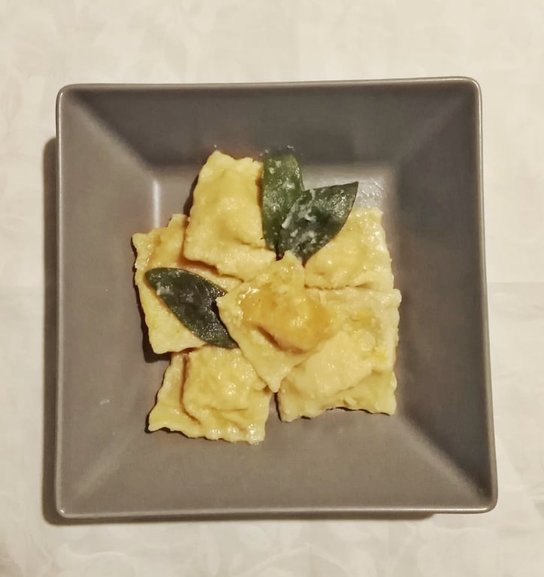 Tortelli di patate homemade in Casentino
Tortelli di patate are made with egg pasta stuffed with potatoes and Parmigiano cheese. They taste delicious simply seasoned with butter and sage.
Where to eat them in Casentino? Papiano. Here, another small village in the valley, near Stia, there's an important festival on July too.
Tortelli alla lastra are a bit bigger than tortelli di patate and their pasta is a flaky pastry made only with flour and water, then filled with boiled potatoes and slightly cut bacon and cooked on the grill. (Sometimes yellow squash can be added in the filling. They taste even more amazing).
Corezzo, a small village in the heart of Parco Nazionale delle Foreste Casentinesi, is the best place where you can try the original ones. If you're there in August don't forget to partecipate to the Festival and try to learn how they're prepared by the expert hands and rolling pins of housewives.
Panzanella
---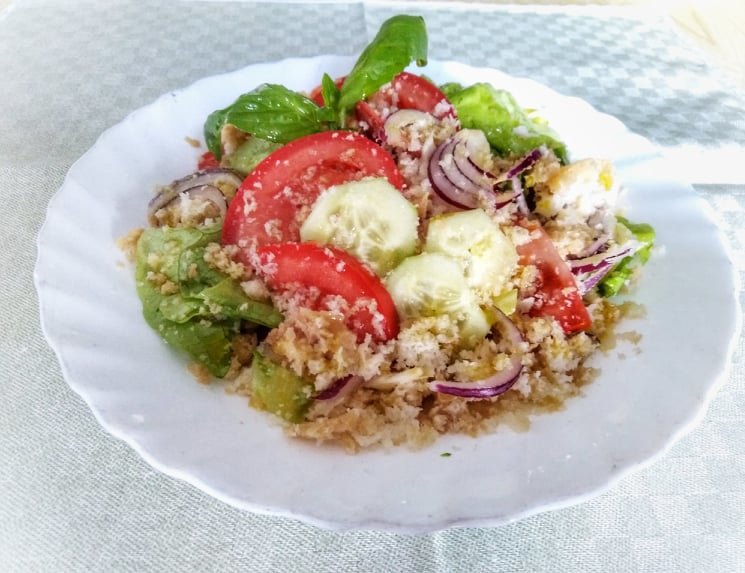 Panzanella homemade in Casentino
Panzanella is a light but complete and easy to cook meal, made with stale bread soaked in water and vinegar and flavored with onions, cucumbers, tomatoes, salad, basil or other vegetables, all raw. Vegetables can vary, it depends on your own taste but the main ingredient should be the one and only typical Tuscan bread, without salt. As you can imagine, best period to eat Panzanella is summer. Its freshness is perfect for hot and sunny day.
Where? Everywhere in Casentino.
Acquacotta
---
There is still no answer to the Hamletic doubt whether Acquacotta was born in Casentino or Maremma. Both of them argue for the primacy. But we know for sure that Acquacotta was an ancient recipe cooked by shepherds in Maremma, where people from Casentino used to spend most of the year during transhumance.
But what exactly is Acquacotta? A first course made with Tuscan bread, broth, onion, tomatoes, pecorino cheese, chili and sausages. So Yummy and very tasty!
However there's a big difference between Maremma and Casentino. Acquacotta has no eggs in Casentino.
Crostini neri and Crostini di cavolo nero
---
"Crostini" are slices of lightly toasted Tuscan bread that you will find almost everywhere in restaurant or during happy hour.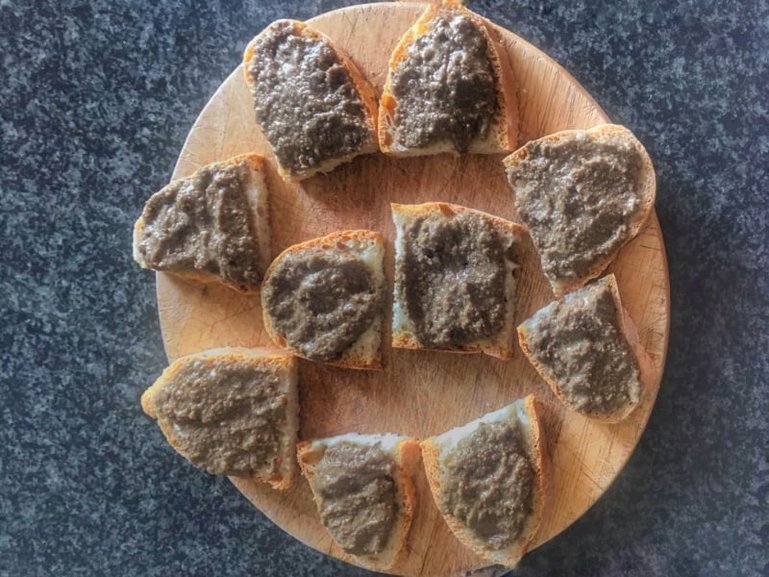 Crostini neri
Crostini neri are not exactly typical Casentino dishes (you'll find them almost everywhere in Tuscany) but they have always been part of the peasant tradition. "Neri" means black and it comes from the color of minced livers, together with anchovies and capers.
Looks can be deceiving, but they're so good.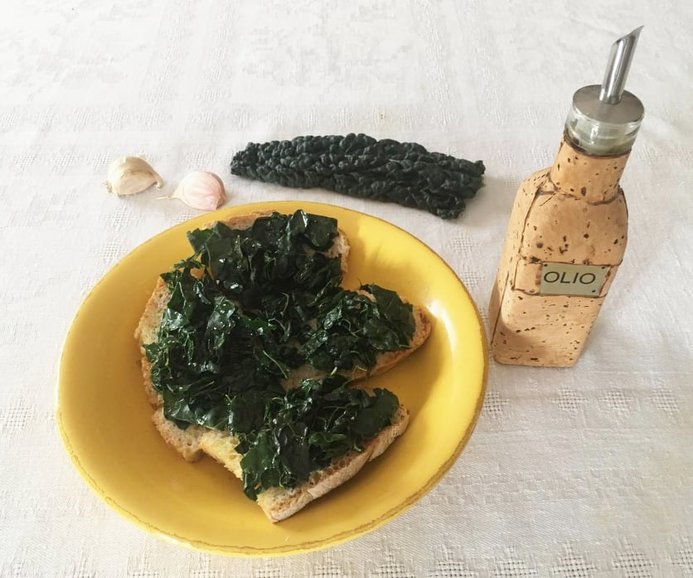 Crostini di cavolo nero (kale)
Crostini di cavolo nero, have another typical and unusual ingredient: kale. Its leaves are boiled and served over a roasted slice of tuscan garlic bread.
You might not find them everywhere but you can try in some typical trattoria.
Sweet specialties in Casentino
Lattaiolo
---
Now, let's talk about something sweet.
Lattaiolo is a pudding, made with boiled milk, mixed with sugar and lemon zest. Once it has cooled, it has to be mixed with eggs, poured on a baking tray sprinkled with caramel and cooked in the oven.
Simple and tasty, it has a delicate flavor but at the same time embracing, with the sweet taste of caramel.
In the past, people who worked in farms used to offer it to the owner during his business visits.
Berlingozzi
---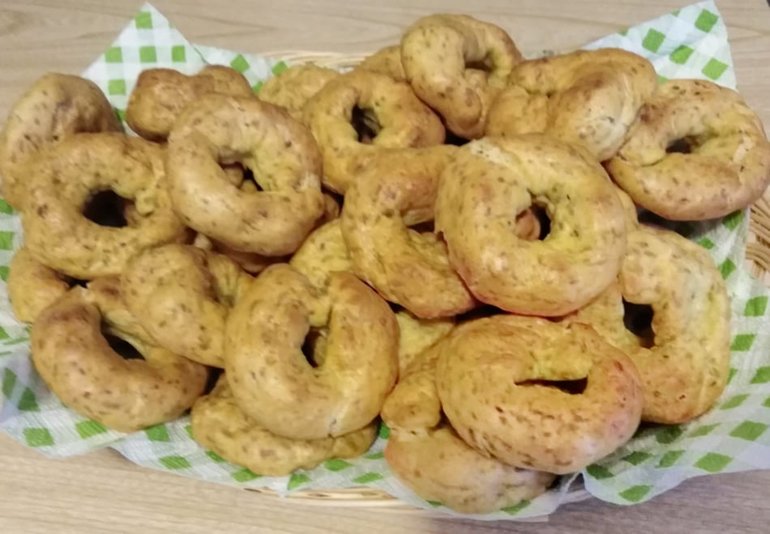 Berlingozzi homemade
Among the desserts, stand out Berlingozzi.
These are typical doughnuts made with sugar, flour, eggs, fennel seeds, vinsanto, aniseed, first boiled then cooked in the oven. You will find them almost in every bakery at Easter time.They have roots in the past too. Do you know they were offered by the spouses to guests who brought them gifts?
Polenta dolce and Castagnaccio
---
Chestnuts are one of the main products on which the life of the ancestors was based and a tradition of which the inhabitants are still proud today. The Casentino valley is surrounded by forests and chestnuts woods, whose fruits were and they still are, easy to find and versatile in cooking. They can be transformed in flour, used for tasty dishes.
Chestnuts flour mixed with water, becomes Polenta dolce, a sweet Polenta, great to try with ricotta cheese.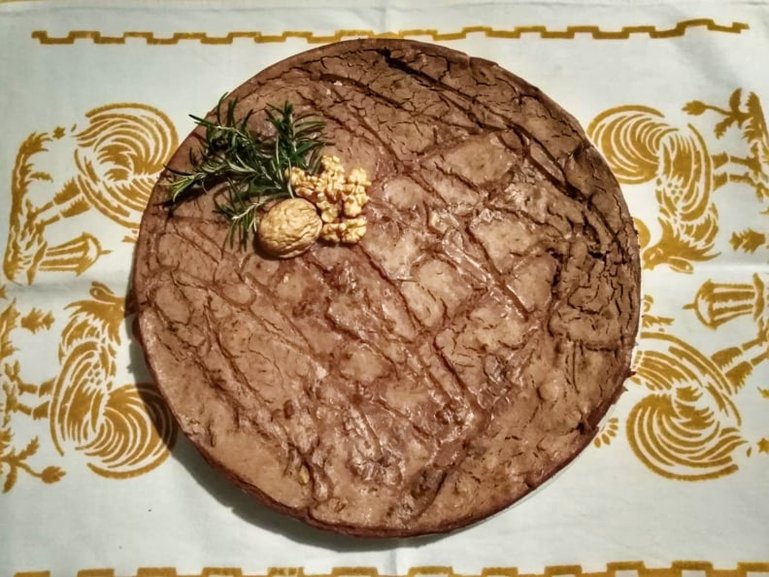 Castagnaccio or Baldino
Last but not least: Castagnaccio. It is kind of flat bread made with chestnut flour and flavored with pine nuts, walnuts, raisins and rosemary.
In the past it was even poorer: only water, chestnut flour and oil. Today it has become one of Tuscany's favorite desserts and you will find in Casentino too, widespread especially in mountains villages in autumn. Just a little reminder: Castagnaccio is also known as Baldino.
As you learned from this article, in Casentino you will try simple products with ancient origins, that people still cook proudly today.
One of the best way to get to know a place is to start with its culinary traditions, so... Buon Appetito!