Amsterdam attracts two very distinctive crowds. One the one hand you have the sophisticated travelers searching for a cultural experience in Amsterdam's museums. On the other hand, you have less sophisticated crowds looking for a night they won't remember. This combination is exactly what makes the historic city so popular. It has something to offer for anyone.
In peak season, the effects of mass tourism are inevitable. The city is now fighting hard against over tourism, but crowds only seem to get bigger. In July and August the city arguably gets too busy. Through its official tourist website, Iamsterdam.com, the city gives tips and tricks on how to plan your visit to Amsterdam. One of tips is to also explore the region outside the city center. That way, the city wants to spread the effects of mass tourism. Meanwhile, the city introduced an extra tax on cruise passengers in an effort to discourage bigger ships to dock in its inner-city harbor.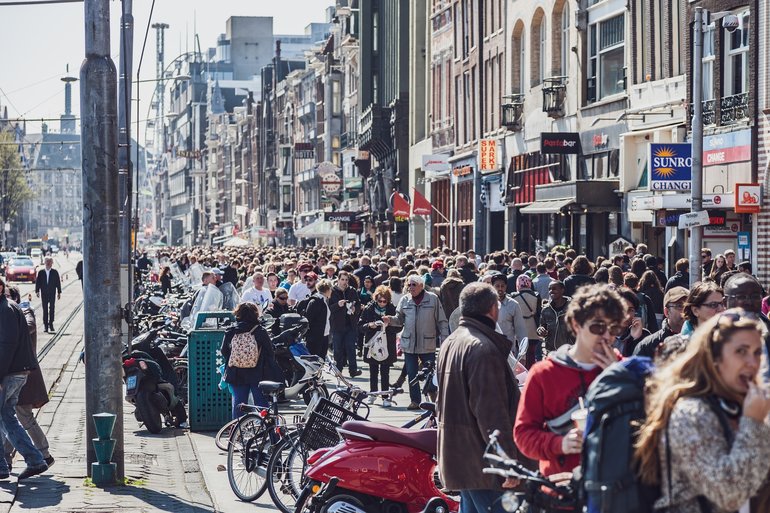 Amsterdam mass tourism
Choose the right date
---
If you don't care too much about the weather, try to visit Amsterdam outside peak season. Peak season in Amsterdam runs from the end of June until the end of August. If the weather is not so important, the off season is your time to go. However, weather in Amsterdam can be an absolute nightmare in winter with a horrible combination of wind and rain.
Start your day early
---
Tourists wake up late. Even if they wake up early, they are often enjoying breakfast at their hotels. In Amsterdam, a big chunk of tourists will be suffering a hangover in the morning. This group will not visit museums early in the morning either. By getting up early you will beat the crowds and have a glimpse of the real Amsterdam where thousands of bikers are commuting to their work. Even on the busiest July days, getting up early will help. Lines at the main tourist attractions will be shorter or non-existing. Best moment to arrive is just before the attractions open. One additional benefit of getting up early is that you can benefit from Golden Hour and make the most beautiful pictures of Amsterdam's canals.
Plan ahead
---
Standing in line during your vacation is horrible. Why waste your well-deserved days from work waiting for the opportunity to buy a ticket? Many of Amsterdam's main tourist hotspots sell tickets in advance. This gives you the opportunity to plan ahead. For example, by your ticket to the Van Gogh museum from this authorized ticket seller. Other locations where you can by tickets in advance are: Rijksmuseum, Amsterdam's Royal Palace or the HEINEKEN Experience. If you buy tickets in advance, you don't waste time standing in line to buy tickets. In some cases, the tickets even include timed entrance and you can skip the line completely.
Explore more than Amsterdam alone
---
Most tourists stay within Amsterdam's city limits. Many tourists don't even look beyond the Grachtengordel (canal area). But the region around Amsterdam has much to offer as well. The municipality actively markets other areas to spread tourism around the region and make Amsterdam less crowded. We would recommend taking the city's advise and explore what the region has to offer. You can do this by either booking a tour or by taking public transport on your own. The Dutch railway (Nationale Spoorwegen) offers a convenient English website where you can buy tickets in advance.