One Day. Two People. Fifty Dollars.
Is it possible?
In a city like Boston, everything seems expensive. And I can't blame you for thinking that. With most museum tickets costing between $20 and $30, Red Sox games going anywhere from $9 student tickets to hundreds of dollars behind home plate, and concerts at TD Garden easily clearing out half your paycheck, the city is definitely a costly place to live.
However.
For every expensive attraction, there is an equally fun and cheaper alternative. And no, those alternatives don't involve sitting around your house or hotel room wishing you had more money (although feel free to do that too, I don't judge).
After I moved to Boston, my mom came up to visit me once a month or so. Most of the time, we go to those expensive attractions and spend upwards of $100 between eating out and tickets to things. It's honestly ridiculous.
And that's how the $50 challenge was born.
Basically, you give yourself a $50 budget for two people for the whole day. I don't count transit at this point because it definitely varies based on whether you have a car (which we did) or not. If you go over your budget, not a big deal (just my eternal disappointment). But food, drinks, souvenirs, tickets? All fair game.
The biggest challenge (lol, get it? because it's called the $50 challenge?) about Saturday was that the weather was not in our favor. It was cloudy and overcast and on the verge of raining the whole day.
You know what this means, folks.
We were going to need to stay indoors.
Shall we begin?
Sam Adams Brewery Tour - $5 Donation
---
Our day started in Jamaica Plain at...The Sam Adams Brewery!! Because every day should start with beer.
The best thing about this tour is that it is totally free. They ask for a donation, which goes to some amazing local charities, but you don't technically have to pay anything. They ask for $2 each, and my mom and I threw in $5 for the two of us. You could say we were feeling philanthropic.
You could also say we didn't have singles.
This tour is actually one of my absolute favorite things to do in Boston. You get so much history, the tour guides are super funny and personable, and at the end of the tour? You get to taste the beer.
That's right. Free beer.
We spent about two hours here before catching the shuttle over to Doyle's pub, but not before stopping in the gift shop and buying a four pack of beer that the guide recommended to us. It was a little more expensive than your typical Sam Adams because it's limited edition. We paid $18.
Running Total: $23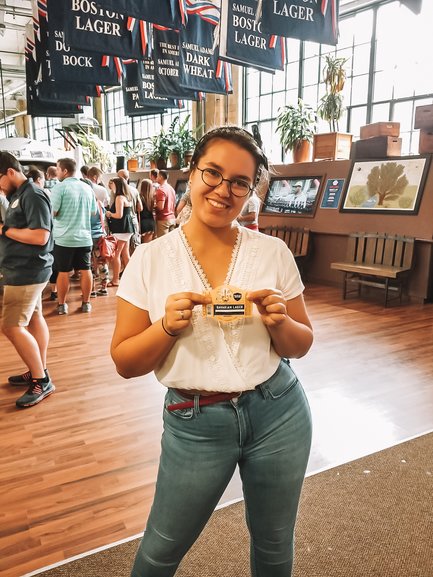 Little did we know, our tour guide would have us laughing so hard beer almost came out our noses!
Drinks at Doyle's - $15
---
Doyle's is so closely aligned with the Sam Adams Brewery that you get a free pint glass if you show them your hand stamp and ticket from the tour. Plus, at $6 for a pint of Sam Adams, they have some of the cheapest beer I've found in the city so far.
We were all over that.
The atmosphere here is so great. It's a place that you can tell has been around for years - although the authentic World War II posters also help with that. The server treated us like we were old timers, even though we'd never met her before.
Sadly, Doyle's closed its doors around Christmastime of 2019, but it's memory will live on.
Running Total: $38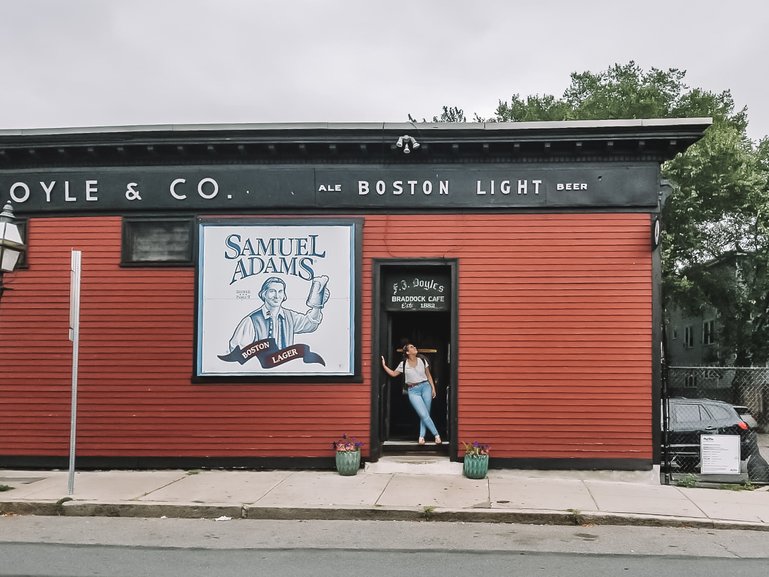 Missing this Boston staple...
The Mapparium - $12
---
This was a real hidden gem for me. I didn't know this place existed until I did a quick Google search to help my brainstorming.
Oh my god, guys. This place is unreal.
You can only get in by tour, which is $6 per person. It might be the best money I ever spent.
Now you might be thinking "Lauren, $6 to go stand in a room for fifteen minutes? Is this really how you're going to spend the last of your money?" YES! This isn't just a room, this is a room. You're not allowed to take photos inside, but they have a cute little selfie wall just outside the exit that will give you guys a pretty good idea of what you're in for.
As a traveler, this room had me giddy.
Running Total: $50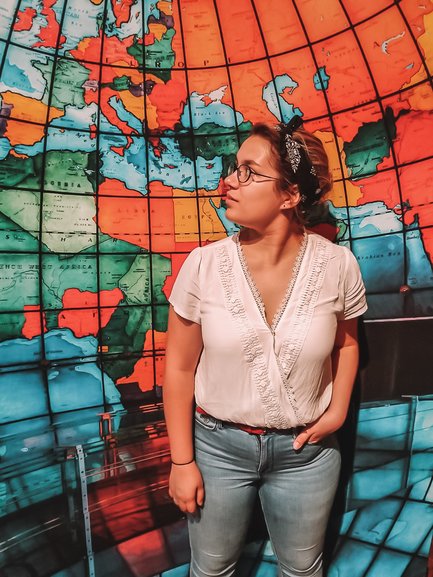 This is one of the coolest things ever. Definitely worth the admission!
Now what?
---
It was a Christmas (in August) miracle, you guys.
The sun came out!
I didn't want the day to be over yet, and neither did my mom. The only problem? We had already blown our budget. So it had to be free.
Have no fear. The broke college ex-student (or graduate, some may say) is here to save the day.
The Public Garden and Beacon Hill - Free
---
Anyone who read my first In-Depth article knows that I love Beacon Hill, so I took my mom there via The Public Garden. To see someone else absolutely swoon over my little city escape made me more happy than I could put into words. While I was basking in my joy (and a little bit of smugness), my mom saw something that made her happier than she could put into words.
I'm talking about Cheers.
Anyone familiar with the TV show will immediately recognize this facade. And then, of course, we had to go inside. The place was positively bustling with both patrons and fans. I was mostly along for the ride for this one, having never seen the show, but my mom kept going "oh wow" whenever we turned a corner, so I'm considering this one a must for any Cheers fans!
Then, in my effort to keep the wow's coming, we took off on my Beacon Hill photo route. It's so easy to relax and be at peace in this area, and my mom seemed to sense that too. Yes there were some tourists, but overall it offered some quiet and serenity in the Saturday afternoon bustle of Boston.
Needless to say, she also loved it.
Running Total - $50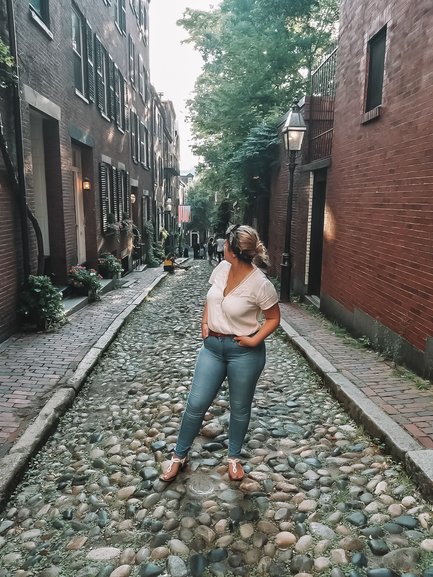 Perhaps the most iconic street in Boston, you have to check Acorn Street out!
Wrapping Up
---
Oh my god, you guys, The $50 Challenge was a success! I didn't think it would be, with the way our day started.
Also, I don't think I'll ever hit $50 exactly ever again.
Seriously, what the heck voodoo magic was at play there?
Seven hours and some very sore feet later, we returned to my apartment to sit down and crack into some of that awesome beer we bought earlier in the day.
It was delicious.