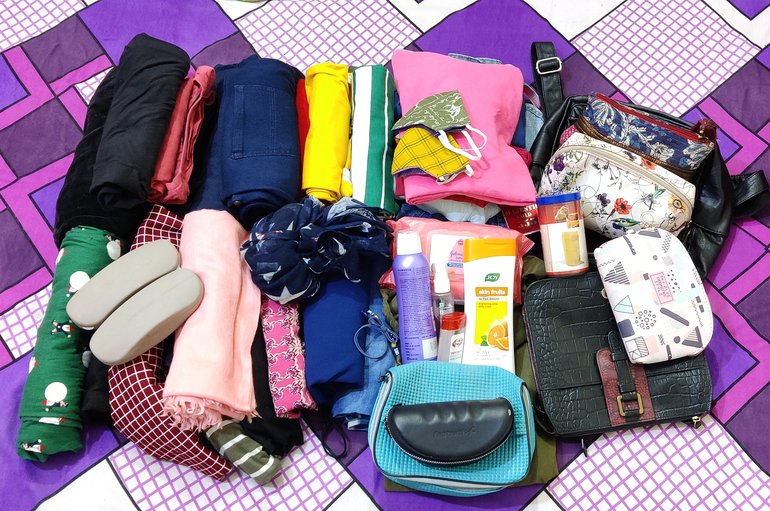 Basic Travel Items to carry ....
Traveling to one of your dream places? Then, you should be prepared in advance with the most important things you should carry.
Remember, do not pack unnecessarily, and overburden yourself with the luggage or the billion items you do not need. You should not take a chance to not prepare yourself for the adventure as ultimately you will be the one who is going to suffer and will be under constant pressure, thinking in mind that forgot this, forgot that and you know those jinx thoughts.
Checklist
---
Solo traveling taught me so many things and this checklist is one of them. Few basic things which we overlook or forget in hurry and might be anxiousness. Mentioned below the items which are the essentials in every trip. Make sure, these items are check listed before you head out.
1. Carry a water bottle
A water bottle filled with water, not an empty bottle is something which you should always carry to and keep drinking water to keep yourself hydrated to avoid any kind of illness.
2. Have a plan B ready always.
Whenever anyone travels, they always have a list in their mind about the places to visit or the way they want to travel but always remember to have a plan B ready in case if your plan A is not working. This is to avoid any kind of worrisome thinking which any human gets whenever they are in trouble.
3. Make a record of emergency details
Do not forget to make a note of all the emergency contacts in a notepad or paper and keep that note somewhere in your bag which you will be always carrying while traveling or sightseeing or trekking or anything because in case if your phone gets switched off or you lose it somewhere.
4. Keep a track of every expense on the trip
Do not forget to keep a track of every expense that you incur on the trip as this will give you the idea that how much did the entire trip cost you and gives a clear picture of what kind of expenses you did and then you can analyze and sideline the least important expenses in the next trip and that is how everyone learns. We need to understand to segregate the type of expenses into mandatory or important or medium important and the least important expenses.
5. Request any visas or e-pass you need
Always google about the place before you visit whether they require any visa or e-pass to apply because in some places sometimes visas and e-pass are on arrival or you have to have the same beforehand and, in some places, both are not required.
6. The most important item, your ID Cards
a. The Passport.
b. The Driving License
c. The nation-specific Id Card
Always carry your passport wherever you travel as this is the most important document and without this, you cannot even enter any other country. Also, please do carry your driving license in case you get an opportunity to drive in that place so do not leave that chance of driving in a different place. The reason for mentioning the last one is because some places need country-specific cards through Passport is the standard one, the Id card number is important, and you might have to share that while the hotel booking or for vising someplace like Aadhaar Card number or Social Security Number.
7. Know and calculate your budget in advance
So, whichever place you are visiting, calculate all the expenses like hotel or flight or food or shopping or traveling to have a rough estimation so that you can have a budget that how much it is going to cost you or how much funds you will be needing for that trip. Pre-preparing always helps in saving you, your hard-earned money. This will help you to have a smooth, hassle-free, and easy trip with a less financial burden.
8. Download the hotel booking and a map app on your phone
Do not forget to download the hotel or the flight booking or the Google Maps app on your phone to know where you are going to know the exact location, to know the hotels nearby, or the reviews about the places or the hotel rooms. Sometimes, you will not get the good people and they will make sure that you are going in the wrong direction so that they can take advantage of you, So, It is highly recommended to download these apps for your easy travel.
9. Leave all the extra clothes you do not need and the valuables
Pack only those clothes which you need and going to use on your trip as this will save you a lot of money in airports otherwise you might end up paying for extra luggage and remember you are the one who is going to carry and look after your luggage, so be mindful of that. Also do not wear any valuables at all on your trip, it is a complete not and not advisable.
10. Research on the place you are visiting, its local custom and language
This is another important thing to keep in mind before visiting as to know and enjoy that place in a much better way as there are things that you should not do in some places or there are things and places which you should not miss in that place. So getting to know their culture, custom or language will help you in engaging more with localities to have a great experience of your life.
11. Carry a little bit of cash, an ATM card, and a credit card, in case of any shortages
Have little cash in your hand always because sometimes you will not get an internet connection to pay your bills and in some secluded and offbeat places, people accept only cash. So be ready with that, you will encounter this one. And carry an ATM Card with you to withdraw money whenever you are in need as withdrawing the whole cash in advance invites a lot of trouble and also have a credit ready with you, use wisely and only when, you are in dire need of funds because it happens as the estimated budget will go high as compare to the expected one.
12. The important electric gadgets, your phone, power bank, the right adapter, and the earphones
This is the most important thing when you are traveling, your phones and power bank should be charged always to avoid any kind of hurdle. Your phone is your only travel buddy whenever you are traveling solo. So, make sure, it is changed from time to time. And carry the standard adapter which fits into any socket as it differs from country to country.
13. Carry medicines at least the basic ones and especially the ones you are prescribed, if any ailment
Do carry the basic medicines always as this will save you from getting sick at any time of your travel because sometimes, accessibility to doctors is not so easy. And carry sanitary pads, if you are a woman.
14. Share the travel agent or the tour operator numbers with your family members and friends, keep updating them on your whereabouts
Always share the tour guide or the operator's number with your people so that they are not worried and not losing any connection with you while you are traveling to make sure that wherever you go, you are safe. This is not to intervene in your privacy but in your safety.
Items
---
The other list of items which will be considered depending on the type of people as some are very peculiar and choosy for some things:
1. Bathroom necessities
Carry your bathroom necessities which is very important as a person because some have some fixed set of things and liking for the stuff they use like shampoo or body wash and they do not want to change so can plan to carry to this in advance the best part about this is you will save money here.
2. Stop Delivery of emails
Do put the automated emails as the autoresponder will let the sender know that you are not available, and they will lookout for an alternative as it might be urgent for them.
3. Carry a tote or sling bag
Carry a slide sling bag always to place small things in your nag rather than keeping it some other place and losing it later.
4. Get yourself a travel diary
Getting yourself a travel diary will help your checklist the places you wanted to see or the things you wanted to do so that you do not forget. And once that checklist is done, striking that off is also fun. Don't you agree?
5. Prepare a travel soundtrack
Download all your favorite songs and keep them ready in your phone or mp3 to have a peaceful and gala time with yourself.
6. Carry a selfie stick or sunglasses if you are a photo freak
Carry a selfie stick as whenever you are in an offbeat location, you will not get people around to click any of your photos. So be ready with this. And do carry your shades with you to have good and different pictures.