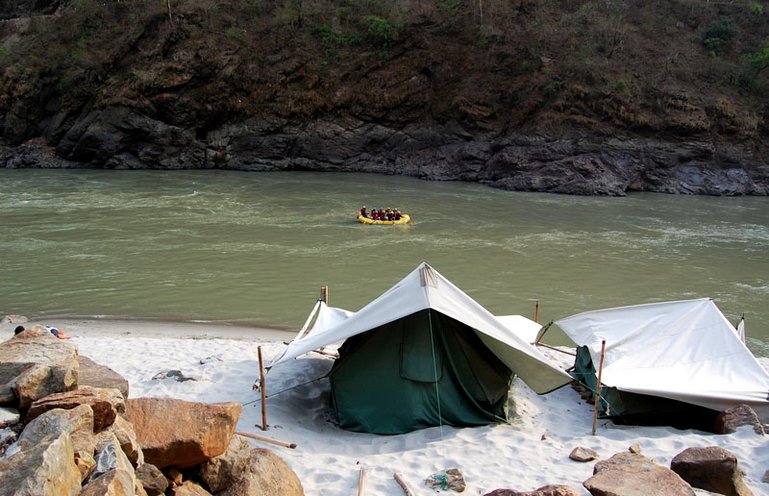 Camping in Rishikesh
Rishikesh is situated in the foothills of the Garhwal Himalayas. It is known for its natural beauty and spiritual atmosphere. Known as the "Yoga Capital," Rishikesh is home to several yoga ashrams. Mainly tourists and devotees come here for spiritual development and relaxation. But it also has an entirely different side, making it a land of adventure with activities like Camping, rafting, and bungee jumping.
Camping in Rishikesh is a great way to experience the region's natural beauty and outdoor activities. There are several Camping sites on the banks of the river Ganges, 12 km from the city. The campgrounds offer various stay options, from basic tents to luxury campsites. They also provide facilities like a pool, bonfire, Music, Buffet, and trekking, which makes camping a fantastic experience.
Top Campsites to enjoy Camping in Rishikesh
---
Camping is the best option to enjoy your stay in Rishikesh. You can take a 12 km drive from Rishikesh to Shivpuri and enjoy Camping with the river Ganga view. There are many attractive camping sites in Rishikesh. Go through the top 5 ones:-
1. Nature Valley Camp: Located 8 km from Rishikesh, Nature Valley Camp gives an experience of being close to nature. This campsite allows one to immerse themselves in the natural world amidst nature and disconnect from the distractions of everyday life. The campsite also offers trekking and rafting with a food buffet, room service, and AC/Non AC rooms.
2. Ganga Waves Camp: Ganga Waves Camp, located near Neelkanth Road, offers stay and a variety of activities and facilities to travelers. The campsite provides a tent, luxury, Swiss camp, rafting, and yoga classes. It is set in peaceful, natural surroundings and allows visitors to experience the area's beauty and connect with nature.
3. Pebbles Resort Camp: Pebbles Resort Camp is an excellent campsite for those who want to enjoy camping in luxury. Away from the hustle and bustle of the city, Pebbles Resort Camp offers a chance to spend some moments with nature. This option is the best if you want to try Camping with AC and luxury camps in Rishikesh.
4. H7 Camp: An example of Camping in a luxurious and serene environment. Surrounded by the views of the river Ganga, this camping site offers the best facilities for Rishikesh Camping. Be it the delicious food or the great outdoors, H7 Camp has it all. Their camping packages include bungee jumping, rafting, trekking, and Ganga Aarti, adding an adventurous and spiritual touch to each visitor's journey.
5. Paddler Zone Camp: Paddler Zone Camp is an excellent option for Camping in front of the river Ganga. Campsite encourages people of all ages to participate in adventure sports, apart from accommodation, and play volleyball, badminton, and archery. The river is only 5 minutes from the campsite, where the holy stream of Ganga can be seen.
Best Time For Camping in Rishikesh: Given the favorable climate, Rishikesh is a beautiful destination in all seasons. Camping is an outdoor activity that only feels good in the right weather. The best time or season for Camping in Rishikesh is September and March. The weather during this time is pleasant, and the temperature moderate, making it ideal for Camping in Rishikesh.
Adventure activities to do with Camping in Rishikesh
---
Indulging in adventure activities will make your Camping stay in Rishikesh more thrilling and exciting. Apart from being the "Yoga City," Rishikesh is also a favorite destination for adventure lovers who indulge in adventure activities.
River Rafting: The river Ganga allows engaging in adventure activities and spiritual life in Rishikesh. Rafting is one of the best activities in Rishikesh, giving adventure seekers the ultimate experience. Rafting trips of 10 km, 16 km, and 32 km with several thrilling rapids provide a complete package of adventure in Rishikesh.
Bungee Jumping: Bungee jumping is one of the most loved activities in Rishikesh. This activity offers a glimpse of thrill and excitement. Jumpin Heights, located in Shivpuri, organizes Bungee Jumping, India's highest (83 m) Bungee Jump. Here you can have an unforgettable experience of falling fast on the ground, which will make your inner fear disappear.
Zipline: Zipline is fast gaining popularity in the list of adventure activities in Rishikesh in a short period. This activity organized in Shivpuri is known for providing an aerial view of the river Ganga on its excursion. The experience of ziplining is thrilling as you fly in the air on a wire and enjoy the beautiful views of the surrounding landscape of the river.
Kayaking: Like rafting, kayaking is also a part of an adventure activity, which makes solo rafting a delight. Kayaking with two paddles helps to balance in a fast flowing current. As new learners, people like to try it in the calm water flow, giving everyone the feeling of getting lost in the adventure. This activity can be done from Shivpuri and Kaudiyala in Rishikesh.
Trekking: Trekking is one of the best outdoor activities in Rishikesh. Kunjapuri Temple Sunrise Trek is one of the prominent treks in Rishikesh. This trek starts from Maa Kunjapuri Devi Temple and ends at Tapovan. While trekking, you can get to know Garhwal's villages, culture, and influence closely.
Places to visit Along On Your Camping Trip in Rishikesh
---
Laxman Jhula: Rishikesh's historic bridge Lakshman Jhula depicts the union of Lord Rama and Lakshmana. This bridge connects the way to Tapovan and Tera Manzil temples. It is located at a distance of 5 km from Rishikesh city. The bridge offers spectacular views of the river Ganga, where adventurers can sometimes perform rafting, and devotees see Ganga Aarti.
Parmath Niketan Ghat: Famous for Ganga Aarti and Sandhya Aarti, Parmarth Niketan Ghat is the main Ghat of Rishikesh. The Parmarth Niketan Ashram is just behind it, a spiritual retreat center known for its beautiful surroundings and peaceful atmosphere. This Ghat, established by Swami Chidanand Saraswati, is a part of Parmarth Niketan Ashram.
Tera Manzil Mandir: Tera Manzil Temple is situated near Laxman Jhula. Dedicated to the Hindu deity Lord Shiva, this temple is known for its 13 stories with 13 stories. The temple is a popular tourist attraction with intricate architecture and ornate carvings. Visitors to the temple can climb to the top of the 13 floors and enjoy panoramic views of the city and the surrounding area.
The Beatles Ashram: The Beatles Ashram, which came to light after the famous music band Beatles tour in 1968, is the ashram of spiritual leader Maharishi Mahesh Yogi. The ashram is situated on the river Ganga's banks and is surrounded by beautiful landscapes. It is a place full of a peaceful and spiritual aura, where many visitors visit the ashram and spend some time in the tranquil surroundings.
Shivpuri: Known as the adventure hub of Rishikesh, Shivpuri is a great adventure destination. It is known for its beautiful natural surroundings and is famous for Camping and picnics. In Shivpuri, tourists can enjoy various activities, including rafting, kayaking, and hiking, as well as relaxation and rejuvenation in peaceful surroundings.
5 FAQs about Camping in Rishikesh
---
Which is the best time for Camping in Rishikesh?
The best time to go camping in Rishikesh depends on your personal preferences. Rishikesh has a subtropical climate with hot summers and cool winters. Therefore, the best time for Camping in Rishikesh is from September to March, the rainy season with moderate temperatures.
Where can I go camping in Rishikesh?
Shivpuri and Kaudiyala offer a range of options for Camping in Rishikesh, including campgrounds, campsites, and luxury tented accommodations. Some popular options include Nature Valley Camp, Shivpuri Heights, and Camp Ganga Riviera.
What are the activities that can be done along with Camping in Rishikesh?
Rishikesh offers adventure sports like white water rafting, rock climbing, kayaking, bungee jumping, giant swing, and go-karting. In addition, the area has many yoga and meditation retreats and cultural and spiritual sites.
How much does Camping cost in Rishikesh?
There are different criteria for Camping in Rishikesh, depending on the facilities. If we go on a standard tour, Camping starts from INR 900 to INR 1200, increasing from INR 5000 to INR 1000. Price is always based on service.
Is it safe to camp in Rishikesh?
Rishikesh is a safe place to camp, but taking the necessary precautions to protect yourself and your belongings is always a good idea. This includes following all safety guidelines and instructions provided by camping staff, staying in designated camping areas, and keeping valuables safe.