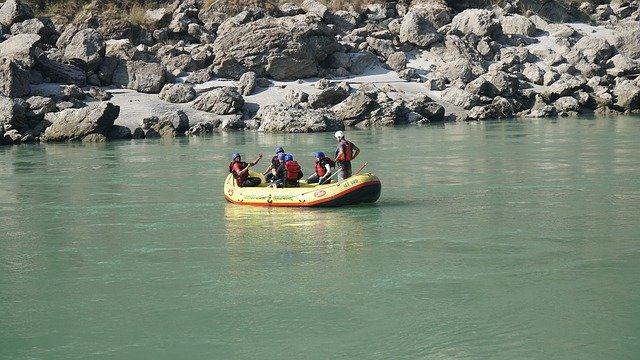 You could call me the textbook definition of an adventure junkie and a water baby. Anything to do with a kick of adrenaline, I'm in. Add a sea, river, lake or anything in between to this equation and I won't even think before jumping to the opportunity. Given that, it's obvious that I have tried out both Kolad and Rishikesh rafting. River rafting is usually associated with Rishikesh but not many know that you can find a similar experience in the Maharashtrian outback of Kolad. If you've gone for river rafting in Rishikesh, or are simply intrigued by it, you will most likely be able to find a Kolad rafting package that gives you just as adventurous an experience!
Rafting in Rishikesh is carried out on the pristine waters of the River Ganges in Uttarakhand. Kolad rafting, on the other hand, takes place amid the Western Ghats of Maharashtra on the Kundalika river. I'm from Pune, so Kolad is a no-brainer option for me when I am in the mood for rafting, whereas Rishikesh would be the same for someone that's placed in Northern India, perhaps near Delhi. Both locations make for an amazing weekend getaway, or if you're willing to take the time out to plan a trip from the north out west or vice versa, they can be thrilling trips accompanied by the numerous treks surrounding the areas. Talk about making the most of your travels!
Any Kolad rafting package that you come across will only offer a 12 km rafting session. Your route will be dotted with rapids that are easy enough for beginners and thrilling enough for experienced rafters. River rafting in Rishikesh, however, offers a wide range of options to choose from. You have sessions that last 9 or 16 kms that are fit for beginners, or can take on the more challenging 24 or 32 km sessions that are reserved for more experienced individuals that know their way around ravenous rapids.
Whether you visit Kolad or Rishikesh, you can choose to only book river rafting or you can book overnight stays as well. I stayed overnight in Rishikesh which allowed me to explore the other activities like nearby treks, bungee jumping and Flying Fox. I mostly visit Kolad for day trips and have camped there just once. It's just as thrilling as camping along the tributaries of River Ganga, and I also enjoyed jet ski rides, rappelling and ziplining in Kolad.
Whether you pick the best rafting in India at Rishikesh or choose the more offbeat Kolad rafting package, I can assure you that you'll be in for an adventure of a lifetime. So pack your bags, get set and go!